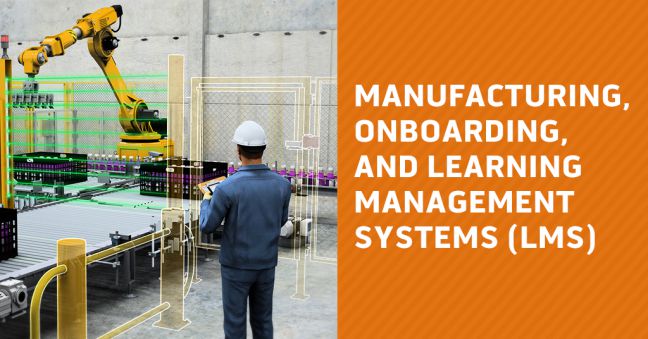 If you're a manager at a manufacturing company, you know it's important to deliver training to new hires as part of their new employee onboarding. And that's also true if an experienced worker is moving to a new site, work area, or into a new role as well.
But you also probably know that onboarding new hires comes with a number of challenges. It's hard to have time available every time a new worker is hired, and that doesn't even account for having time every time someone moves from Site A to Site B, or from Production to Warehouse, or from Forklift Operator to Machine Tender.
Plus you've got to create, buy, or otherwise collect all the training materials. Not everyone has time to do that, especially create training and lead classroom training for new hires.
And of course you've got to actually KNOW that a new employee has been hired, or that someone has been transferred from the Tulsa site to your site in Wichita, or from Line One to Line Two. And let's faced it–we may all like to say that communications where we work are perfect, and that we're all informed of events like these, but I'm pretty sure you'd quickly agree that's not always the case.
So, in a nutshell, there are lots of reasons why it's difficult to provide onboarding training in a manufacturing environment.
That's where an online system that includes a learning management system (LMS) can pay dividends. You can think of an LMS as an automated assistant that can coordinate all this stuff for you. Kind of a manufacturing onboarding auto-pilot system.
So if you're in the market for an LMS, and want to be able to use it for onboarding new employees (plus your other training needs), we'll give you an idea of some of the features you should be looking for.
NOTE: This article will focus on providing training as part of an onboarding process at a manufacturing company. For a fuller discussion of onboarding as a whole, please see our companion article Onboarding New Employees: Why and How to Do It, and for more on learning management systems for manufacturing, please see What to Look for in an LMS for Manufacturing.

How an LMS Can Make Onboarding Easier for Manufacturing Companies
So if onboarding is challenging, let's learn how an LMS can make it simpler. We'll break things down into six different aspects
The onboarding training materials
Assigning appropriate onboarding training to different units of your company
Creating new assignments for new hires and changing assignments for promotions, transfers, etc.
Reporting on onboarding training
Managing recurrent due dates for cyclical training needs (such as annual refresher training or other training that must be completed repeatedly)
Integrating your LMS with the HR department's HRIS for further automation (plus other systems, such as CRM, ERP, etc)
Ready? Let's get started.
1. Onboarding Training Materials
Probably the first thing to think about in the context of onboarding is the training materials themselves. Let's look at what an LMS should let you do or some features to look for.
Import Your Own Training Content
Your LMS should allow you to import existing training materials that you already have, or that you'll make for yourself in the future, and then turn around and assign them to workers.
This should include:
Written documents such as PDFs
PowerPoint Presentations
Videos
Recorded webinars
Live webinars
Infographics
Websites
Your own self-created elearning courses (read for how-to info)
If an LMS doesn't let you do this, don't get the LMS. This is base-level and must-have. And don't just check the box during the LMS evaluation process when you're told an LMS can do this. Instead, ask for a demo so you can see how it's done and how easy (or hard) it is.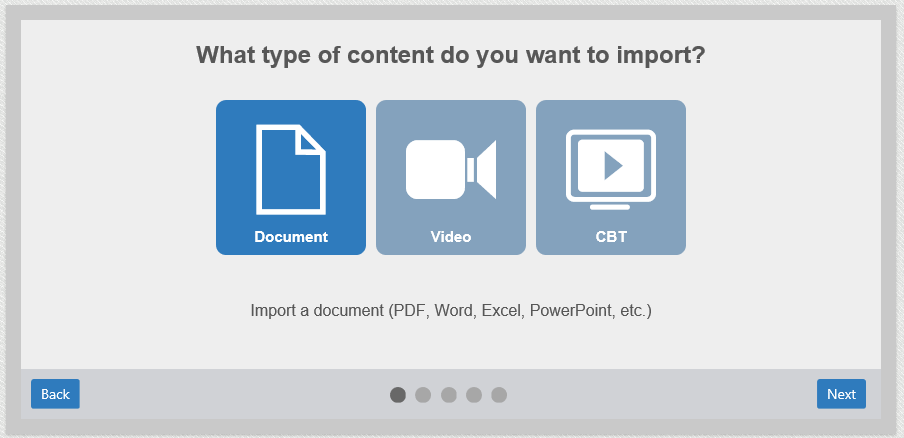 Your LMS should allow you to easily import your own training materials.
Schedule Your Own Instructor-Led Training
Of course, not all onboarding training can (or should) be conducted online. You're going to want some face-to-face training too, including:
Site walkthroughs/tours
Safety meetings
Job shadowing programs
OJT programs
Hands-on practice
Skill demonstrations
Role-playing
And so your LMS should include tools that help you administer different kinds of "face-to-face" training too. This includes:
Assigning the training
Notifying employees of the assignment
Informing employees of assignment details, such as when, where, and with whom
Granting credit for completing the training
Collecting signatures and/or sign-in sheets
More
As was true with the ability to import your own training materials, having tools to administer real-world training is base-level, must-have functionality for an LMS. Don't get an LMS that only manages online training, because that's not how you train.
Learn more about using an LMS to administer classroom training and OJT training.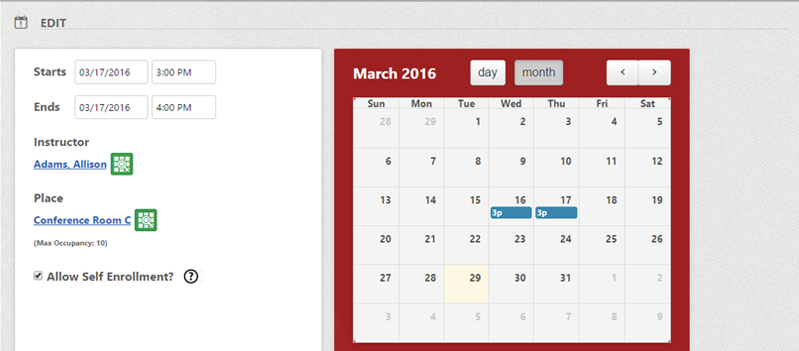 Don't settle for an LMS that doesn't give you tools for scheduling and administering face-to-face training, such as instructor-led training.
Built-In Manufacturing Online Training Content
This next one isn't necessary, but it can sure be nice.
Some LMS providers also create off-the-shelf online manufacturing training materials that you can get with the LMS. For example, here are elearning libraries for: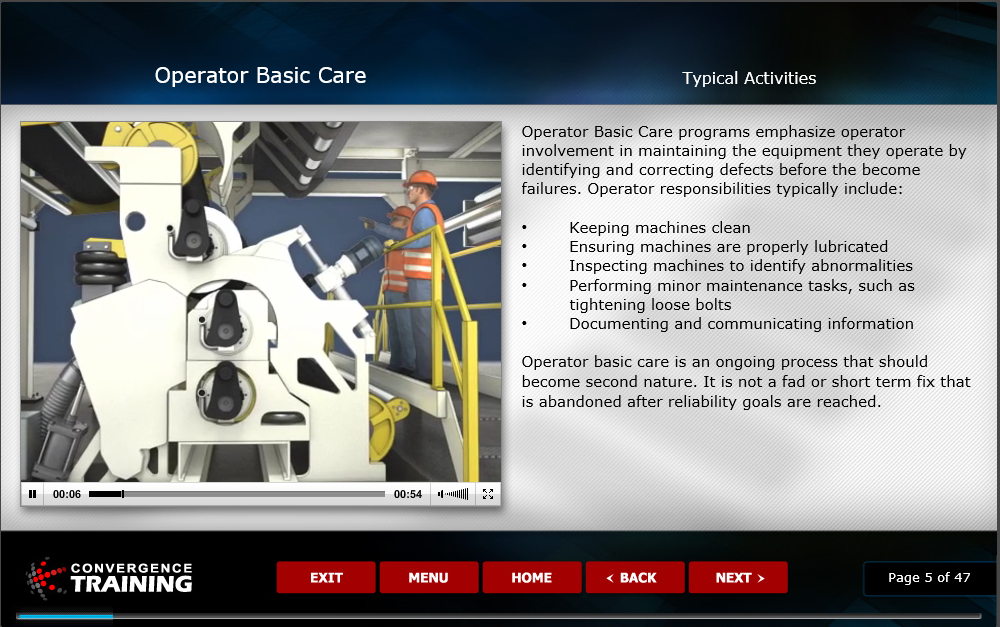 Consider partnering with a safety provider that makes an LMS and manufacturing training courses, and then add your own site-specific training materials to the courses they provide.
Even better, in some cases the online manufacturing courses are multi-lingual, meaning your employees can launch the course and select the language that works best for them. If you work with a multi-language workforce, or with workers who don't speak English as their primary language, this can be a huge help.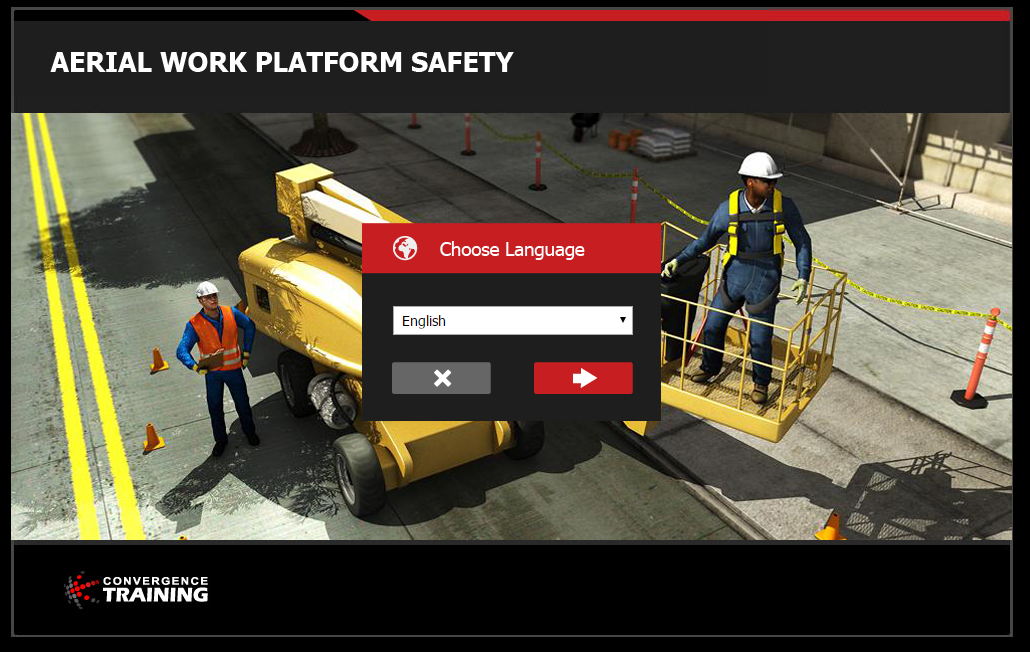 Multi-language elearning courses allow each employee to select the language they are most comfortable with.
Don't gloss over this issue; it merits some serious thought.
It's hard to make all your training materials on your own, and even if you do, consider these questions:
What else could you have done during that same time?
How effective will your training materials be? How familiar are you with adult learning principles and sound instructional design? How handy are you with training creation software?
How much money will it take you to create those materials?
What happens when it's time to update those materials? Who does the work then?
Built-In Training Creation Tools
It's also very helpful if your LMS includes tools you can use to create training materials–right inside the LMS!
This can include making things like online quizzes to check if people understood a PDF they read or a PowerPoint presentation they looked at, or if they understood what was covered in an instructor-led, classroom-style training session. Here's an example of a cool online quizmaking tool built directly into an LMS.
Tools like these can dramatically increase the power of your workforce training program.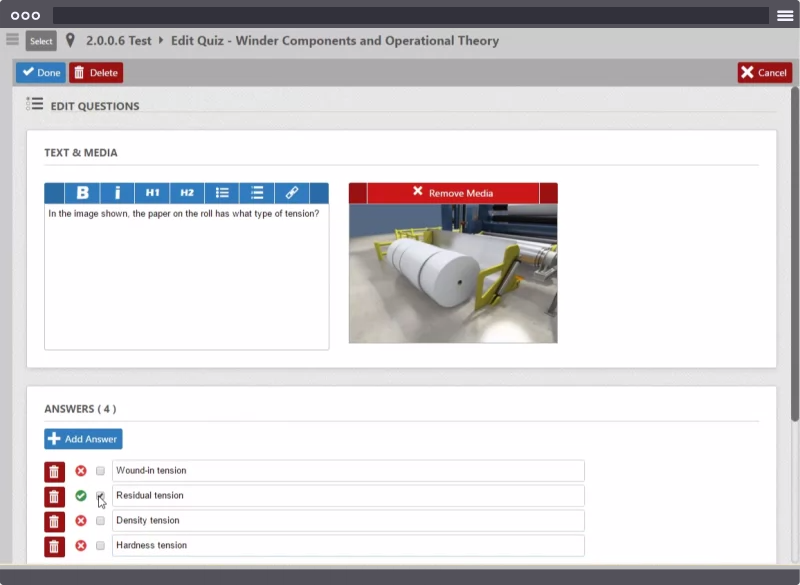 Your LMS should allow you to easily and quickly make your own online learning activities, such as an online quiz.
This can also include tools to build digital checklists to teach people standard operating procedures/work instructions and then allow you to go into the field to verify that they can perform the procedures correctly. Here's an example of a checklist builder directly inside an LMS.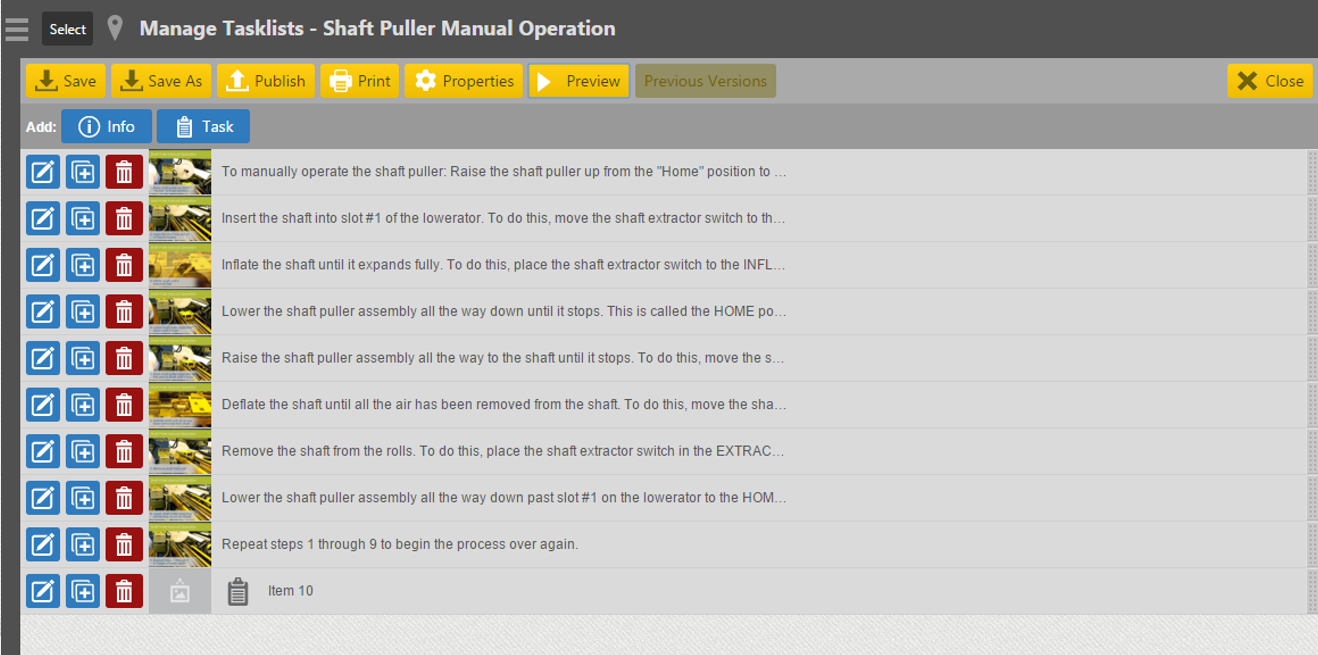 Being able to create your own online training content, like the online quiz and online checklist shown above, can really improve your training programs.
You might also want an LMS that allows you to create, deliver, analyze, and report on online surveys for any number of reasons.
2. Assigning Onboarding Materials To Different Parts of Your Company
Now let's turn the discussion from your training materials to how you'll assign the training to workers.
And not just to any workers (or, really, not just to all workers), but to the appropriate workers.  Meaning, assigning the right training to the right workers so every worker will be properly training to do his or her own job. Not a one-size fits all assignment, and not an incomplete assignment.
Because at most companies, different workers need different training. To put this in the simplest possible manner as an example, your accountant probably needs different training than your welder does. As a result, as you're looking for an LMS, make sure it helps you assign onboarding training materials (and other training) appropriately, as discussed below.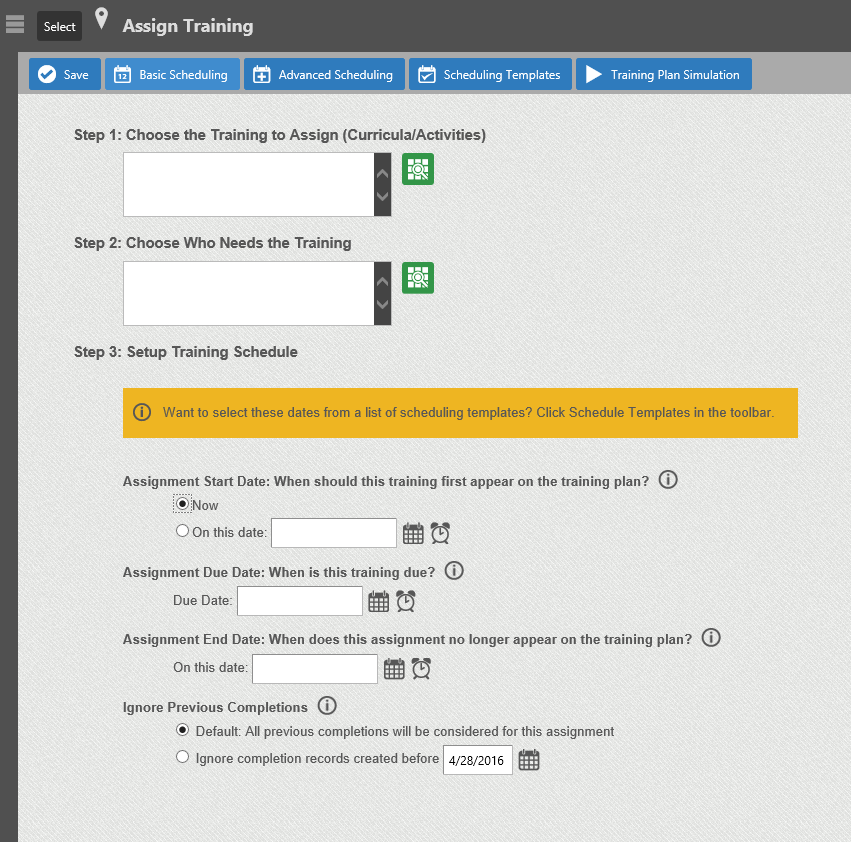 Make sure your LMS makes it easy to assign the training you want to the workers you want and to set the due dates and recurrent training dates you need.
Making Onboarding Assignments to Entire Organization/Company/Site
There's some onboarding training that everyone who works at a company (or a specific site) should complete. For example, training about your company's mission statement.
Once you've identified the kind of onboarding that's "universal" in this way, your LMS should allow you to assign it to everyone in your organization. In one simple procedure.
Sounds good, right?
But wait, you might ask….if you assign it to everyone in your organization (today), what about new hires that come onboard tomorrow in at some other point in the future?
Good question, my friend.
Your LMS should automate that for you. If you've made an assignment to "everyone" in the way we're discussing, then as soon as a new employee is hired, that employee will become part of "everyone," and they'll automatically be assigned that universal training too.

Here we see how an LMS can allow you to assign different training materials to different parts of your organization–the whole company, everyone at a site, everyone in a department, everyone in a specific job role, individual workers, and even custom groups that you create yourself.
Make Onboarding Assignments to Employees in Specific Work Areas
You'll also probably agree that people who work in one area often need different onboarding than do people who work in another area.
For example, in paper manufacturing facilities, the people who work at the Paper Machine need different onboarding than do the people who work in the Pulp Mill, Converting, and/or the Warehouse.
The same is probably true at your workplace.
And so your LMS should allow you to make specific onboarding assignments to workers in these different job areas as well. That way you can tailor appropriate training assignments to the workers who need it. And, of course, avoid force workers who don't need the training to experience the disheartening frustration of sitting through training that won't help them do their job.
Two quick points about this:
First, the LMS should allow you to make these area-specific onboarding training assignments in addition to the universal, site- or company-wide training assignments. So that an employee who works at the Paper Machine will be assigned the universal onboarding (such as the company mission statement and/or values) and training that's relevant to working at the Paper Machine, while a second worker who works in the Warehouse will be assigned that same universal training (the mission statement) but will also be assigned training that's relevant to working in the warehouse.
And second, that same point about how the LMS should automate  onboarding training assignments for people who get hired after the assignment was originally made (in other words–in the future) applies here as well, just as it did when we were discussing universal onboarding assignments.
Make Onboarding Assignments to Employees With Specific Job Roles
We won't belabor this point, because it's very similar to the points we just explained above, but your LMS should also allow you to assign onboarding training that's specific to workers with given job roles (in addition to the onboarding they were assigned because they work at the company and the onboarding they were assigned because they work in a given work area).
For example, in paper mills, you might see people with the following job roles all working at the Paper Machine:
Machine Tender
Back Tender
4th Hand
5th Hand
Winder Operator
Assistant Winder Operator
It's conceivably and even likely that the onboarding training for workers in these different job roles should be different (because they have to do different things in the course of their jobs). So make sure your LMS allows you this flexibility.
3. Managing Assignments for New Hires, Job Transfers, and Promotions
Now let's take a look at how those onboarding training assignments are made to different classes of "new workers," including workers who:
Are brand-spankin'-new hires
Got transferred from one site to another site
Got promoted from one job role to another job role (or demoted, though we don't like to think that way)
Is job-sharing or involved in cross-training for multiple job roles
Onboarding Assignments for New Hires
Wouldn't it be great if as soon as a person is hired at your company, their name gets put into your LMS and they're automatically assigned the appropriate onboarding training? That includes all the onboarding they need–universal company-wide training, plus onboarding training that's relevant to their site, work area, and job role?
Well, an LMS can do that for you. Or at least it should be able to.
You should be able to enter the new hire's name into the LMS and have the LMS automatically assign the appropriate onboarding based on the site the person works at, the department they work in, and their job role.
To make this happen, you'd only have to enter the person's name into the LMS manually or, even better, have your LMS integrated with your company's HRIS system and have that automated for you too (see the section below about HRIS integrations for more on this).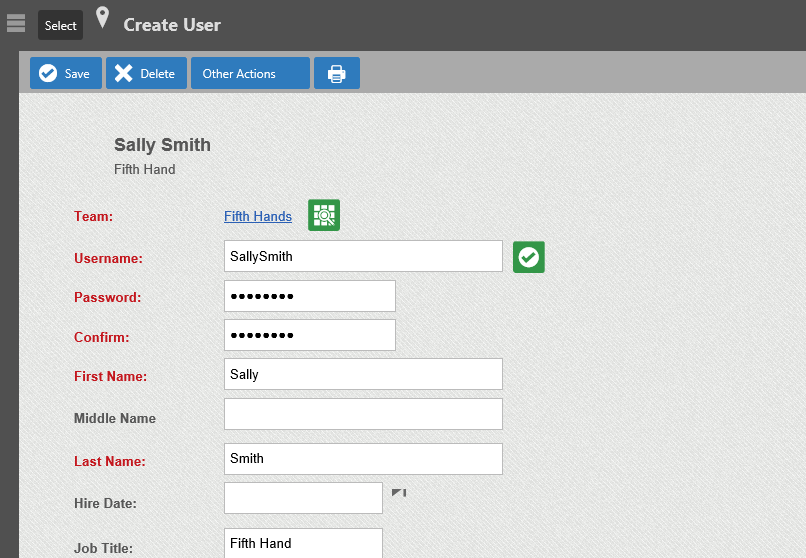 Type in the name of a newly hired worker, specific the worker's job role, and your LMS should automatically assign the appropriate onboarding training.
Job Transfers and Promotions
Just as an LMS can automate onboarding assignments for new hires, it should be able to do the same for existing employees who are transferred or promoted from site-to-site or job role-to-job role.
Meaning, the LMS would automatically change their training assignments to match their new job position.
The LMS should do at least these five things in those instances:
Keep a record of all previous training the worker completed (previous onboarding training specific to their old job role and other forms of training too, naturally)
Remove the previous onboarding assignment (that was relevant to their previous position)
Create a new onboarding assignment (that is relevant to their new position)
Automatically adjust due dates so they're appropriate for their circumstances, based on the date of their transfer
Grant credit for any parts of the new onboarding assignment that they've already completed earlier (that's default behavior, which you should be able to override if you wish).

If an employee is transferred or promoted, just change their job role in the LMS and the LMS should automatically assign new job-specific onboarding training for that new job role.
Delivering The Onboarding Training Online (Or Some of It)
What good is an onboarding assignment if the worker can't complete it?
Your LMS should:
Notify the employee of their assignment, and
Let the employee begin completing the online portions of the assignment immediately
This is true for all workers at your site who you work with and see every day, which is nice.
But it's also true for all those other workers you don't see every day, including:
Workers on other shifts
Workers at different sites
Workers at distant, remote locations
Workers who are mobile and/or work on the road
Workers who work from home
Just imagine how much time you'll save when the LMS notifies workers of their training assignment so you don't have to walk around telling everyone or post announcements.
And that second part, about letting workers begin completing at least some of their training online as soon as the assignment is made, is a big one too. Having an LMS that can deliver onboarding training online (or at least a part of it) greatly reduces scheduling headaches, coordination difficulties, travel expenses, and safety training that just never gets done because it's too hard to pull off.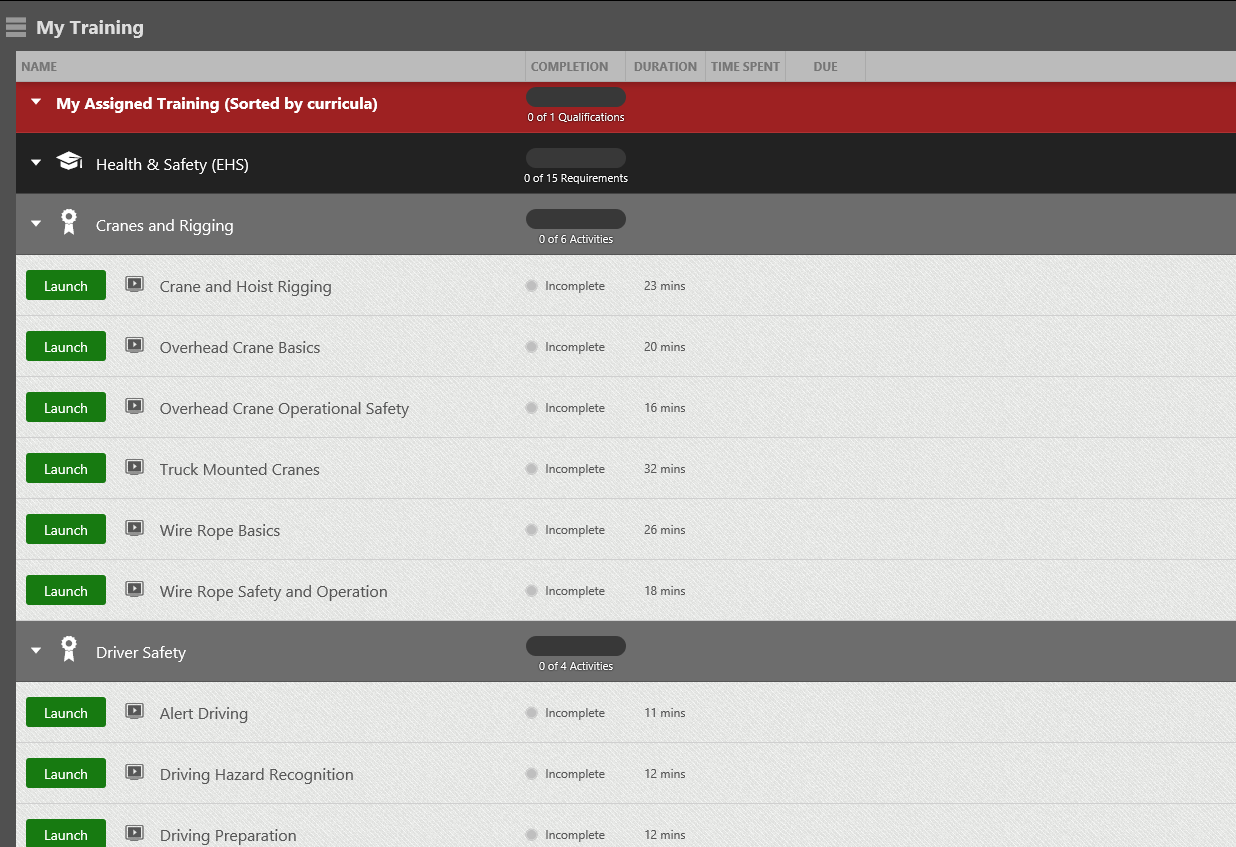 When workers log into the LMS, they can see all the onboarding training they're assigned and become to complete some of it online immediately.
Using Mobile Apps for Mobile Training & Mobile Performance Support
What's in your pocket or hand? Even though I've never met you, I feel safe in guessing the answer to this is your phone or maybe a mobile device.
Your workers, including your new hires, have them too.
So, if you're not using mobile apps, and mobile devices such as phones and tablets, for workforce training, I've got another question for you: why?
Because it's 2018, and these mobile devices are very common, and most people are very used to using them, and they're really going to wonder why you've got them chained to classroom training or online training on a desktop when they could go mobile.
Mobile training is nice because it allows a worker to access the training on his or her own schedule.
And mobile perforce support, in which a worker uses mobile devices on the job at the point of need to retrieve necessary information, is a great bonus too.
For more on mobile training, check out: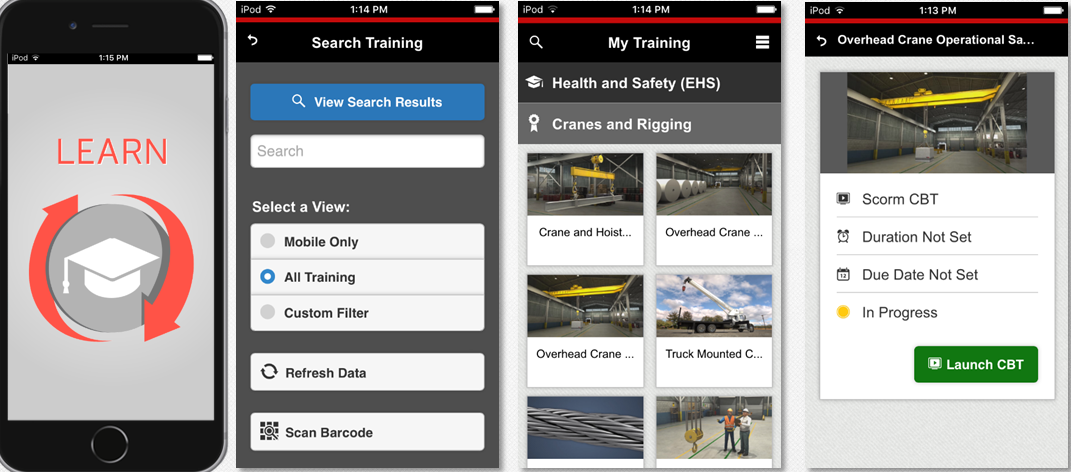 4. Reporting on Onboarding Training with an LMS
Of course, if you've gone to the work of importing training for onboarding, assigning it, and ensuring there's a way to deliver it, you're also going to want a way to know if the employees complete the training.
That's where reporting comes in.
Your LMS should allow you to:
Generate a report to check the progress of any worker on their onboarding training assignment
Generate that same report on a group of workers–all new hires, for example, or everyone in a department, site, or the entire organization
Automatically generate the report, with fresh and current data, as an email every day, week, or month (or at any other time interval you request)
Send the report to others, including department managers, shift supervisors, and your own bosses/managers
Create a schedule so that those department managers, shift supervisors, and others receive the report with fresh and current data every day, week, or month (or at any other time interval you request)

Reports should make it easy to quickly see who's done and not done with onboarding training.
5. Managing Recurrent Training Needs (Annual Training, Refresher Training, Recurrent Safety Training Requirements, Etc.)
One of the more difficult things to keep on top of in manufacturing training is the need to manage training that employees must complete recurrently over time, such as:
Refresher training every couple of months (perhaps delivered in short, "micro-learning" formats)
Repeated job qualification training every year or three years (or however you may do it at your workplace)
Safety and other compliance training that workers must complete every year/two years/three years/etc.
Your LMS should provide tools to help you manage this so you don't have to keep it all in your head somehow. Those tools should:
Know when workers are "current" and "expired" on recurrent training
Notify workers when they're about to expire
Give workers a chance to complete the training before they expire
Notify managers of workers who are about to expire
Notify managers of workers who have expired
Keep records of every time a worker has completed training–not just the most recent time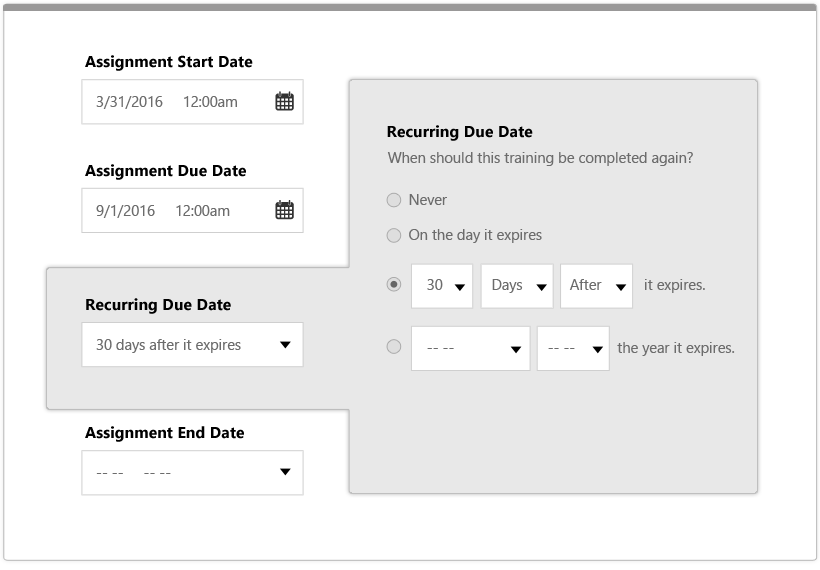 Your LMS should automatically manage recurrent training due dates for training that must be completed yearly (or at other intervals).
6. Integrating Your LMS with Your HRIS and Other Software Applications at Work
Many or most companies have and use human resources information system software, commonly known as an HRIS.
This is software that the HR department uses to manage employee information, including names, job titles, salary, performance appraisals, and more.
Your LMS should be capable of integrating with your company's HRIS system. That way, when a new employee is hired, and HR enters that person (and their job role) into the HRIS system, that person will also automatically be entered into your LMS, where you manage all of your training assignments–onboarding and other training.
Because the HRIS knows the new employees job role, it can pass that information to the LMS, which in turn can use that information to assign appropriate training based on:
The company the person works for
The site the person works at
The person's work area
The person's job role
You may have already guessed this, but just to dot our I's and cross our T's, the same is true if someone gets transferred or promoted. Your HR department will make the change in the HRIS system; that will make the change in your LMS; and that will automatically change onboarding assignments.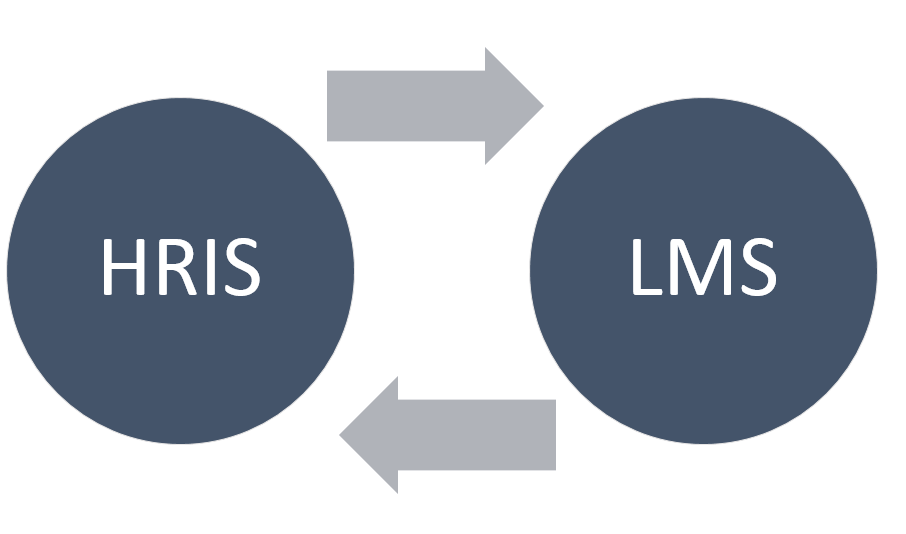 If your LMS can be integrated with your HRIS, even more of onboarding (and other training) can be automated. This can save even more time and money and reduce many common training-related headaches (such as knowing about a new hire or a recent job transfer).
You can also integrate your LMS with other workplace software applications, such as your ERP, your CRM, and more.
LMS Overview Videos
Now that you've got some ideas of how an LMS can help you manage onboarding training at work, check out the short video that demonstrates the Convergence Training Enterprise LMS.
It's a full-featured, robust LMS.

We also offer our Express LMS, which is still very powerful, but has fewer features and is generally used at smaller workplaces. Both LMSs work great for onboarding.
More about Learning Management Systems
To learn more about LMSs, check any of the articles below:
More about Online Manufacturing Training Courses
In addition to using an LMS to help with your onboarding training, you may want to look into buying training content to deliver in that LMS.
For example, consider training that's commonly required in manufacturing facilities and that you can buy off-the-shelf, such as:
Of course, you may also want to consider having some custom training made for your site as well.
More about Manufacturing Training
You might also want to check out our following resources related to manufacturing training:
Conclusion: Onboarding Training Assignments Made Easier with an LMS
Now you've got a few ideas about how an LMS can help with your onboarding training and what to look for in an LMS to make sure it's done right.
What do you think? What are some other needs for onboarding that we didn't mention? And other than onboarding, what are some other things you might struggle with related to training at a manufacturing facility?
Before you go, please download our Free Guide to Selecting Online Manufacturing Training, which includes information about LMSs for manufacturing.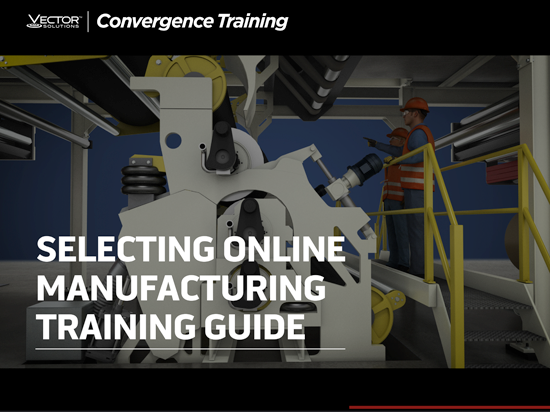 Free Selecting Online Manufacturing Training Guide Download
Download this free guide to assist you in your organization's search for online manufacturing training, including courses, learning management systems, and providers.