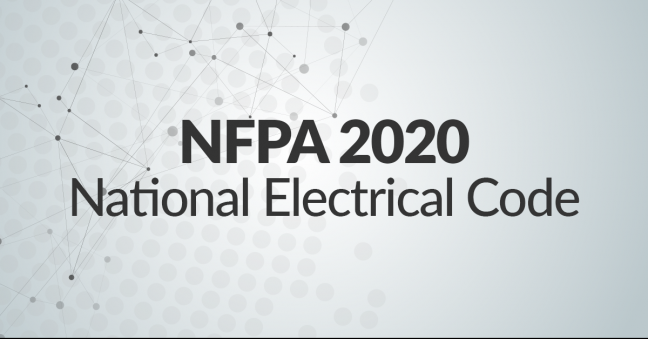 This year (2020) the National Fire Protection Association (NFPA) updated the National Electrical Code, also known as NEC and NFPA 70. The NFPA reviews and updates the NEC on a regular basis (the last update was in 2017) in order to keep up with changing technology and safety issues. This new update includes a number of changes, including the most recent requirements for electrical wiring, overcurrent protection, equipment installation, and more.
We've released a series of new and/or updated online courses to align with the 2020 NEC changes and will be releasing a second round of online training courses for NEC shortly after that.
In this article, we'll give you a brief overview of some of the changes to the National Electrical Code. Be sure to contact us if you need help with training on this important topic.
Who Is the National Fire Protection Association (NFPA)?
The National Fire Protection Association, or NFPA, is an international non-profit organization that's dedicated to eliminating death, injury, property and economic loss as a result of fire, electrical, and related hazards.
As part of their mission, the NFPA writes a large number of codes and standards. NFPA 70, the National Electrical Code (NEC), is one of those.
What Is the National Electrical Code (NEC)?
NFPA 70, also known as the National Electrical Code, is (in the words of the NFPA):
Adopted in all 50 states, NFPA 70, National Electrical Code (NEC) is the benchmark for safe electrical design, installation, and inspection to protect people and property from electrical hazards.
The NEC is updated every few years and was updated this year (2020).
What's New in the NFPA 2020 NEC?
If you get a copy of NFPA 70, the NFPA has been kind enough to include text shading and revision symbols that help you identify stuff that's new or has been changed.
The NFPA identifies the following as some of the major changes in this new edition:
Cables installed exposed on ceiling surfaces and sidewalls: This is a NEW general requirement
Conducting load calculations: This change modernizes the tables currently used in order to reflect improvements in energy efficiency
Deenergized panel boards: This change revises the service disconnect rules to improve safety for electrical workers
Exterior emergency disconnects: This change is intended to improve safety for emergency responders at one- and two-family dwellings
Marinas and boatyards: These changes update the requirements for ground-fault protection and leakage-current measurement device
Power over ethernet: This change adapts the NEC requirements to meet the new and evolving installation practices
Reorganization of Article 310: Important ampacity tables have new, more user-friendly numbering
For even more information on changes in this new version of NFPA 70, check for the lists of complete revision details in the NFPA's First and Second Draft Reports.
Do Vector Solutions/Convergence Training/RedVector Offer Online NEC Training Courses?
You bet we do! We're releasing two series of courses to cover these changes to the NEC/NFPA 70. The first series of online training courses, available now, includes the following titles:
2020 NEC® Changes:  Overvoltage; Grounding and Bonding
2020 NEC® Changes: Conductors, Wiring Methods, and Enclosures
2020 NEC® Changes: Focus on Wiring Methods
2020 NEC® Changes: Devices, Lighting, and Gear
2020 NEC® Changes: Equipment for General Use
2020 NEC® Changes: Backup Power, Energy Storage, and Limited-Energy
The second series, available soon, will include these titles:
2020 NEC® Changes: Process Review and Updated Articles
2020 NEC® Changes: Special Equipment
2020 NEC® Changes: Branch Circuit GFCI Protection
2020 NEC® Changes: General Requirements
2020 NEC® Changes: Solar PV Sysetms and Interconnected Power Systems
2020 NEC® Changes: Special Occupancies
2020 NEC® Changes: Wiring and Protection
We'll have this next batch of courses related to 2020 NEC/NFPA 70 ready for you soon, so check back!
What About NFPA 70E?
NFPA 70E is the national standard for electrical safety in the workplace.
OSHA asked the NFPA to create NFPA 70E to help workers avoid injuries and deaths as a result of shock, electrocution, arc flash, and arc blast at work. It also assists employers to comply with OSHA's 1910 Subpart S and 1926 Subpart K (Electrical) standards. The NFPA last updated 70E in 2018.
NOTE: not to get TOO FAR into the weeds here, but NFPA is not incorporated by reference into 1910 Subpart S or 1926 Subpart K. But that doesn't mean NFPA 70E won't come up during an OSHA inspection. Read some informed commentary on this issue here.
If you're interested, we do offer an online Introduction to NFPA 70E course as well as courses on electrical safety, arc flash, electric shock, and other electrical hazards.
Conclusion: Let Us Help You Keep Up with the 2020 NEC
We hope that you found this heads-up regarding the new 2020 National Electrical Code (aka NEC, aka NFPA 70) helpful. Let us know if we can help out with electrical and NEC training solutions at your organization.