Here are the new training courses created by our busy Production department in July. They're all additions to our Pulp, Paper, Tissue, and Box 3D animated training libraries. Scroll down to see short samples of each.
If you'd like to learn more about these courses or view them in a demo, click here.
Black Liquor Evaporators – Principles
Learn the basic function and objectives of black liquor evaporators installed at kraft pulp mills. This course introduces steam theory, including the relationship between steam pressure and temperature, flashing, and boiling point rise. Examine the impact of steam theory on evaporator size and the number of effects in a multiple effect evaporator set.
Learn more about our Black Liquor Evaporators – Principles Course
Box Plant Basics – The Corrugator
A corrugator is a large machine, made of a series of smaller machines, that combines two different kinds of paper to create cut sheets of corrugated fiberboard. The corrugator takes large rolls of paper produced on paper machines, flutes the medium and glues it to the liners, one at a time, and delivers stacked, cut, and scored sheets of corrugated board.
Learn more about our Corrugators Course
Carrier Ropes – Safety
This module details the principle dangers and hazards associated with paper machine carrier rope systems. Specifically, it discusses the importance of safe behaviors related to housekeeping, nip points, unguarded rope runs, rope breakage, and crossing rope runs. It also stresses the importance of maintaining the proper amount of respect for the ropes.
Learn more about our Carrier Rope Safety Course
Take a second to download our free guide to online training for people in the pulp, paper, tissue, and/corrugated industries since you're here.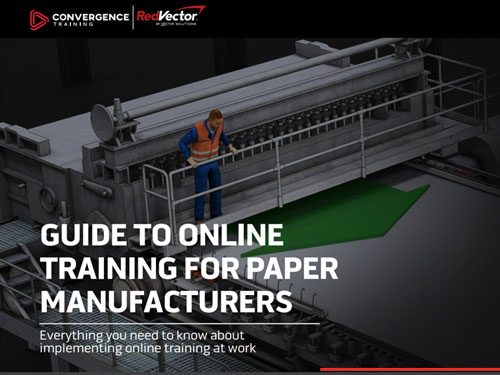 The Papermaker's Guide to Online Training
Learn everything you need to know about using online training at your paper manufacturing facility and get tips for getting started now.