Here are the new training courses created by our busy Production department last month. They're all additions to our Pulp, Paper, Tissue, and Box 3D animated training libraries. Scroll down to see short samples of each.
If you'd like to learn more about these courses or view them in a demo, here's how to contact us.
Black Liquor Evaporators-Equipment
This course describes different evaporator designs used to concentrate black liquor. Including rising film evaporators, falling film evaporators, falling film concentrators, and forced circulation concentrators. It also contains discussions on scaling and boil outs, the role of surface condensers, and removal of non-condensable gases from a multiple effect evaporator set.
Learn more about our Black Liquor Evaporators-Equipment Course.
Carrier Ropes-Design and Operation
To keep a carrier rope system operating safely and efficiently, it is important to understand the elements of proper design and operation. The information presented in this module will help you to identify existing issues with your carrier rope system and provide guidance on the possible changes needed to alleviate them.
Learn more about our Carrier Ropes-Design and Operation Course.
Box Plant Basics-Flexo Folder-Gluers
This course describes the design and operation of the machine sections that make up a flexo folder-gluer, including the feed section, printing section, creaser-slotter, die cutter, glue lap unit, folding section, and delivery end.
Learn more about our Box Plant Basics-Flexo Folder-Gluers Course.
Pulping and Papermaking Overview
This module begins with a brief history of papermaking and a discussion on softwood and hardwood fibers. It describes several pulp processing operations, and ends with a description of the various sections of a paper machine, including the forming section, press section, dryer section, and reel.
Learn more about our Pulping and Papermaking Overview Course.
Need to know more? Drop us a line; we'd be happy to hear from you.
Before you go, download our free guide to online paper manufacturing training!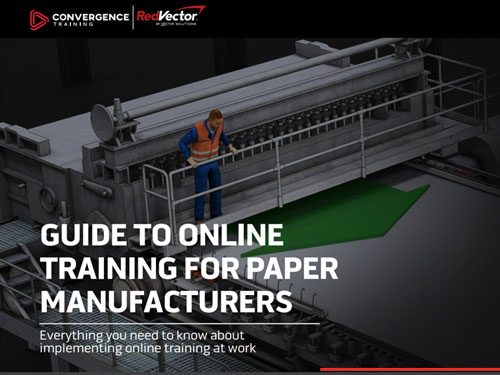 The Papermaker's Guide to Online Training
Learn everything you need to know about using online training at your paper manufacturing facility and get tips for getting started now.