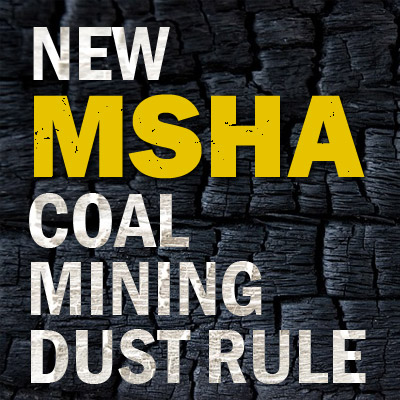 In the early 1900s, when my grandfather was just a little boy, he left his home in Lithuania to come to America. He settled and grew up in Pennsylvania, where he worked in coal mines for many years when he was young. When he got older, he moved to Detroit, where he worked at Ford's Willow Run plant. There, he helped to make the B-24 bombers that played a role in helping the United States come out on the right side of WWII. (My grandmother also worked on the line at Willow Run, by the way.)
But those years in the Pennsylvania coal mines caught up my with grandfather, and he passed away of black lung disease when I was just a kid. I have only a few memories of him, and my grandmother lived twenty more years as a widow.
It's a sad story for me and my family, but it's newsworthy because it's common–many American miners died of black lung disease back then. But tragically, that's not just part of the distant past. According to the Mine Safety and Health Administration (MSHA), black lung has played a role in the death of at least 76,000 miners since 1968. In addition, more than $45 billion in federal compensation benefits has been paid to miners disabled by black lung and to their survivors. And even today, miners continue to be diagnosed with black lung–in fact, black lung rates have increased in recent years.
And that's why MSHA published a new rule in April to lower the rates of respirable coal mine dust–the stuff that causes black lung. And that rule is set to go into effect soon–August 1, 2014.
What all that said, let's take a closer look at this new MSHA Coal Mining Dust rule.
Need help training your miners? Check out our Learning Management System (LMS) for mine operators and our mining safety courses.
What is "black lung?"
Black lung is a lung disease caused by inhaling certain dusts. Miners experience black lung after inhaling dust while working in mines. The disease typically builds up over long periods of time as a result of dust exposure. It can damage a miner's ability to breath, causing disability and even death. It is also sometimes called "coal worker's pneumoconiosis."
Is black lung curable?
There's no way to cure someone who has black lung. But, the disease is completely preventable, and that's what this new new MSHA coal mining dust rule is designed to do.
How are silicosis and mesothelioma related to black lung disease?
They are all lung diseases caused by breathing dangerous dusts. Breathing asbestos particles in dust leads to mesothelioma; breathing crystalline silica dust leads to silicosis; and breathing dusts present in coal mining operations leads to black lung. These three lung diseases belong to a family of lung diseases known as pneumoconiosis. As a result, black lung is sometimes called "coal miner's pneumoconiosis."
When does the new MSHA coal mining dust rule go into effect?
The initial effective date is August 1, 2014. Additional parts of the rule take effect February 1, 2016 (eighteen months later) and more parts go into effect on August 1, 2016 (twenty-four months after the initial effective date). See below for more details about each of the three effective dates.
Where can I read the final rule?
Here's the text of the final rule.
What are four "highlights" of the rule that MSHA identifies?
MSHA identifies the following four big highlights of the rule:
Lowers levels of allowable dust concentrations
Calls for newer technological means to monitor and measure dust levels
Requires immediate corrective action when dust concentrations are too high
Improves medical surveillance system for detecting the disease in its early stages
What specific changes have been made to the acceptable levels of dust concentration?
Reduces the overall dust standard from 2.0 to 1.5 milligrams per cubic meter of air
Cuts the standard in half, from 1.0 to 0.5 milligrams per cubic meter of air, for certain mine entries and for miners with pneumoconiosis
Requires mine operators to conduct thorough on-shift examinations of dust controls and verify controls with written certification
Tell me more about changes to dust concentration sampling and measuring:
Requires more frequent sampling of areas known to have relatively high dust levels, such as those closest to the production area
Changes the method of averaging dust samples, which previously allowed miners on some shifts to be exposed to levels above the standard
Requires sampling for the full shift a miner works to ensure protection for all working hours, rather than stopping measurement after 8 hours, as under the previous requirement
Requires dust samples to be taken when mines are operating at 80 percent of production, as opposed to the previous 50 percent requirement, so that samples are more representative of actual working conditions
Requires miners in high-risk occupations to wear and use continuous personal dust monitors (CPDMs) to provide real-time sampling results. These will provide readings that mine operators can use to take immediate action to correct dust conditions
Tell me more about the newly required "immediate correction actions:"
Requires immediate action when dust levels are high instead of allowing days or weeks of miners' exposure to unhealthy dust
Requires that, for MSHA-collected samples, MSHA will issue a citation for any single, full-shift sample at or exceeding the citation level
Tell me more about changes to the medical surveillance of miners:
Expands surveillance to include surface as well as underground coal miners
Adds lung function testing to existing x-ray requirements
What parts of the new rule come into effect at each of the three effective dates?
August 1, 2014:
Compliance determined based on a single, full-shift sample obtained by MSHA
Immediate corrective action required if a single, full-shift sample obtained by an operator finds an excessive level of dust
Method of citing overexposures and averaging samples obtained by operators is changed
Term "normal production shifts" is redefined, requiring underground mine operators to collect respirable dust samples when production is at least 80% of the average production over the last 30 production shifts
Full-shift sampling required
Number of positions to be samples at surface mines increases
Training and certification strengthened for persons who conduct sampling
Excessive concentration valuation (ECV), a new concept created to account for possible margins of error in sampling, goes into effect. Citations will only be issued when a sample meets or exceeds the ECV (which is shown in a table in the new rule)
New improved record-keeping and accountability requirements implemented
Expanded medical surveillance requirements implemented
Transfer rights for miners with coal workers' pneumoconiosis (Part 90 miners) extended to surface miners
February 1, 2016
Use of continuous personal dust monitors (CPDMs) required to monitor coal mine occupations exposed to highest respirable dust concentrations, as well as all miners with evidence of black lung (Part 90 miners)
Sampling frequency in in underground mines increased
Miners receive information on respirable dust levels more quickly
August 1, 2016
Concentration limits for respirable coal mine dust in coal mines reduced from 2.0 to 1.5 milligrams per cubic meter of air
Standard for Part 90 miners and for air used to ventilate places where miners work is reduced from 1.0 to 0.5 milligrams per cubic meter of air
What documents did MSHA create to help explain the new coal mine dust rule?
There are quite a few. Check out the ones linked below:
MSHA Coal Dust Rule Fact Sheet
MSHA Coal Dust Rule New Release
Coal Dust Rule Collaboration with Industry for Compliance News Release
MSHA Coal Dust Regulation Summary by Effective Dates
MSHA Coal Dust Rule Q&A
Sampling and Compliance Overview
Note: The articles on MSHA's website linked above served as sources of this article; in some cases, explanations of the new rule are directly copied from these source documents so you can get the words straight from the horse's mouth. Our thanks to the men and women at MSHA for creating these materials.