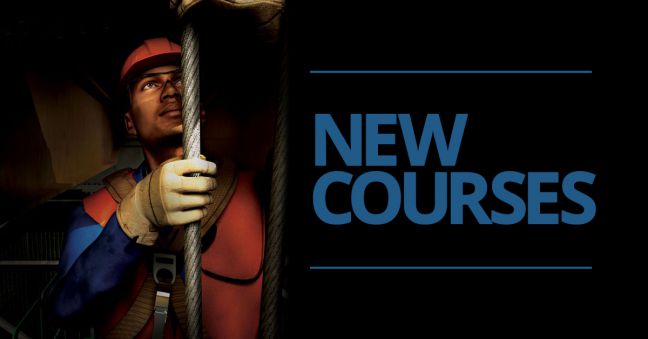 You may remember our earlier article mentioning that the National Fire Protection Association (NFPA) had updated the National Electrical Code, creating NEC 2020®.
Here's what the NFPA says about NEC 2020® at their webpage:
NFPA 70®, National Electrical Code® (NEC®), sets the foundation for electrical safety. The revised 2020 edition of this trusted code reflects the dynamic nature of the industry, incorporating more than 3,700 public inputs and 1,900 comments, resulting in hundreds of updates and four all-new articles related to emerging issues like emergency disconnects, ground-fault circuit interrupter protection, surge protection, power over Ethernet, and more.
To help electricians get or stay certified, Vector Solutions (through our business partners at RedVector) have released a series of new online NEC 2020® training courses to their existing continuing education training library for electricians.
We'll give some more details about these exciting and important new course offerings below. Please let us know if you've got any questions.
Plus, we're offering a free, live, informational webinar on these NEC 2020® Changes on Tuesday, September 15, 2020. Register now and you can attend live, listen, and even ask some questions or, if you miss it, we'll be sure to get a recording in your email inbox shortly after.
And here's a quick overview video from some of the NEC 2020® online training courses.

More on NEC 2020® and the New Vector Solutions NEC 2020® eLearning Courses
The  National Electric Code is adopted by all 50 states and sets the minimum standard for safe electrical design, installation and inspection to protect people and property from electrical hazards. The  National Fire Protection Association (NFPA) meets to review, revise and update new code requirements to ensure electrical safety in both commercial and residential sites every 3 years. Vector's courses cover the most recent 2020 changes to the National Electrical Code (published 9/18/19).
New NEC 2020® Courses Available Now at RedVector.com
You can view and complete all of the courses listed below at the RedVector website here.
2020 NEC®

Changes: Backup Power, Energy Storage, and Limited-Energy

2020 NEC®

Changes: Conductors, Wiring Methods, and Enclosures

2020 NEC®

Changes: Devices, Lighting, and Gear

2020 NEC®

Changes: Equipment for General Use

2020 NEC®

Changes: Focus on Wiring Methods

2020 NEC®

Changes: Overvoltage and Grounding & Bonding

2020 NEC®

Changes: Branch Circuit GFCI Protection

2020 NEC®

Changes: General Requirements

2020 NEC®

Changes: Process Review and Updated Articles

2020 NEC®

Changes: Solar PV Systems and Interconnected Power System

2020 NEC®

Changes: Special Equipment

2020 NEC®

Changes: Special Occupancies

2020 NEC®

Changes: Wiring and Protection
Who Might Be Interested in These Courses?
Well, if you need these courses for your career, you probably already know that, but here are just a few of the job titles of people who can benefit from these NEC 2020® courses:
Electrical contractors

Electricians

Electrical Engineers

Maintenance electricians

HVAC maintenance and Repair Technicians

Plant & facility maintenance technicians

Building engineers

Building managers & superintendents

Plant & facility managers

Energy management personnel

Safety directors
Get Started on Your NEC 2020® Online Training Courses Today to Get or Keep Your Certification
What are you waiting for? We've got what you need to get started today. Let us know how we can help. 🙂