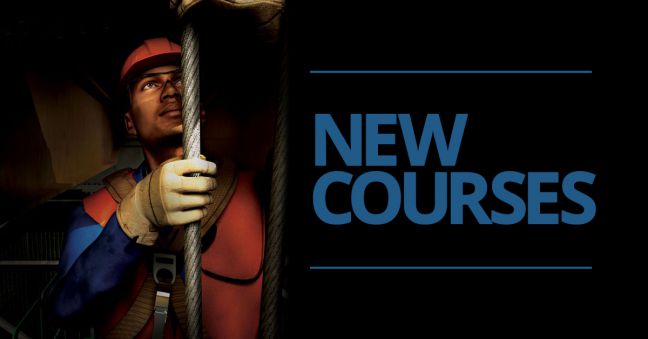 Although we publicized this in different ways when it happened, we're late here at the Convergence Training blog announcing that Vector Solutions, including Convergence Training and RedVector, made a major course release of Facilities Maintenance online training courses this year.
Our new Commercial Facilities Maintenance online training library includes 69 individual courses running over a total of 23 hours and separated into 16 different related series of courses.
Here's a quick overview video that you might enjoy:
Below is a list of the online training courses in this new Commercial Facilities Maintenance online training library. Let us know if you'd like to learn more about these courses or our LMS for delivering them. Click to contact Convergence Training or RedVector.
We've got additional descriptions of each course for you below.
Also, if you want to dig a little deeper into some good ideas for improving your facilities maintenance training programs, check out our record, on-demand webinar explaining how Vector Solutions joined forces with our partners at CBRE to help them build a best-in-class facilities maintenance training program for CBRE and their maintenance techs.
Courses in Our Facilities Maintenance Online Training Library
Here's a brief overview of the 69 online training courses in our Facilities Maintenance training library.
Direct Digital Controls (DDC) Building Automation Basics
Learn to use the building automation systems and its different components to create cost savings for your facility.
Pneumatic Building Automation Basics
This course provides a fundamental understanding of the parts that make up a pneumatic system, including the conditioning and operating systems at a facility. Pneumatic actuators, electro-pneumatic transducers, and pneumatic thermostats are covered. In addition, learn about hazards present when maintaining a pneumatic system and how to use safety controls and measures to work safely.
Building Automation Systems (BAS) Architecture
Learn about the distributed automation system, a distributed control system used to monitor and control a facility's mechanical, electronics, and lighting systems. This course covers building automation system topology and includes coverage on primary and secondary bus and analog and digital input and output.
Building Automation Systems (BAS) Operation
Designed for facility managers, building maintenance techs, and HVAC techs, this course explains the basics of automation equipment and how the building automation system can be used to identify problems and depevelop solutions.
Carpentry Basics
This course provides a solid overview of the knowledge and skills necessary to practice carpentry in a facilities maintenance setting, including cutting, shaping, and installation of building materials during the construction of buildings and other structures.
Carpentry Basics: Drywall Repair
Learn the tools, materials, and finishing techniques and procedures to repair damaged drywall at a facility in this online course.
Carpentry Basics: Painting
Learn what you need to know to complete a paint job successfully, including paint composition, various paint systems, how to prepare a surface for painting, and how to paint correctly, as well as the importance of always selecting the proper tool for the job.
Carpentry Basics: Tools and PPE
This course introduces various types of hand tools and their proper uses, explains proper work and safety procedures, and prepares you to use and maintain hand and power tools successfully in repair situations.
Doors and Hardware Basics
Learn the basics of commercial door hardware so you apply that knowledge to door maintenance and repair.
Door and Hardware Maintenance and Repair
Course covers maintenance and repairs of doors and door hardwater in commercial buildings.
MRO Stockroom Management
Learn to properly stock parts for maintenance, repair, and operations (MRO) to balance cost and inventory. Learn about maintaining stock, managing consumables, and costs/benefits of MRO management.
Carpentry Safety
Learn about basic/common risks and hazards involved in carpentry work and how to stay safe while performing carpentry tasks at your facility.
Cooling Basics
Learn all the basic information you need to know about building cooling systems so you can maintain and repair commercial HVAC systems. The course explains concepts related to maintaining temperature and humidity at desired levels and cover sensible and latent heat, BTUs, laws of thermodynamics, and HVAC cooling equipment.
Cooling: Hot & Cold Call Basics
If you're responsible for a facility's HVAC system, you will at times receive calls that the building is too warm (or cold). In this course, you'll learn basic communication skills for responding to such calls; foundational knowledge of how cooling (or heating) systems work; and tips for troubleshooting and solving problems with cooling systems to keep the building at a desired temperature.
Cooling Theory
This training course explains the basics of cooling a building to maintain temperature and humidity at desired levels.
Cooling System Maintenance
It's necessary to inspect and maintain cooling systems over time and on a regular basis to keep them functioning properly. Learn how to inspect and maintain your building's cooling system and its components in this course.
Basic Electrical Theory
Learn to handle basic electrical calculations re: electrical circuits, including AC and DC. This course teaches you to calculate voltage and electrical power in a circuit using Ohm's Law and Watt's Law; how to determine electrical resistance for wiring in a circuit; the difference between single- and three-phase power; and more.
Basic Electrical Troubleshooting
Learn the difference between step-up and step-down transformers; how to test for unbalanced loads and blown fuses; and how to check wires for adequate insulation in order to avoid electrical hazards. You'll also learn to use tools such as the clamp-on ammeter, megohmmeter, and voltmeter for electrical troubleshooting.
Basic Electrical Maintenance
Learn the basic information you need to know to identify, troubleshoot, and fix problems with electrical components and systems in your building, including hazards and how to work safely. Learn to operate and reset GFCI receptacles, lighting ballasts, light switches, electrical receptacles, and more.
Electrical Architecture
Learn the technical requirements of individual electric components, equipment, and electrical systems, including switch circuit arrangements, dedicated and shared circuits, circuit voltages, heater contractors, and electrical wiring basics.
Electrical Safety
Learn the safe electrical work practices you need to know to install, repair, and maintain electrical systems at your facility. The course covers the dangers of arc flash, the effects of electrical current flows on the human body, the importance of lockout-tagout, and the goals of NFPA 70E.
Electrical Theory & Mathematics
You'll learn the critical principles of Electrical Theory in this course as well as the mathematics to perform electrical calculations, including voltage, amperage, resistance, and power. Additionally, the course covers Ohm's Law, Watt's Law, Kirchoff's Law, and Faraday's Law.
Lockout/Tagout & Basic Arc Flash
Learn the dangers of arc flash, how to protect against arc flash, and the importance of lockout-tagout (and how to use it).
Volt/Ohm/Amp Meters
Learn about volts, ohms, and amps, all important characteristics of electrical systems, learn about instruments for measuring them, and learn to do so safely.
Basic Emergency Power Systems
If electrical service to your facility is interrupted, you'll want emergency power systems to keep things running smoothly. In this course, you'll learn what a standby power system consists of, how to monitor and maintain and, and get some helpful recommendations for inspecting and testing that system.
Intermediate Emergency Power Systems
This course goes beyond "the basics" to provide more advanced knowledge of standby and emergency power systems. You'll learn detailed mechanical and electrical functions related to generator system components as well as analysis and testing techniques for maintain system reliability.
Emergency Power Testing
If your building's normal supply of electricity is cut off, you may have a backup/emergency system to kick in. But what would happen if that emergency power system failed? You don't want that, and so it's wise to schedule a series of inspections and tests on that emergency backup system. In this course, you'll learn government-mandated minimum requirements for inspecting and testing standby generators and ways to maximize the reliability of your standby power systems.
Energy Management Basics
Get a basic introduction to terms and skills involved in building energy management to provide comfort and minimize energy use and therefore cost.
Energy Accounting
It takes a lot of money to power a building. In this course, you'll learn concepts and terms to better understand and manage energy consumption.
Low/No Cost Energy Savings Opportunities
Learn some low-cost methods to reduce building energy consumption in this online training course.
Fire Systems and Sprinkler Basics
Learn the basic information you need to know about the components of fire systems and fire sprinkler systems at a facility and learn how they work together to warn occupants of a fire and to put out fires.
Fire Systems: Fire Alarm Control Panel
There are multiple different types of fire alarm control panels and their equipment and installation are covered by differing local, state, and national codes. This course will introduce you to the basics of a fire control panel to clear up confusion, provide confidence, and get you ready to work with fire alarm control panels. You'll learn about fire codes, types of fire alarm systems, how to initiate systems, how to handle firm alarm conditions, and how to test, check, and troubleshoot your system.
Fire Systems: Fire Extinguishers
Learn the different types of fire extinguishers, the fire extinguisher rating system, and how (and when) to use a fire extinguisher to put out a fire in this online course.
Fire Systems: Life Safety Testing
Learn to understand the life safety systems that help protect building occupants during fires, earthquakes, and other emergencies and know how to inspect, test, and maintain them on a regular basis to ensure they're working in case they're ever needed.
Fire Systems: Wet & Dry Sprinkler Systems
This course introduces the different types of building sprinkler systems facility maintenance personnel may encounter, explains their capabilities and limitations, and helps to prepare you to maintain their performance in case they're needed during a fire emergency.
Heating Systems Basics
Learn the basics of heat transfer and heating systems in this elearning course. Topics covered include three types of heat transfer–convection, conduction, and radiation; hot water and steam boiler operation; electric heaters; and heating system controls.
Heating Theory
Get more in-depth on heating theory in this course, including learning the three laws of thermodynamics, different heat-transfer methods, how we measure heat, and the relationship between pressure and temperature in heating systems.
Hot Water Boilers
Take this course to learn how a hot water boiler works, about the different types of boilers, and about the job responsibilities of a boiler operator, including inspections and maintenance for boiler systems.
Steam Boilers
Learn how steam boilers operate in this online course, including fire tube boilers and water tube boilers as well as combustion and steam traps.
HVAC – Air Side: Air Balance Basics
This online HVAC/Air Balance course explains the fundamentals of HVAC system air balance and how to achieve that balance.
HVAC – Air Side: Air Distribution
Learn more about the components of an HVAC system that moves, distributes, and controls airflow through your building's HVAC system, foundational knowledge for inspections, maintenance, repair, and cost-management.
HVAC – Air Side: Air Handling in Commercial Buildings
Learn more detailed information in this course that focuses on HVAC components that condition and move air flow the HVAC system.
HVAC – Air Side: Hot & Cold Calls
Learn the basics of handling HVAC hot & cold calls from building occupants, including knowledge of the HVAC system, troubleshooting methods, and essential people skills for interacting with occupants while you're addressing their calls.
HVAC – Air Side: Introduction to Air Handlers
Learn more about air handlers in this online course, including operational functionality, appropriate maintenance methods, and the benefits and operation of an outside air economizer.
HVAC – Air Side: Terminal Units
Learn more about terminal units, or VAVs, in HVAC systems that increase the efficiency and flexibility of the system in this online course.
Hydronic Systems Basics
This online course explains the basics of water-based cooling systems, also known as hydronic systems. Use the information in this course to manage and operate buildings with these kind of systems. You'll learn about centrifugal pumps, heat exchangers, the laws of thermodynamics, displacement and rotodynamic pumps, fluid-to-fluid heat exchangers, counter-flow and parallel-flow, and heat-exchanger types, including plate, tube-and-shell, and tube-in-tube.
Hydronic Systems: Architecture and Operation
This course introduces the architecture and operation of water-based (hydronic) cooling systems, and it it builds on our Hydronics Basics course.
Hydronic Systems: Cooling Tower Basics
This course has been created with the practical user of water based (hydronic) heating and cooling systems in mind. The goal is to introduce and understand one of the most basic elements in a hydronic cooling system: The cooling tower.Here we will convey the fundamentals of the means of heat rejection so that you can responsibly and confidently manage and operate buildings that utilize such systems. The objectives of this course are to understand open tower construction and operation; fluid cooler construction and operation; and to provide an overview of water treatment basics.
Hydronic Systems: Cooling Tower Operation
Learn about the operation of water cooling towers in water-based cooling systems in this online training course, including means of heat rejection. Completing this course will help you manage and operate buildings with these kind of cooling systems.
Hydronic Systems: Pumps and Pumping Systems
Learn about the pumps and pumping systems used in water-based (hydronic) cooling systems in this course. The course will help you operate, troubleshoot, repair, and maintain hydronic pumps and different pump configurations; will explain packings, couplings, and bearing assemblies; cavitation and how to address it; pump drives and couplings; pump alignment; basic pump components, including drive assembly and shaft couplings; how to select a pump; common pump arrangements; troubleshooting pump problems based on pump noise; and more.
Motor Basics
This course explains the two general types of electric motors, describing their construction and the operating principles of each type. A great introduction to advancing your motor repair and maintenance skills.
Intermediate Motors
Learn motor maintenance best practices to increase the reliability of AC and DC motors in facilities. The course explains proper use of tools and equipment, troubleshooting techniques, winding testing, shaft alignment, vibration monitoring and analysis, and more.
Advanced Motors
Ensure long-term mechanical reliability for motors with this advanced training course. Learn about different motor types, constructions, and applications; the NEMA mountings and dimensional data of different frame sizes; energy-efficient motors for reduced operating costs; and more.
Plumbing Basics
Learn all the basics about plumbing that you can put to use for plumbing maintenance and repair. Learn uses for plastic, steel, and copper pipe and what types of fluids each can safety convey; learn joining methods for each type of pipe. This course should prep you to perform joining techniques, including gluing PVC type, and to understand hazards in each pipe joining method.
Plumbing Maintenance
Learn the basics of plumbing maintenance, including inspections, repairs, and maintenance, the operation of basic water supply and drainage components in plumbing systems and how to maintain them properly in this online course.
Plumbing: Backflow Preventers
This course explains how to avoid backflow by properly using backflow preventers. Learn to select, install, maintain, and test backflow preventers, what they are and ow they work, the different types of backflow preventers, and how to troubleshoot backflow-related issues.
Plumbing: Pipe Fitting
This course covers information about all-important plumbing fittings, including couplings, elbows, and unions. Learn about plastic, steel, and copper water piping systems and much more.
Intermediate Maintenance Practices
Learn common maintenance techniques for motors, electrical contacts, bearings, chillers, coils, steam traps, and more.
Preventive Maintenance Basics
Learn basics of preventive maintenance you can apply at your building, including filter replacement, v-belt replacement and alignment, cleaning coils, lubrication, and daily rounds and readings.
Reliability-Centered Maintenance
Learn what reliability-centered maintenance is and how to establish and maintain an asset-specific maintenance plan to keep equipment operating as desired, with reliability and availability, at low cost. Learn the different modes of maintenance and describe analysis methods used to develop effective maintenance plans.
Refrigerant Management
Learn to implement and put into use a refrigerant management program, including complying with AHJ requirements, EPA regulations, and proper recordkeeping practices.
Refrigeration Basics
Learn the theory of the vapor-compression refrigeration cycle as well as equipment and processes used.
Refrigeration Components
Learn about different types of refrigeration systems and their components, including evaporators, compressors, condensers, and metering devices, all of which work together to change the pressure, temperature, and phases of the refrigerant.
Refrigeration Theory
Learn the three laws of thermodynamics, the four components of a refrigeration system and how they operate, about thermal energy transfer, and the maintenance procedures to use to keep refrigeration equipment operating well.
Water Treatment Basics
Learn the basics of water treatment in large buildings, including cooling tower operation and control of scaling, fouling, pH and bacteria.
Intermediate Water Treatment
This course builds upon our Water Treatment Basics course and includes more in-depth information on operation and maintenance of cooling towers and boilers, and coverage of water chemistry, dissolved oxygen, solids, and bacteria.
CMMS Basics
A computerized maintenance management system, or CMMS, is commonly used to manage maintenance activities at a facility. This course will teach you the purposes and benefits of a CMMS as well as methods for using one efficiently and properly.
Workflow Management
Learn the manage the workflow of maintenance workers and activities by using a CMMS, including preventive, corrective, and reactive maintenance for the building's electrical-mechanical equipment, HVAC, fire alarm and suppression equipment, building exterior, vehicles, and more.
Conclusion: Let Our Online Training Courses Kick Start Your Facilities Maintenance Training Program
We hope you enjoyed this overview of our online training offerings for facilities maintenance. Don't forget to check out our Facilities Maintenance Online Training library to ask for a demo, and check out our Electrical Maintenance online training library and Mechanical Maintenance online training library.
And before you go, download the guide below to learn how to select, implement, and use online facilities maintenance training, including elearning courses, learning management systems, and more.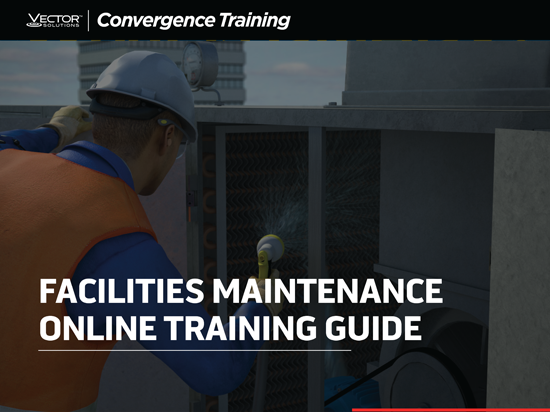 Free Guide to Facilities Maintenance Online Training
Download this free guide to learn everything you need to know about putting together a best-in-class facilities maintenance training program, including online training.