Here's another update on the new training courses created by our busy Production department in June. They're all additions to our Pulp, Paper, Tissue, and Box 3D animated training libraries. Scroll down to see short samples of each.
If you'd like to learn more about these courses or view them in a demo, click here.
Lime Kiln Fundamentals
This course covers the purpose of the lime kiln and the role of lime (CaO) in the chemical recovery process at a kraft pulp mill. Then it describes the components and sections of a rotary lime kiln, and the chemical reaction that takes place inside the kiln. Finally, it lists some common problems experienced in lime kilns.
Black Liquor Evaporators—Introduction
The Black Liquor Evaporators – Introduction course begins with an overview of the kraft chemical pulping process and the role evaporators play in the chemical recovery process. It then details the flows of steam, vapor, and black liquor in a typical multiple effect evaporator setup, and concludes with a discussion on "steam economy."
Wet End Chemistry Basics
This course discusses the fundamentals of colloidal chemistry for paper machine stock and water systems. It describes the surface charge interactions that take place and the role of pH. It also discusses how some commonly used chemicals affect wet end chemistry, machine operations, and characteristics of the sheet produced on the paper machine.
Box Plant Basics—Box Plant Equipment Basics
This course introduces some common box plant equipment and processes, and discusses equipment layout, material flows, and storage considerations in box plants.
Box Plant Basics—Raw Materials
This course describes wood fiber sources, chemical pulping and papermaking processes, and various glues, inks, and coatings used in the production of corrugated board and corrugated boxes.
Box Plant Basics—Corrugating Adhesives
This module begins with the history of corrugating adhesives, and then it describes the purpose or function of the ingredients in modern, starch-based corrugating adhesives, including cooked and uncooked starch, caustic, borax, and water. It details the importance of adhesive viscosity.
Take a second to download our free guide to online training for people in the pulp, paper, tissue, and/corrugated industries since you're here.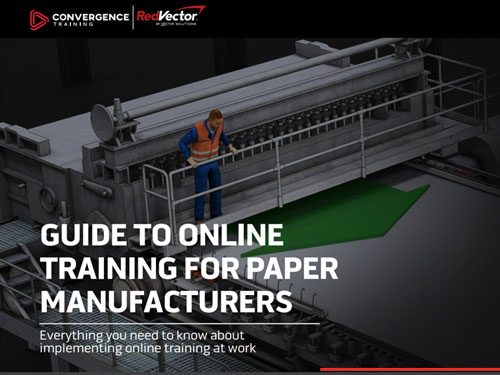 The Papermaker's Guide to Online Training
Learn everything you need to know about using online training at your paper manufacturing facility and get tips for getting started now.