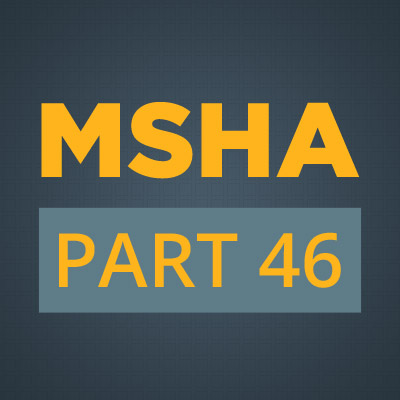 If you're an operator or a production-operator at a surface mine in the U.S., you know you've got to provide safety training for your miners. (If this is news to you, we'll give you some relevant news and definitions about that in just a second.)
In addition, the production-operator and a contracting company share responsibility for making sure that contract employees working at a mine site get safety training as well. We've covered that all in our recent MSHA Part 46 Training Requirements for Contractors article.
But in addition to that, you've also got to provide safety training to your employees who are not miners. And that's what we're going to explain in this article.
We've also included a Free Guide to MSHA Training Requirements for you at the bottom of this article.
Convergence Training
 provides online safety training courses, learning management systems, incident investigation software, and contractor orientation solutions for mining safety and general safety. Explore the links below to learn more about what we do.
Download our FREE Guide to Online MSHA Training Solutions
For Starters: Part 46, Production-Operators, Operators, Miners, and Contractors for Part 46
Because we threw around some terms above, we thought we'd give you some official MSHA definitions to start.
Scope of Part 46
Part 46 applies in the following mines:
The provisions of this part set forth the mandatory requirements for training and retraining miners and other persons at shell dredging, sand, gravel, surface stone, surface clay, colloidal phosphate, and surface limestone mines. source
Operator
Here's what an operator is:
Operator means any production-operator, or any independent contractor whose employees perform services at a mine. source
Production-Operator
A production-operator is:
Production-operator means any owner, lessee, or other person who operates, controls, or supervises a mine under this part. source
Miner
Here's what a miner is:
Any person, including any operator or supervisor, who works at a mine and who is engaged in mining operations. This definition includes independent contractors and employees of independent contractors who are engaged in mining operations; and

(ii) Any construction worker who is exposed to hazards of mining operations. source
Part 46 Training for Contractors
We've got an entire article on this. Check it out.
Mandatory Part 46 Safety Training for Non-Mining Employees at Surface Mines
Keeping in mind some of the definitions above, we're now going to spell out to you the mandatory safety training that non-mining employees must receive while working at a surface mine.
Who Are Non-Mining Employees?
If  you've got an employee at a mine site, and if that person doesn't fit the definition of miner above, then he or she is a non-mining employee.
Here are some examples that Part 46 lists:
Office or staff personnel
Scientific workers
Delivery workers source–46.11
(note that others are also listed in 46.11, and we'll address them in later articles, but feel free to check out the list now)
In addition to that list of examples from MSHA, non-mining employees might also include "normal" production workers working on a process that's not covered by MSHA regulations. For example, I have a customer in my office today who's the safety manager at a surface mine for gypsum. Part of their operation is covered by MSHA, but at a certain point of the process MSHA regulations no longer apply and workers in that area are covered by OSHA regulations. This is another example of a non-mining employee. (Hat tip to Russ for the example.)
What Kind of Mandatory Training Must Non-Mining Employees Receive?
You've got to give "site-specific hazard awareness" training to these workers.
According to Part 46, here's what that means:
Site-specific hazard awareness training is information or instructions on the hazards a person could be exposed to while at the mine, as well as applicable emergency procedures. The training must address site-specific health and safety risks, such as unique geologic or environmental conditions, recognition and avoidance of hazards such as electrical and powered-haulage hazards, traffic patterns and control, and restricted areas; and warning and evacuation signals, evacuation and emergency procedures, or other  safety procedures. source
How to Provide Site-Specific Hazard Awareness Training to Non-Mining Employees
MSHA's pretty flexible on this (as with other trainings). Here's what they say:
You may provide site-specific hazard awareness training through the use of written hazard warnings, oral instruction, signs and posted warnings, walkaround training, or other appropriate means that alert persons to site-specific hazards at the mine. source
Conclusion: Part 46 Site-Specific Hazard Awareness Training for Non-Mining Employees at Surface Mines
You don't have to give your non-mining employees the same amount of safety training that you give your miners. But, you DO have to give them some training so they know about the hazards at the site where they are working. There are many ways to do this. One way is to use a blended learning approach, in which you deliver training in various different methods, such as e-learning, instructor-led, written materials, and more.
Using one or more e-learning course in that blended learning solution can really pay off in terms of training effectiveness and efficiency. And what's more, if you use that as part of a total online solution that also includes a learning management system to deliver, track, credit, report, and otherwise manage all that Part 46 training, you will make your training department much more efficient. That will make your training more effective and more compliant while also saving you time and money.
You can use our mining safety e-learning courses as part of that blended learning solution. Here's just one short sample.
And you can use our mining safety learning management system (LMS) to deliver, track, credit, and report on all that mining safety training. Check the short video overview below for more.
To learn more, check out the following online MSHA training options and tools we've got for you:
Finally, you might want to read more about online MSHA Part 46 training by downloading the free guide below.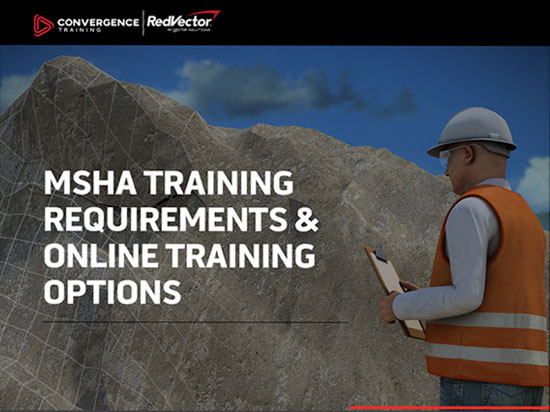 MSHA Training Guide and Online Training Tools
Download our free guide to learn about MSHA, the MSHA Part 46 and 48 training requirements, and how to use online tools to satisfy MSHA Parts 46 and 48.