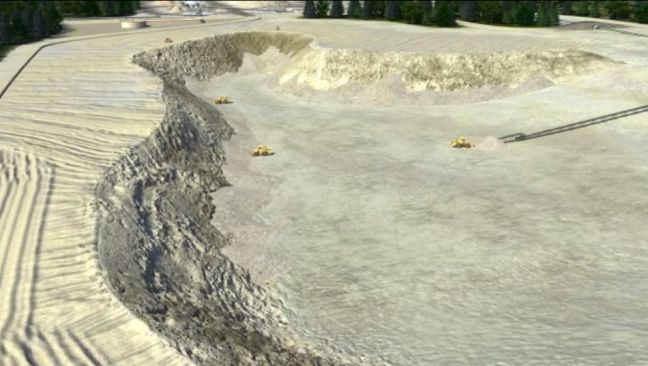 Let's start by clearing up a source of confusion: there is no MSHA Part 46 certification process. We know people search the Internet for this a lot because tools on Google says it's true, and we know that a lot of people call our offices asking question about MSHA Part 46 certification. So begin by putting that question aside.
However, there really is something called MSHA Part 46. Employees working at surface mines have to be provided and must complete mining safety training that aligns with Part 46 requirements. And mine owners must provide training mining safety training to their employees as well as complete other compliance requirements, including documentation of their Part 46 training. So, that's what we're going to tell you about in this article.
To set the scene, MSHA is the Mine Safety and Health Administration. It's the mining equivalent of OSHA. And MSHA's 30 CFR Part 46 are MSHA's regulations for safety training provided to miners and other employees at surface mines.
We describe what a surface mine  and surface mining are here and what MSHA Part 46 is here.
And with those starters covered, let's learn more about MSHA Part 46.
We've got a free Guide to MSHA Training Requirements that you can download at the bottom of this article, too. 
The Mine Act
MSHA Part 46 was established by the Mine Act.
The ultimate purpose of the Mine Act is to: 
Establish and require compliance with health and safety standards to protect the nation's miners

Cooperate with the states to:

Develop and enforce effective mining health and safety programs

Improve and expand research and development

Develop training programs focused on preventing occupational accidents and diseases in the mining industry

 
Part 46
Part 46 is the specific section within Title 30 that establishes the mandatory requirements for training and retraining miners, contractors, and other persons at specified surface mining operations.
Part 46 applies to training at nonmetal and non-coal surface mines involved in:
Cement production

Clay and kaolin mining

Mineral mining of colloidal phosphate, feldspar, and lime

Sand and gravel mining

Shell dredging

Stone mining of granite, limestone, marble, sandstone, shale, slate, and traprock
 Part 46 regulations do not apply to surface areas of underground mining operations. Underground and surface areas of underground mines are subject to Part 48 regulations.
MSHA Part 46 Training: Who Needs It?
Part 46 identifies those who must receive training, defines minimum training requirements, and outlines subject matter topics.
 Those required to receive training are:
New miners

Newly hired experienced miners

Miners assigned to new tasks

Miners receiving annual refresher training

Others in need of site-specific hazard awareness training (non-mining employees, visitors, vendors, etc.)
Each required person must be properly trained:
On predetermined subjects

Within designated time frames

By a person competent in the subject matter
MSHA Part 46 New Miner Training Requirements
Part 46 requires that mine operators must provide each new miner with no less than 24 hours of training in required subjects within 90 days of a miner beginning work at a mine. Before beginning work at a mine, new miners must be provided no less than 4 hours of training in the following subjects:
Introduction to the work environment, including a tour of the mine

Instruction on the recognition and avoidance of hazards present at the mine

Review of emergency medical procedures, evacuation plans, and fire warning and firefighting procedures

Instruction on the health and safety aspects of miner tasks

Instruction on the statutory rights of miners and miners' representatives

Introduction to the mine's rules and procedures for reporting hazards
No later than 60 days after beginning work at a mine, new miners must be provided training in the following subjects:
Instruction and demonstration on the use, care, and maintenance of self-rescue and respiratory devices

A review of first aid methods

 
And no later than 90 days after beginning work at a mine, new miners must be provided the balance of the 24 hours of training, if any, in other subjects that promote occupational health and safety.
Click here for Online MSHA Part 46 New Miner Training options.
Notice that the training requirements are different for "new miners" and "newly hired experienced miners." That difference is covered in more detail in our Ultimate Guide to Online MSHA Training.
MSHA Part 46 Annual Refresher Safety Training Requirements
Part 46 requires that mine operators must provide each miner with no less than 8 hours of annual refresher training no later than 12 months after the miner begins work at the mine. Required topics include:
Instruction on changes at the mine that could adversely affect the miner's health and safety
Click here for online MSHA Part 46 Annual Refresher training options.
Additional MSHA Part 46 Training Requirements
We've listed the MSHA Part 46 Certification requirements for new miners and explained annual MSHA Part 46 refresher safety training requirements above.
But you probably also remember that we mentioned near the top of the article that there are more MSHA Part 46 training requirements for different types of miners (including newly hired experienced miners) and employees/workers (including non-mining employees and contractors).
For additional information, check out the following articles:
And of course, for more information, please download and read our free MSHA Part 46 Training Guide.
MSHA Part 46 Training Documentation and Training Plans
Part 46 requires that mine operators produce and retain compliant documentation of training. MSHA outlines specific informational requirements that compliant training plans and certified records of training must meet.
Let's learn more about this required MSHA Part 46 Training documentation.
MSHA Part 46 Training Plan
Part 46 requires that mine operators have an approved training plan. A training plan is considered approved if it contains, at a minimum, the following information:
The name of the production-operator and MSHA mine identification number

The name and position of the person designated responsible for health and safety training at the mine

A general description of the teaching methods and the course materials that are to be used in the training program, including the subject areas to be covered and the approximate time or range of time to be spent on each subject area

A list of the persons and/or organizations who will provide the training, and the subject areas in which each person and/or organization is competent to instruct

The evaluation procedures used to determine the effectiveness of training
MSHA Part 46 Training Records
Part 46 requires that mine operators record and certify that the required training has been provided and completed. Each training record must include:
The full name of the person trained

The type of training

The duration of training

The date the training was received

The name of the competent person who provided or remained available during the training

The name of mine or independent contractor

The MSHA mine identification or independent contractor number (if applicable)

The location of training (if an institution, the name and address of the institution)
 MSHA requires that each record of training be certified by a signature of the person who has been designated by the operator as responsible for health and safety training at the mine.
Happily, today software applications can create and store all the MSHA-required records and documents discussed above. Watch the short video below, which explains the Convergence LMS with the MSHA compliance features, for more information.
Click here to learn more about our Convergence MSHA LMS for managing MSHA Part 46 Training, Recordkeeping, & Documentation.
As always, you can also download our free Guide to MSHA Part 46 Training for more details about recordkeeping and documentation requirements for MSHA Part 46.
Conclusion: MSHA Part 46 Training Requirements
We hope you found this guide to MSHA Part 46 training, for both miners/non-mining-employees/contractors and for mine operators, helpful.
You may find these other articles helpful as well:
And let us know if we can help you with some online MSHA training materials, including:
And don't forget to download the free guide below, too.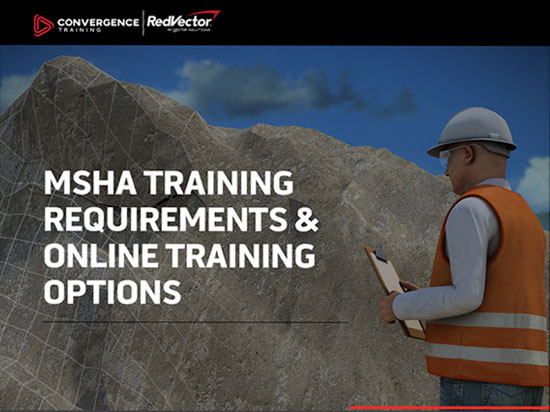 MSHA Training Guide and Online Training Tools
Download our free guide to learn about MSHA, the MSHA Part 46 and 48 training requirements, and how to use online tools to satisfy MSHA Parts 46 and 48.