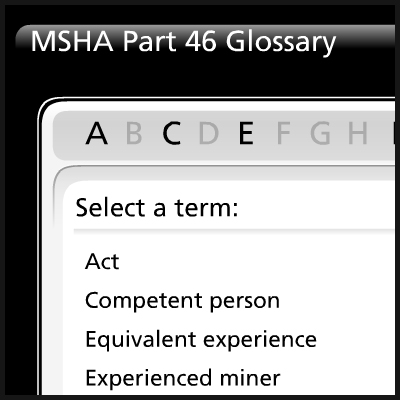 Are you involved in MSHA Part 46 training at work?
If so, how well do you know the terms defined in Part 46?
Here's a quick chance to review your knowledge. It might even be a little fun. Hope you enjoy this.
And if you REALLY enjoy this, we've even provided a way for you to download your own free copy and import it into your SCORM-compliant learning management system (LMS). If you're interested in that second option, read more about how that works below the glossary.
If you're looking for help with MSHA training, check out the following online MSHA training options and tools we've got for you:
Convergence Training
 provides online safety training courses, learning management systems, incident investigation software, and contractor orientation solutions for mining safety and general safety. Explore the links below to learn more about what we do.
Download our FREE Guide to Online MSHA Training Solutions
Enjoy the glossary, and let us know if you have questions.
If you liked this glossary a LOT, you can download a copy for free. Please note that this free copy is in the SCORM format and is intended to play inside an LMS. You can't play it if you don't first import it into an LMS. If you're not sure what that all means, check the two linked articles below before you download the word game.
If you're now sure you've got a SCORM-compliant LMS, go ahead and download the glossary.
If you're looking for help with your mining safety training solution, we've got two things to tell you about:
Our mining safety/MSHA compliance training eLearning courses
Our mining safety/MSHA compliance learning management system (LMS)
We've got a large number of eLearning courses you can deliver online to the workers at your mine site, and we've intentionally designed, written, and created them for the most common MSHA safety training compliance needs.
We've also developed a learning management system (LMS) specifically for administering mining safety training, including all aspects of MSHA Part 46 training compliance–even your MSHA-required documentation (like your written training plan).
Want to know more about online training tools to help with mining safety training and MSHA compliance? Just drop us a line, or download our free guide to online MSHA training tools, below.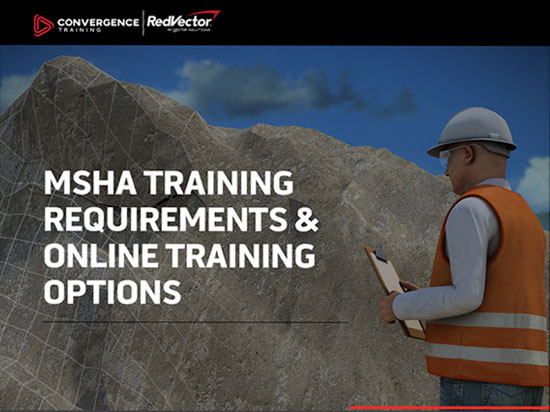 MSHA Training Guide and Online Training Tools
Download our free guide to learn about MSHA, the MSHA Part 46 and 48 training requirements, and how to use online tools to satisfy MSHA Parts 46 and 48.