We attend the SE Mine Safety & Health Conference every year, and we'll be there again this year. We're looking forward to seeing you, too!
The conference is next week. It begins on Wednesday, November 2nd and continues on both Thursday the 3rd and Friday the 4th.
Come on by and say hi to us, we'd love to chat with you and see what's on your mind. We'll be in Booth 23.
We'll be demonstrating our video-based mining safety training courses and our OSHA/general industry-based safety training courses (which can also be used for MSHA compliance).
Here's a quick sample of one of our online mining safety courses.

Click the following links if you want to learn more about our mining safety courses or our general industry safety courses.
IN ADDITION, we'll be demonstrating our Convergence Learning Management System (LMS), an online software application you can use to manage all of your mining safety training.
Here's a quick overview of our Convergence LMS and how it an be used for all aspects of mining safety training and MSHA compliance.

Click the following link to learn more about our training management system for mining safety.
Finally, feel free to download the free guide below to learn more about how to use online safety training tools like these for MSHA compliance. And we look forward to seeing you at the conference in Birmingham!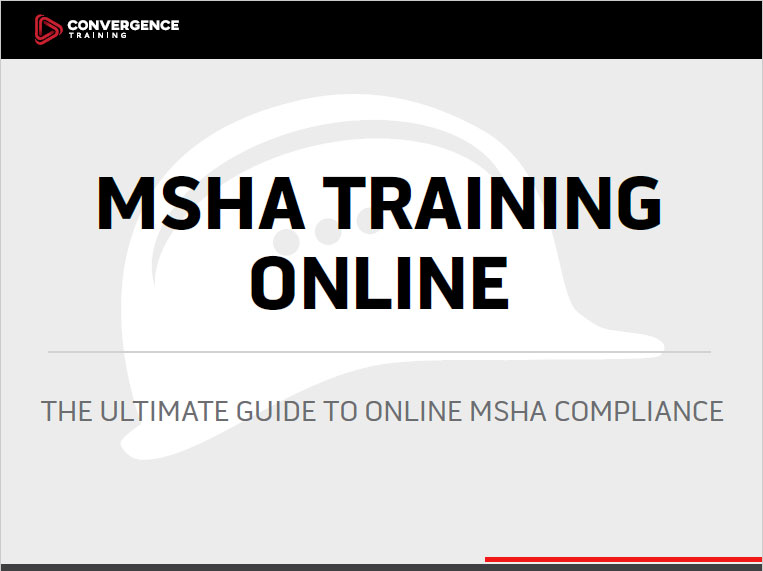 Online MSHA Compliance Guide
Download our free guide to learn how online tools can help you create safer work conditions at a mine site, stay compliant with MSHA Part 46 regulations, and manage your training program more efficiently.