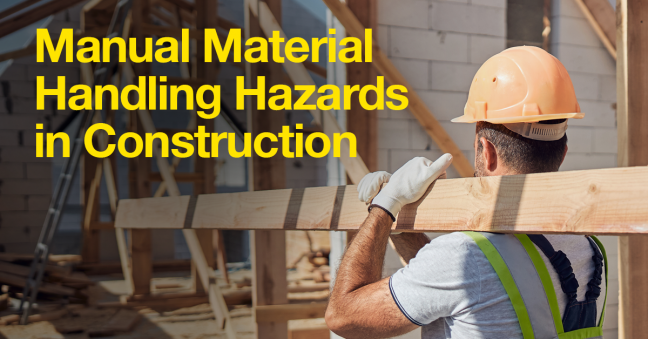 As you may know, the American Industrial Hygienists Association (AIHA) has released a Focus Four for Construction Health guidance document that identifies four significant health hazards in construction, explains the hazards in detail, gives control recommendations, and more. We recently discussed the health guidance document with Barb Epstein, one of the creators of the AIHA construction health hazards document, and wrote about the four construction health hazards as well.
Having introduced people to the AIHA Focus Four document and those four construction health hazards in general, we wanted to follow-up by taking a deep-dive, looking at each of the four health hazards in more detail in separate articles. In this article, we'll take a closer look at manual material handling (the other health hazards are air contaminants, noise, and high temperatures, and we'll take closer looks at each in later articles).
We hope this article helps keep workers at your construction sites safe and, in addition to this article, we encourage you to download any of the following:
Construction workers do a LOT of manual material handling: they lift things, they carry things, they push things, they pull things, etc. And a lot of times, they may do these in awkward postures (even if they shouldn't).
The problem is that our bodies just aren't designed for that kind of strain, especially if we're not handling materials in the safest manner possible. And if you're in the construction industry, you probably already know what this all leads to sometimes: stiff necks, sore joints, bad backs, and similar injuries that we often call musculoskeletal disorders, or MSDs. In fact, according to the CPWR/Center for Construction research and training's Construction Chart Book, despite a drop in MSDs in construction in recent years, "the rate of MSDs in construction was still 16% higher than the rate…for all industries combined."
And of course, these MSDs can sometimes lead to injuries that affect construction workers permanently and even make them unable to perform construction work tasks. An obvious example of this is a serious back injury. This can be come even more complicated, as workers may turn to opioids to manage the pain from the MSD, and that might lead to even darker places, as described in this interview discussing depression, addiction, mental health issues, and suicide in the construction industry (see also our related article on workplace suicide prevention tips).
Construction Trades that Are Commonly Affected
The AIHA guidance says manual material handling hazards affect all the construction trades, but that "Masonry and concrete work are the trades known to have the highest rates of overexertion injuries involving days away from work."
The AIHA's W-H-A-T PACE? Suggestion for Considering Manual Material Handling Risk Factors
The AIHA recommends their W-H-A-T PACE? acronym for assessing the risk of different manual material handling tasks. Here's what that means:
Weight–Heavier loads bring higher risk
Handling ease–Loads that are harder to maneuver or hold bring higher risk
Awkward postures–Awkward postures like bending, reaching, twist, or lifting overhead bring higher risk
Time–Loads carried for a longer time bring higher risk
PACE: Handling more loads brings higher risk
Plan Ahead: Observe, Think, Plan, and Mitigate BEFORE Manual Material Handling
So what can be done? First, conduct job hazard analysis before work is performed and look out for manual material handling hazards while doing so. If you identify manual material handling hazards, use the W-H-A-T PACE? method just described to assess the risk and begin considering controls (keep your hierarchy of controls in mind here).
Resources to Help Reduce Risk and Injuries Due to Manual Material Handling in Construction
Check out these resources for more information related to construction and manual material handling:
Conclusion: Be Aware of Manual Material Handling Risk in Construction and Implement Proper Controls
We hope this article helped raise your awareness and appreciation of the risks that manual material handling poses in the construction industry and helped to point you toward some useful resources. Remember to always mitigate risks at work by working through the hierarchy of controls, prioritizing higher-level controls such as elimination ahead of lower-level controls like PPE.
And don't forget before you leave to download the Construction Safety Training Guide, below!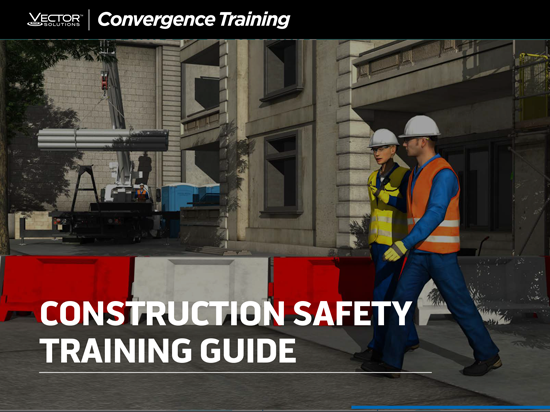 Construction Safety Training Guide
Learn to use, design, deliver, and evaluate safety training more effectively in the construction industry. Includes tips on how people learn, evidence-based training design, safety training within safety management, and the hierarchy of controls plus links to helpful resources.