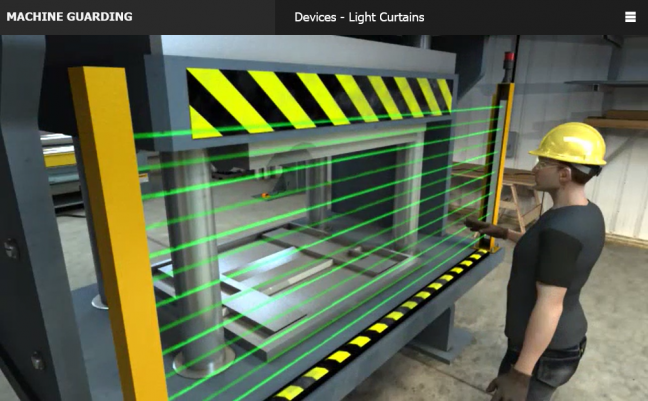 As you probably know, OSHA publishes a list list of the ten most commonly cited standard violations every year. Here's OSHA's Top Ten Citations List for 2016. Machine Guarding, 1910.212, is #8 on the list for 2016, and so we've got some online machine guarding training resources for you in this article–plus more.
In many or most years, it's the same standards on the list time and time again (the Machine Guarding standard is one of those that appears year after year). And as a result, we've pulled together a series of blogs to help you train your workers about each of the ten most cited standards. This blog is part of that series, and so we've got a bunch of materials to help with machine guarding. We've got a sample of our own online machine guarding training plus much, much more for you.
Let us know if you've got some other resources you'd suggest. The comments field awaits.
Before you dig into the information about machine guarding below, feel free to check out our short sample video that demonstrates a few highlights of our online safety and health courses.
The Need for Online Machine Guarding Training
As the OSHA citation data below shows, we've got a lot of work to do when it comes to machine safety and machine guarding. Training can't fix everything, but it can definitely play a positive role. We recommend using online machine guarding safety training courses along with other forms of machine guarding training in a blended learning solution for the most effective machine guarding safety training solution.
To help you comply better, here's the machine guarding regulation itself (1910.212) and below are some additional statistics about machine guarding violations and citations in 2016.
Total violations– 2,448, a very little bit less than the previous year's 2,540.
Ranking in previous year– #9 (one lower than this year)
Top five sections cited–
1910.212(a)(1) Types of guarding, 1,575 citations
1910.212(a)(3)(ii) Guarding the points of operations of machines whose operation exposes an employee to injury, 629 citations
1910.212(b) Anchoring fixed machinery, 165 citations
1910.212(a)(5) Exposure of blades, 72 citations
1910.212(a)(2) General requirements for machine guards, 58 citations
Online Machine Guarding Training Course Sample
Check out a sample of our online  machine guarding training, which is one title in our online health and safety training library.
The Online Machine Guarding Training Word Game
Here's an online machine guarding training word game for you. Safety training word games like this one can be a great addition to your new employee safety onboarding program. They're also perfect for refresher training, either delivered online to your employees or completed together as a group activity during safety meetings.
Enjoy playing!
Machine Guarding Safety and Safety Training FAQs
In this section, we provide a lot of "basics" about machine guarding, machine guarding hazards, and machine guarding for hazard control. This information is drawn from an OSHA publication on machine guarding.
Where Should Machines Be Guarded? What's Hazardous?
Dangerous moving parts that need to be guarded tend to be located in three areas. These are:
The point of operation–where the "action" of the machine happens, such as where a press cuts metal
The power transmission apparatus–where the machine transmits energy to motion (motors, etc.)
Other moving parts–everything else that moves
Inspect these three areas for safety hazards on a machine.
What Are the Different Types of Motions and Actions?
Watch for these potentially dangerous motions:
Rotating-movement in a circle
Reciprocating-back and forth movement
Transversing-movement in a straight line
Watch for these potentially dangerous actions:
Cutting-by rotating, reciprocating, or transverse motion
Punching-when power is applied to one side, such as in stamping
Shearing-powering a saw or knife to trim a side
Bending-when power is applied to draw or stamp metal
What Are Some Non-Mechanical Hazards to Look for?
Power sources (frayed wires, etc.)
Noise
Hazardous fluids and other hazardous substances
What Are Some Types of Machine Safeguards?
OSHA provides a nice list, which we've included here for you.
Guards, including fixed, interlocked, adjustable, and self-adjusting
Devices, including presence-sensing, pullback, restraint, safety controls, and gates
Location/distance
Feeding and ejection methods, including automatic feed, semi-automatic feed, automatic ejection, semi-automatic ejection, and the use of robots
Additional aids, including awareness barriers, miscellaneous protective shields, and hand-feeling tools and holding fixtures.
OSHA's also got some nice drawings of these. Check 'em out here.
What Must Your Machine Guarding Safeguard Do?
Your machine guarding safeguard should:
Keep workers from contacting moving parts
Be secure so it's not easily removed
Provide protection so falling parts can't fall into moving parts
Create no new hazards that weren't there before
Create no interference with the worker
Allow for easy lubrication of moving part
What Training Should Workers Receive?
Be sure workers receive proper safety training, including:
A description of all hazards associated with any machine they work with
An explanation of the safeguards, an explanation of the hazards they are intended to guard, and an explanation of how they work
How and why to use the safeguards
How and when safeguards can be removed, and who can remove them (in most cases, this is just qualified maintenance and repair people follow specific safe work practices)
What to do if they discovered a safeguard is ineffective, damaged, or missing

What is the Hierarchy of Controls?
The hierarchy of controls is a method to use when trying to create a solution for a workplace hazard. The idea is you should try one type of control before trying another. In order, the types of controls you should try are:
Elimination/Substitution
Engineering controls (machine guarding is an example of an engineering control)
Work practice controls
PPE
Here's a simple course about the Hierarchy of Controls created by the Convergence Training blog team.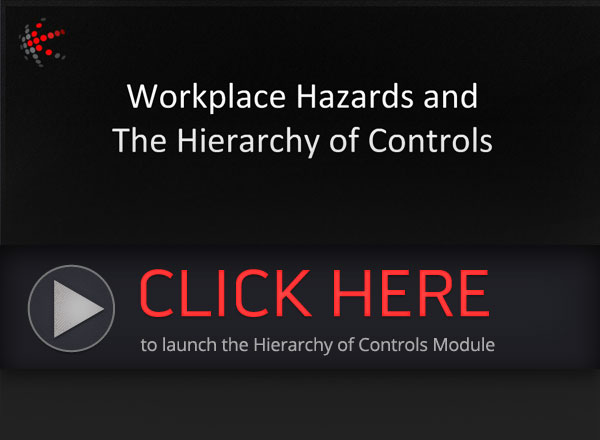 We've written and created a series of materials about the hierarchy of controls and related topics elsewhere on our blog. Feel free to check 'em out, we've listed them below:
What About Isolation of Energy and Lockout/Tagout When Guards Are Removed for Maintenance?
Guards can be removed for maintenance and repair, but only by specially trained maintenance personnel. In those cases, energy sources should be isolated and the machine should be locked and tagged out. Read more about maintenance, repair, isolation of energy, and lockout/tagout at OSHA's website here, or check out our courses Lockout/Tagout for the Affected Employees and Lockout/Tagout for Authorized Employees.
We've included course samples of those two online lockout tagout training courses below, plus here's an entire blog devoted to the issue of online lockout tagout training.
Lockout Tagout for Affected Employees
Lockout Tagout for Authorized Employees 
Does OSHA have a Safety & Health Topic webpage for machine hazards and machine guarding regulations?
Yep, here's OSHA's helpful Machine Guarding Safety and Health topic page.
Does OSHA have any eTools for the machine guarding regulations?
Here's OSHA's Machine Guarding eTool.
Does OSHA provide any other helpful machine guarding training resources?
They do. Here are a few:
How about a machine guarding safety checklist?
Yep, we've made a free downloadable machine guarding checklist in PDF format for you.
What about NIOSH? Do they offer machine guarding resources too?
Here's the NIOSH Machine Safety website.
What about Industry Consensus Standards for Machine Design and Safeguarding?
OSHA offers a nice list of them here, and provides some helpful thoughts about incorporating both industry consensus standards and OSHA regulations.
Machine Guarding Information
Hope that helped point you in the right direction on machine guarding. Don't forget to check out our online machine guarding training course. And there's a free guide to online safety training for you to download below, as well.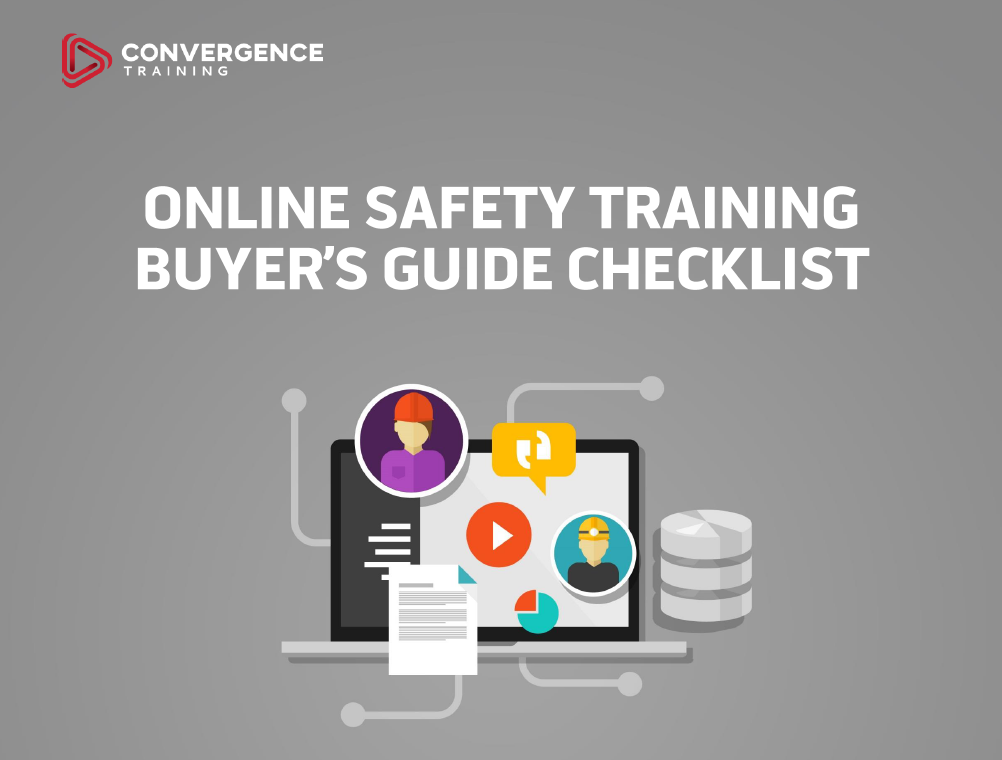 Online Safety Training Buyer's Guide Checklist
Learn how to evaluate the different online safety training solutions that exist to find one that best fits your company's needs with our FREE informative guide and checklist.