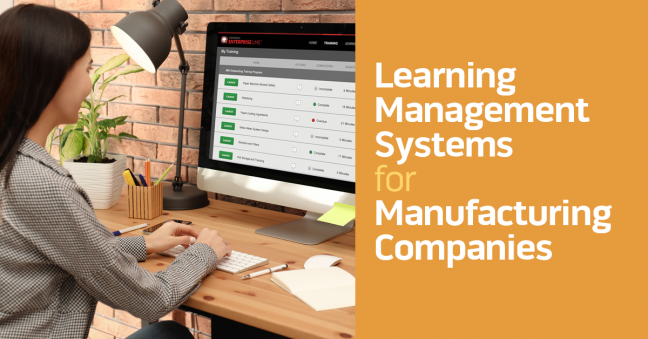 A learning management system, or LMS, is web-based software application organizations can use to manage and administer their employee training programs–that includes training that occurs online, naturally, but also training that occurs face-to-face, such as instructor-led training, field-based training, and so on.
There are many different LMSs on the market. In many cases, they provide similar features and functionality, but of course, they're all unique as well. Some are bigger and more powerful. Some and smaller with fewer features. Some are really part of even larger software management programs geared around an organization's hire-to-fire, talent-management efforts. Others are specially designed to help organizations in specific industries or even departments in specific organizations.
There's no one learning management system that's the best fit for all organizations. In fact, two organizations that are similar in many ways may STILL find their best suited to different learning management systems.
In this article, we're going to give you some features to consider if you're a manufacturer and you're looking for a learning management system for your workplace. Read this article, and if you find it interesting, you may also want to check out our articles on Selecting Online Manufacturing Training and Things to Look for in Online Manufacturing Training Courses.
You might also want to check out our free, recorded webinar titled Online Manufacturing Training that Works–How to Select Online Manufacturing Training for Your Organization. 
The First Step: How Does Your LMS Fit Within Your Organizational Learning Strategy?
If you don't know what you're looking for, there's a good chance you won't find it.
That's true in all walks of life, and it's true when it comes to an LMS search as well. Before you begin your LMS search, you've got to stop and ask yourself what you want this future LMS to do and how it fits into your organization's overall learning goals and strategies.
Side note here: we're going to be using the word "your" a lot in this article, but you really shouldn't be conducting your LMS search all alone. Build an internal team that represents all the stakeholders at your organization and do the search together. You won't have to work so hard, you will get a lot more good ideas, you'll get more buy-in come adoption and implementation time, you'll no doubt make a better and more informed decisions, and you're less likely to get resistance down the road as well.
So before you get started on your LMS search, be sure you understand your organization's learning goals and what the strategy is for reaching them.
Here are some of things to think about in regards to your LMS:
What is your organization's business goals, and how does your learning & development program help your organization reach those goals?
What skills must your employees have if your organization is going to meet those goals?
What are the learning needs, preferences, strengths, and limitations of the employees at your organization?
What are the best ways to deliver training/learning activities to employees, given their learning needs and preferences, to help your organization achieve its goals?
How will you determine if your learning efforts, or parts of your learning efforts, are effective?
What is your plan for continually improving the  learning and development program at your work?
Additional General Thoughts About Your Potential LMS
In addition to your organization's learning strategy, as discussed above, you should also be asking an additional set of questions that will help you find the LMS that works best for your organization.
For example, who are you training? Just employees? Or employees plus the "extended enterprise," possibly including contractors, vendors, visitors, suppliers, and even customers.
And what are you trying to provide training for? New employee onboarding? Compliance with regulations and internal rules? To teach workers to perform their job tasks, their job roles, and their future job roles? Is it your aim to create a learning organization that's flexible, agile, adaptable, and innovative? One that empowers workers to generate and share knowledge that creates change?
And how will you be using the online components of your training solution? Remember, there are two primary things to think about relating to this: your learning management system (LMS) and any online learning courses you use in addition. We'll leave you to consider how you'll use online learning courses along with other training activities to create a blended learning solution another day (but this IS an important discussion, so DO do it some thought).
Give the following some important consideration too:
Who will be your LMS administrators, and do you want different administrators to have different powers and privileges within the LMS?
Who is your learning population (employees, extended enterprise, etc.)?
Will you allow employees to upload and share employee-generated learning content?
Do you want employees to view and complete only formal, assigned training or do you want them to be able to browse your entire training library?
Do you plan to use the LMS to facilitate social learning through tools that enable mentorship, discussion boards, and other similar collaborative learning tools?
Will you be incorporating external learning content through a learning curation effort?
Would you like an LMS that uses artificial intelligence to help personalize training assignments or make training recommendations for individual employees?
Do you want an LMS that comes with compatible mobile apps for mobile learning and mobile performance support?
What types of learning content would you like to deliver online?
What types of "offline" training activities would you like the LMS to administer (assign, notify employees, help schedule, grant completion credit, report on, etc.)?
What other software applications at work would you like your LMS to integrate with and share information back-and-forth with (HRIS, ERP, CRM, shopping cart, etc.)?
What elearning standard do you need you LMS to be compatible with, both now and in the future (AICC, SCORM, xAPI, etc.)?
More Criteria for Selecting the Manufacturing LMS That's Best for Your Company
Finally, consider each of these issues as well during your LMS search:
Network Installed or Cloud-Based?
Where do you want your LMS? On your work network or on the cloud?
Easy User Interface
An easy interface and user experience is good. A tricky, complicated, non-intuitive one is bad. The importance of this can't be stressed enough.
Reporting
This is important in any context, and more so if compliance is involved.
User Training
Does the company providing the LMS also provide helpful training for your organization's admins and employees so everyone knows how to use it? Implementation tips? Help with internal marketing of your L&D program and new LMS?
Self-Guided Help Materials
In addition to all that training, does the LMS come with integrated help and/or handy how-to videos that are easy to access?
Customer Service
Training for admins and employees is great, and so is self-guided help, but you're also going to want some customer service. What does the LMS provider offer?
Updates
How often does the LMS provider update their LMS? How does this happen? Why does it happen? What influence can you have on this?
Safety Training Uses
If you're a manufacturing facility, you should probably also give thought to how you'd use your LMS for compliance-based safety training to make people like OSHA happy.
Read this article to learn more about using an LMS for safety training.
Other Compliance Training Uses
It's not just OSHA…you'll have other compliance-training requirements as well.
Conclusion: Select the RIGHT LMS for Your Online Manufacturing Training Needs
You will definitely benefit if you take some time, determine what you want your new LMS to do, and find the best LMS for your manufacturing training needs. We hope this article helps you with your manufacturing LMS search.
In addition, you may want to check out our Six Steps to Better Manufacturing Training article for some general tips that will improve your overall training program.
And don't forget to download our free Guide to Selecting Online Manufacturing Training before you go.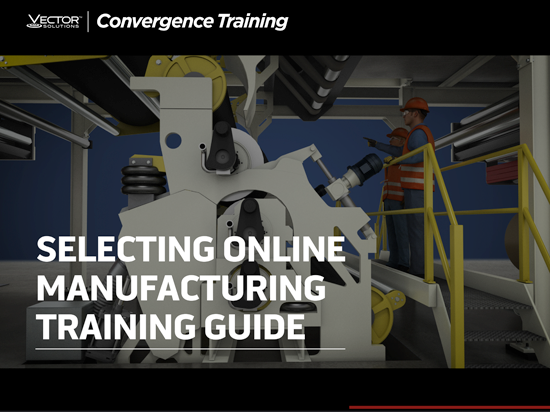 Free Selecting Online Manufacturing Training Guide Download
Download this free guide to assist you in your organization's search for online manufacturing training, including courses, learning management systems, and providers.