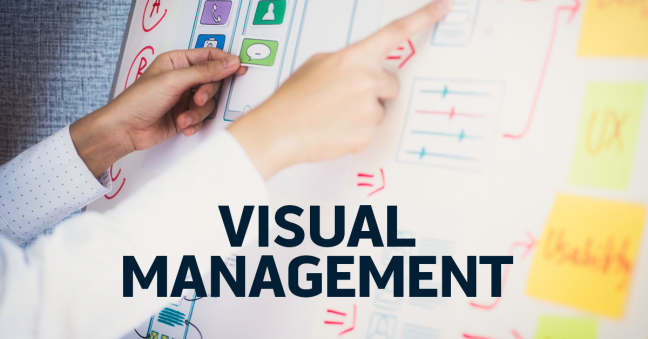 One of the hallmarks of lean manufacturing is visual management. In our continuing series of articles on lean manufacturing, which supplement our online training courses on continuous improvement and lean manufacturing, we'll introduce you to the basic concepts of visual management in this article.
We hope you find this article helpful in terms of understanding visual management better but also in terms of implementing your own lean and continuous improvement efforts at your workplace. Let us know if you need some help with training solutions at your work and until then, read on below and have a great day.
What Is Visual Management?
Visual management is a technique used extensively in lean manufacturing, although your organization doesn't have to adopt lean or even be in manufacturing to benefit from visual management. In short, it's a way to create visual displays and cues so people can quickly, easily, and accurately glean information about the workplace and status of operations there.
Visual management can be used to communicate any number of things, but it's most often used to display information about expectations or goals, current performance, problems, and things like warnings.
It is often said that visual management is where workplace data "meets" the people in a workplace.
A major goal of visual management is to make the visual display so simple and self-explanatory that there's no need for interpretation (or very little need). Ideally, your visual management visual communications should be so clear and obvious that even someone who doesn't work at your facility could walk in and immediately interpret them correctly. Simply by looking, this new visitor to your facility should be able to quickly understand the current state of work at your facility or area, see how well your team is performing as measured against pre-set targets, and move around the work area in a safe manner.
Benefits of Using Visual Management
Visual management helps to get everyone–managers, supervisors, as well as rank-and-file employees–on the same page. Goals are developed and clearly displayed for all to see. Progress is charted against those goals, improvement engagement and transparency. And because workers can see their goals and their current state, they can become more accountable for reaching the goals (and studies on worker motivation show that a measure of autonomy at work is key for just this).
By making employees aware of goals and involving them in the tracking of goals, you'll not only get more employee engagement, you'll help to create (or improve) the cultures of continuous improvement, knowledge sharing, and organizational learning at your workplace.
Visual management techniques will help your organization develop and sustain standardized work processes as well as identify and solve workplace problems through lean processes such as kaizen.
Ultimately, of course, this will lead to the primary goals of lean manufacturing–increased value creation and decreased waste.
Two Elements of Visual Management
The lean concept of visual management can be broken down into two different categories regarding what the information is conveying to workers:
Metrics
Workplace controls
Visual management metrics presents data about workplace processes in an easy-to-digest manner. For example, a dashboard might show production goals and the current state or some form of safety metric while a kanban board might display what stage of work a product is currently in.
Visual management workplace controls explain where things are located, paths of motion and production, and so on. For example, the lean methodology of 5S often uses visual cues to show exactly where to place tools when they're not in use.
Conclusion: Implement Visual Management to Learn and be Lean
We hope you enjoyed this introduction to visual management, an important part of the lean manufacturing toolkit. Please use the comments section to share your thoughts, experiences, and questions, and of course let us know if you'd like help with lean manufacturing training solutions.
And before you go, why not download our free PDCA Cycle infographic?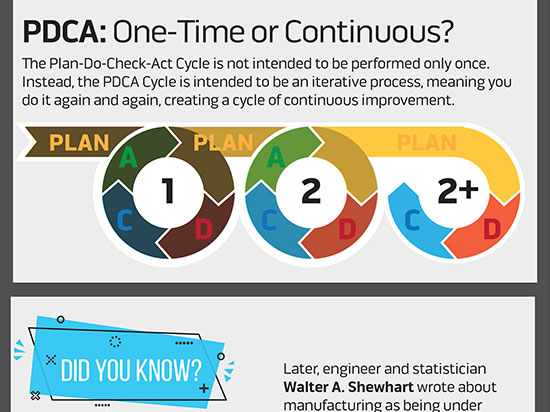 FREE PDCA Cycle Infographic
Download this free infographic of the Plan-Do-Check-Act (PDCA) cycle commonly used for quality control, project planning, and continuous improvement.