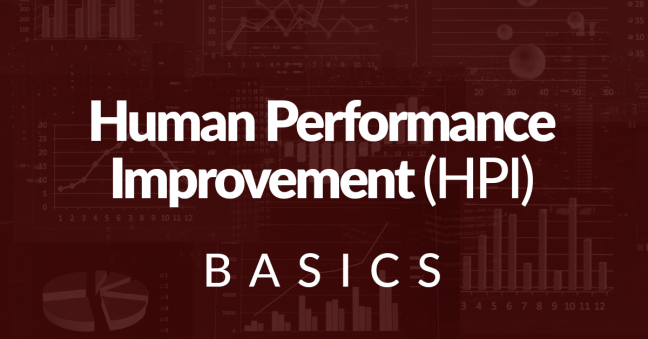 It can be easy to unnecessarily "silo" different sets of ideas and not immediately recognize that they're related. We all probably do it at times, which is too bad, because we can often create better outcomes by making connections between those silos and creating a convergence of ideas.
One easy example of this is the not-necessarily-obvious connection between lean manufacturing and human performance improvement (HPI).
We're going to explain that connection to you in the article below. It's worth noting this idea certainly isn't new, and it may seem blindingly obvious to some while perhaps others haven't thought of it. The idea came to mind for me most recently during the pre-recorded chit-chat immediately before a recorded discussion I recently had with Guy Wallace describing the origins of HPI, so hat-tip to Guy for instigating this article.
A Quick Overview: What Is Lean?
At its roots, lean manufacturing is all about reducing waste in your production process (or whatever process you use to create and deliver goods and services) to maximize value as measured by what your customers want and would pay for.
Implementing lean often starts with the 5S process, which involves a cleaning up and organizing of the work area. For more on this, download our 5S infographic.
It then often moves on to a process called value stream mapping, in which the process by which products are created is analyzed, looking for waste that can then be eliminated. For more on this, download our 3 Wastes of Lean and our 7 Wastes of Lean infographics. 
Along the way, all workers are asked to buy into and participate in continuous improvement efforts that include kaizen and kaizen events.
And along with all that (and this part is on par with the waste reduction, 5S, and value stream mapping in terms of cross-over to HPI), various "lean tools" are used to improve the worker's work area, conditions, and processes, including standardized work, visual management through kanban boards and other visual techniques, and poka-yoke.
In short, the tools of lean manufacturing often involve reconsidering and reworking the work area and work processes to make it easier for workers to create value to meet customer expectations.
If you'd like to learn a lot more, check out our recorded webinar on Implementing Lean & Continuous Improvement, and if you'd like to get some help training your workforce on lean, checkout our online 5S and lean manufacturing training courses–we've included a brief overview video below.
A Quick Overview: What is Human Performance Improvement (HPI)?
Human Performance Improvement, or HPI, is a systematic and systemic method used to create performance improvement at organizations.
At its root, HPI involves:
Identification of workplace problems (or opportunities for improvement)
An analysis of that problem, including what the problem really is and what is causing the problem
Proposing and implementing interventions to address the problem (which can include training but can include work area improvements such as the ones mentioned above in the "lean" section of this article as well as other things, such as incentives)
Change management
HPI can suggest training to solve a workplace performance problem, but then again, it may not. Instead, it may suggest reworking or re-arranging the work area, or maybe even just changing the financial incentives for workers to do the job. Like the stuff we talked about above while talking about lean.
In fact, most HPI models not only include things other than training as potential solutions for workplace performance problems, they suggest investigating them as possible causes of the problem and considering implementing them as potential solutions first, before training.
To learn more about this, read up on the following HPI methods:
Lean and HPI have a BIG overlap in that they are both focused on continuous improvement and on learning, too.
How Lean Can Be Used as Part of the HPI Toolkit for Improving Performance
So hopefully it's pretty simple here.
But HPI is a great tool for figuring out what's going wrong at work.
There are times when training might be just what you need. When that's the case, keep us in mind, and let us know if our online training courses for manufacturing and industrial companies, our learning management system (LMS), and/or our mobile training apps can help. We'd be happy to hook you up with a demo.
And sometimes, you'll find it's not a training issue, but instead, it's a situation where you're got to change something else–the work flow, goals, incentives, or whatever.
And if it has to do with the workplace, the lean tools we've already mentioned, such as 5S, visual management, kaizen & kaizen events, value stream mapping, and poka yoke may help you improve the performance at your organization.
Conclusion: Lean and HPI Can Go Together Like Peanut Butter and Jelly at Work
Hope you enjoyed the article. Let us know your thoughts.
Be sure to download our Mager/Pipe Problem-Solving Flowchart below, a classic model from the HPI toolkit.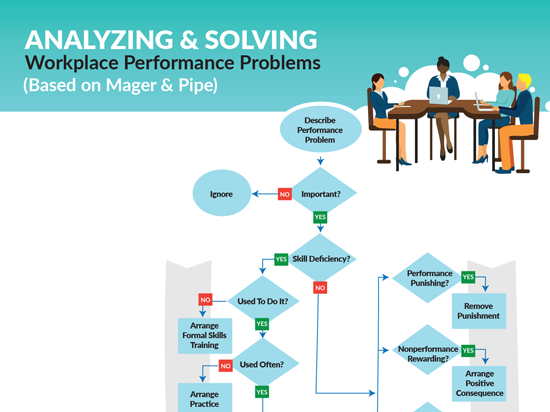 Analyzing & Solving Workplace Performance Problems Flowchart
Download this free infographic, based on the famous Mager/Pipe flowchart from their book Analyzing Performance Problems, to determine the cause of workplace performance problems and then select the appropriate solution/intervention.