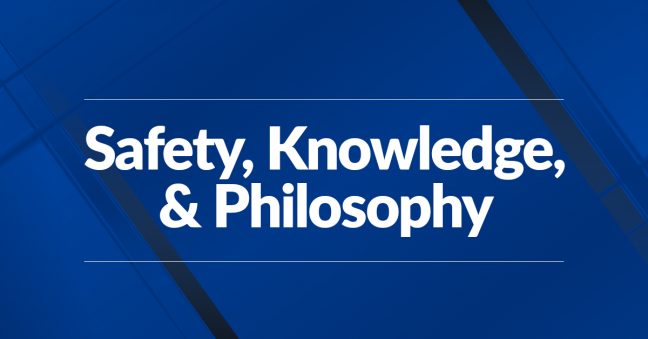 As a safety professional, you want to know about the world around you. But that begs the question–what DO you know about the world around you, how do you know that, and how can you apply all of this to helping create safer, healthier workplaces for everyone in your organization.
We recently met Nick Travaglini while listening to him discussing the intersections between philosophy and occupational safety at one of the GREAT online learning experiences that Ron Gantt has been hosting since the COVID-19 pandemic began. In three consecutive talks, he discussed a chronology of knowledge, if you will, in western civilization by discussing three works:

Rene Descartes, The Discourse on the Method, a seminal work that helped set up the Enlightenment and the Newtonian mechanistic world view

Fritjof Capra, The Turning Point: Science, Society & The Rising Culture, anTod in particular a chapter on Einstein and physics since Einstein
Todd May, Gilles Deleuze: An Introduction (a book about a French post-structuralist philosopher who sought to take lessons from post-Einsteinian physics and apply them to our lives and thought
Give the video below a listen and see what you think. We talk about lots of stuff of interest to safety professionals, including root-cause analysis and how to use diversity to get better opinions and ideas.
We've also included some links below to things that came up during the discussion.
Todd Conklin, Pre-Accident Investigation Podcast Series 
Sidney Dekker, Drift into Failure