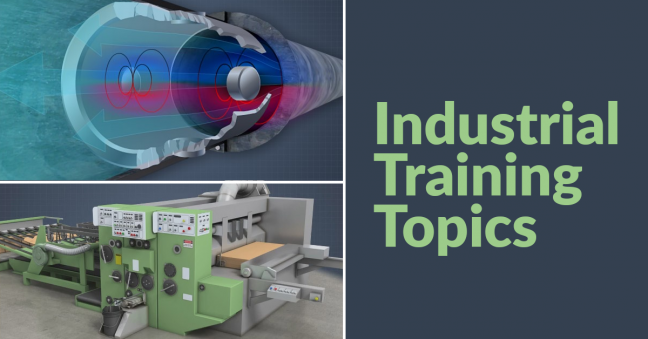 Industrial employers and manufacturers have their hands full in today's business climate. And while there are a lot of challenges (and opportunities too, of course), there's no doubt that developing a fully skilled workforce is a big challenge.
In this article, we're going to provide a brief overview of some key times when industrial employers should deliver training to workers and some key topics to provide that training.
We invite you to share your own experiences in hiring skilled workers, providing your initial training to them during onboarding as well as throughout their career with your organization to develop those necessary skills, and of course using that training as a way to retain employees so  you won't have to go through the expensive proposition of turning around, hiring, and onboarding new employees so frequently.
In addition to this article on industrial training topics and moments of training needs, you might also enjoy our article with Industrial Training Tips and our article on developing Training Programs for Industrial Employees.
Industrial Training Times of Need and/or Training Topics
Let's review some times when it's especially critical that employers provide training to industrial employees and/or specific topics on which it's important to provide training.
New Employee Onboarding
The training you provide an employee when he or she is still new to the company will be some of the most impactful, positive-return-on-the-dollar training you'll ever provide.
There's a lot that goes on during onboarding. Some of it isn't directly related to L&D: new employees have to fill out forms with HR, they've got to get set up with things like card keys and possibly a desk or computer, etc. They've got to learn about the organization's values and mission and meet key people around the workplace.
But a LOT is related to L&D.
Because it's easy to get too focused on training as part of the L&D function, it's important to remember you can do a lot to help the learning and development of a new hire without providing any training at all. Give them clear performance expectations; introduce them and set them up with a successful, experienced coworker who can show them the ropes; and be sure to meet with them frequently to answer questions and give timely feedback on their performance.
Additionally, though, you CAN provide a lot of helpful training to that new employee. The odds are high that they'll come to the first day on the job without all of the necessary job skills for their entry-level position. Create a training program that blends on-the-job training, structured mentoring and coaching, field-based performance support, classroom or similar face-to-face training, elearning, mobile learning, and more.
Helping new employees develop skills for that first job in your organization will pay off tremendously for the employee and for your organization.
Read more about new employee onboarding in general here and about onboarding manufacturing workers here.
Job Changes
You'll also greatly benefit if you provide training to employees to help them transition from a new job to an old job.
It may take you a while to do all of this, but there's value in:
Identifying all of the job roles at your organization
Finding which knowledge and skills employees must have to successfully complete the job tasks associated with those roles
Determining the knowledge and skills that are most critical and/or must be learned most quickly and/or reliably
Creating training for the critical knowledge and skills you just identified
Not every employee entering into a new job will have the exact same level of knowledge and skills as the last employee who entered that same job. You're going to have to determine the current knowledge and skill level of the newly promoted employee and their desired knowledge and skill level to determine the "gap." Then you can provide training to the worker to fill that gap without forcing them through unnecessary training in a wasteful, tedious, and inefficient one-size-fits-all approach.
Remember that two key aspects of this are your employee analysis to determine their current knowledge and skill level (and the "gap" between that and the desired state) and your task analysis so you'll understand how to teach employees the tasks associated with their new job role.
Process Changes, New Products, or Similar Changes on the Job
There may also be times when your organization develops a new product, or makes changes to an existing process, or when there are other similar "workflow" changes.
This is another time when you can get great benefit from training your employees on the new product, new process, etc. While doing so, keep in mind that just as it takes time and work to learn something, it also takes time to "unlearn" something. Your employees may struggle a bit making the change from the old to the new. Be sure to support them with recurrent training (making use of spaced practice and microlearning) as well as performance support and face-to-face support and coaching while they're actually on the job.
General Industrial Workplace Topics
There are some general ideas that are relevant to nearly all industrial employees and industrial workplaces.
For example, our Meeting Customer Expectations elearning course helps employees who may be new to working in industry or just plain new to the workforce understand the importance of creating products that are what your organization's customers want.
Safety
Safety training is an important topic at any workplace and it's especially critical in industrial workplaces, since they often have some pretty significant safety risks. PLUS, there's the OSHA compliance issue.
Make sure safety training is task-based, includes a hands-on aspects for practice and feedback, and that it matches the real hazards the employee will face on the job (and that it provides the information the employee needs to help stay safe despite those hazards).
Language, Writing & Communication Skills
The US is a diverse, multi-cultural society with a strong basis in immigration. The same is true of our workplaces, and that's perhaps even more true in industrial workplaces.
This can sometimes create language barriers as new employees may join an organization speaking any number of languages. If your organization can help provide language training (presumably though not necessarily in English), that may be very valuable. Of course, if you can provide your training in multiple languages, that can also help.
HR & Compliance Training
All Americans deserve a workplace that is physically and psychologically safe as well as respectful. Including HR & compliance training topics in your overall industrial training program can be a big help to signalling that your organization takes these issues, including things like diversity and inclusion, gender equality, and non-discrimination, seriously.
Review our HR & Compliance online training titles here.
General Math and Science
It's not uncommon for employees to enter a job without the knowledge and skills in fields like math and science that they need to succeed. More and more commonly these days, it falls to employers to help the employees gain these skills.
For example, our Industrial Mathematics online training library includes 11 titles, and our Industrial Science Topics online training library includes 16 titles.
Basic Office Skills
While some of us take these things for granted, computers, software systems like Excel and Word, workplace email, and Internet-based software applications are new to many.
Just a little basic training on these office skills can really help new employees flower at your organization.
Transportation
At many workplaces, at least some employees operate motor vehicles. This poses a general safety risk as well as issues having to do with DOT compliance, etc. Be sure to train employees who will be using motor vehicles to reduce risks and potential liabilities.
Learning to Learn
It's not your grandfather's industrial workplace anymore. The days when an employee could come in and simply work hard with applied muscles, or work an entire career with one basic skill set that never changes, is disappearing.
Nowadays, employees have to constantly learn and develop new job skills.
Providing training in learning to learn may not seem immediately obvious, but it has great benefits.
Continuous Improvement, Quality, and Lean Manufacturing
Most workplaces will have an interest in continuous improvement and quality. Additionally, some workplaces may have implemented lean manufacturing. These are all topics that are worth consideration for your industrial training program.
Maintenance, Reliability & Maintainability
Another consider for industrial training is training related to maintenance, maintainability, and reliability.
For example, we offer courses on the following topics related to maintenance:
Maintenance can be a cost or an investment. Which do you prefer?
To Conclude: Consider Online Training eLearning Courses & a Learning Management System (LMS) for Your Industrial Training Needs
We're proud to offer industry-leading, award-winning industrial training solutions to industrial and manufacturing organizations, including our 3D-animated industrial elearning training courses and our learning management system, or LMS, for training administration.
If you've got any questions for us, please feel free to ask. We're always a phone call, a chat, or a web form submission away.
If you'd like to do some research into online training solutions for industrial employees, you may find the following helpful:
Before you go, feel free to download our Guide to Online Training for Manufacturers by clicking the link you just read past or our Manufacturing Training Guide by clicking the button at the bottom of this article.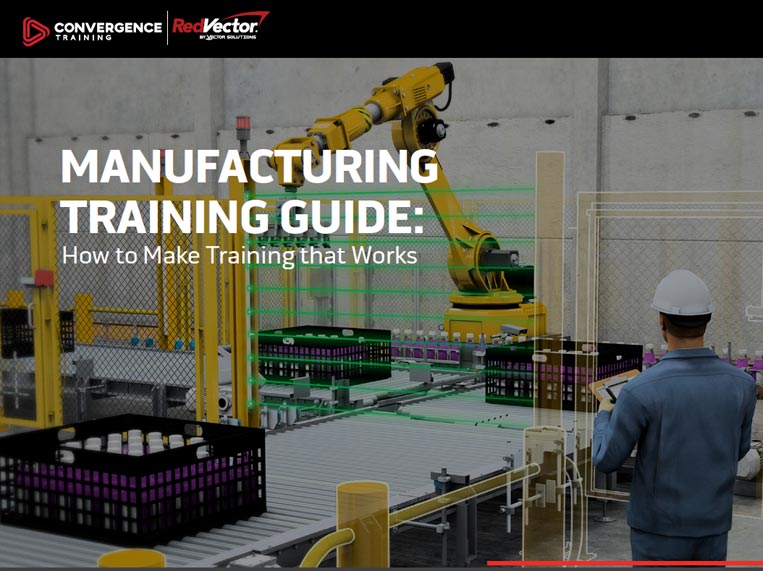 Manufacturing Training from Scratch: A Guide
Create a more effective manufacturing training program by following these best practices with our free step-by-step guide.