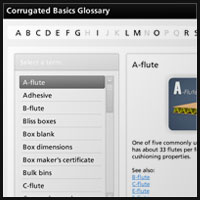 Are you in the corrugated board industry?
If so, you might find this free, downloadable, interactive glossary of terms used in the corrugated board industry interesting and valuable.
We've drawn all the images and definitions from our series of e-learning courses for corrugated manufacturers, which you might want to check out–it's a cool series of courses, assuming you're into corrugated. Which we assume you are, since you're reading this post.
We hope you enjoy this and put it to good use.
Corrugated Board Manufacturing Glossary of Terms
Just cast your glaze a little lower…there's the glossary of corrugated board terms.
You've got two options:
Bookmark this page and come back to it when you want to see it (you can even use it during training sessions with coworkers)
Click the DOWNLOAD button below the glossary to download a copy for free (read the notes below for a fuller explanation of this).
Go ahead and check out the glossary below. Just click the image to open the interactive version.
We've also set this up so you can download a free copy for yourself. Scroll down to the bottom and click the DOWNLOAD GLOSSARY button to get your own copy.
Below is a short video sample from the eLearning course these terms came from. Click the arrow to play the video sample; click the link to learn more about the course.
Corrugated Box Basics eLearning course

Please note that if you download this glossary, you'll get a zipped folder in your inbox. You must import that zipped folder it into a SCORM-compliant LMS if you want to use the glossary. You can't just unzip the folder and "play" the glossary outside of an LMS. Which means you have to have a SCORM-compliant LMS, natch.
If you've got any questions about that, feel free to read the two helpful articles below or just give us a jingle at media@convergencetraining.com and we'll explain it all to you.
So if you've got a SCORM-compliant Learning Management System (LMS), now's the time to download the glossary of corrugated board terms.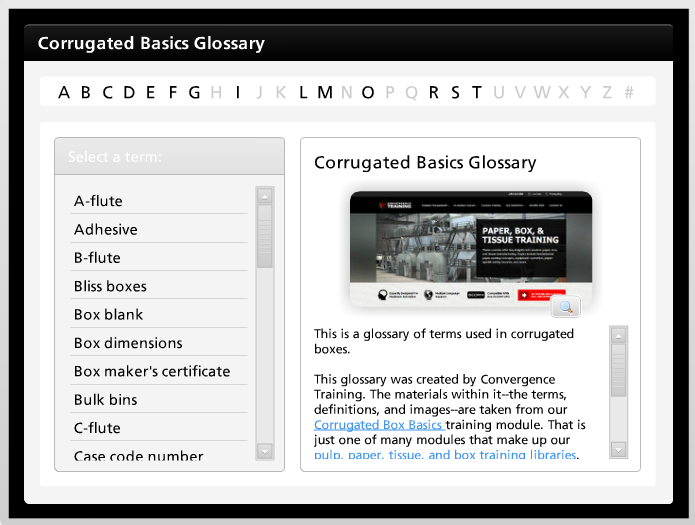 An Interactive Corrugated Board Glossary
Want a quick and handy way to review key terms related to corrugated board? Then check out our SCORM-compliant glossary.