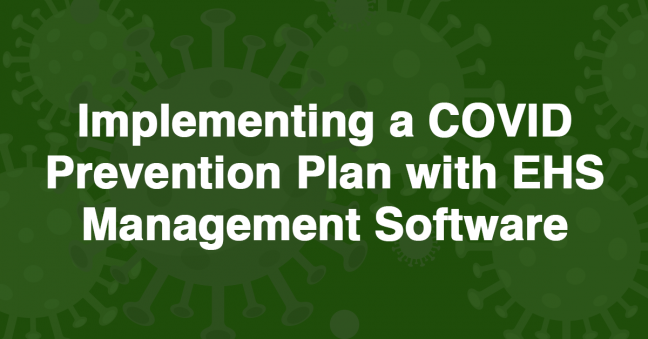 Many employers are gearing up (or trying to sustain) their COVID-19 Return-to-Work efforts, and we've got an upcoming April 20 COVID/Return-to-Work webinar that explains 16 elements OSHA recommends for a COVID Prevention Plan and shows how organizations can implement those 16 elements with the help of Vector Solutions EHS software solutions (register now–16 Steps to a COVID Prevention Plan Webinar).
Partly to gear up for this, we had a discussion last week about how the Vector Solutions LiveSafe/WorkSafe mobile risk communication platform can be used in these efforts. This week (and immediately below), we've had a similar discussion about using the Vector Solutions EHS Management software as part of those return-to-work efforts.
Check out the recorded discussion below, click any of the additional resource links we've offered for you down there, and don't forget to download our COVID Prevention Plan Checklist. 
The recorded discussion is immediately below–thanks to Danielle Goddard of Industry Safe/Vector EHS for sharing her knowledge with us. We've included links to some of the things discussed in the video as well–those as below the video.
Here are some of the links we mentioned in the video:
Hope that helps!
Let us know if we can answer any questions about COVID prevention plans, LiveSafe/Worksafe, the other Vector Solutions health and safety solutions, or anything else. And of course, be sure to help yourself to the COVID Prevention Plan checklist below before you take off!
COVID-Return to Work Checklist
Download this checklist, based on OSHA's January 29. 2021 "Protecting Workers: Guidance on Mitigating and Preventing the Spread of COVID-19 in the Workplace," to help keep the workers at your organization safe and healthy during the COVID-19 pandemic.