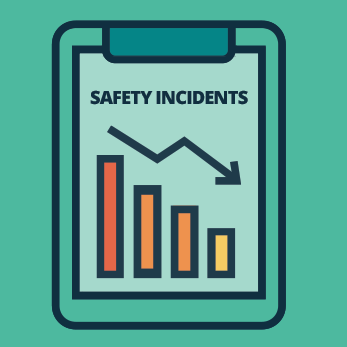 You probably try to improve your workplace safety record every day you're at work.
But it's natural to give that a little more thought around the end of the year, when you're creating some plans and goals for the next 12 months.
If you ARE thinking about improving your safety record next year, there are a number of things you could do. Maybe you'll implement a safety and health management system, for example. That would be a good idea.
And maybe you're thinking of improving your safety training. That would be a good idea, too. After all, safety training is a leading indicator for workplace safety.
In this article, we're going to show you a few ways that adding online workplace safety training can help you create a safer, healthier workplace.
Beyond that, we encourage you to download our free Guide to Effective Safety Training, which you can get by clicking the link you just read past. We've also got a second free guide that explains some real-life benefits that customers of ours have experienced after adding online safety training programs at work–that's at the bottom of this article.
Safety Training Requirements
The first thing to know about safety training at work is that you've got to do it.
To help you stay on top of that, here's a handy listing of all training requirements in OSHA Standards.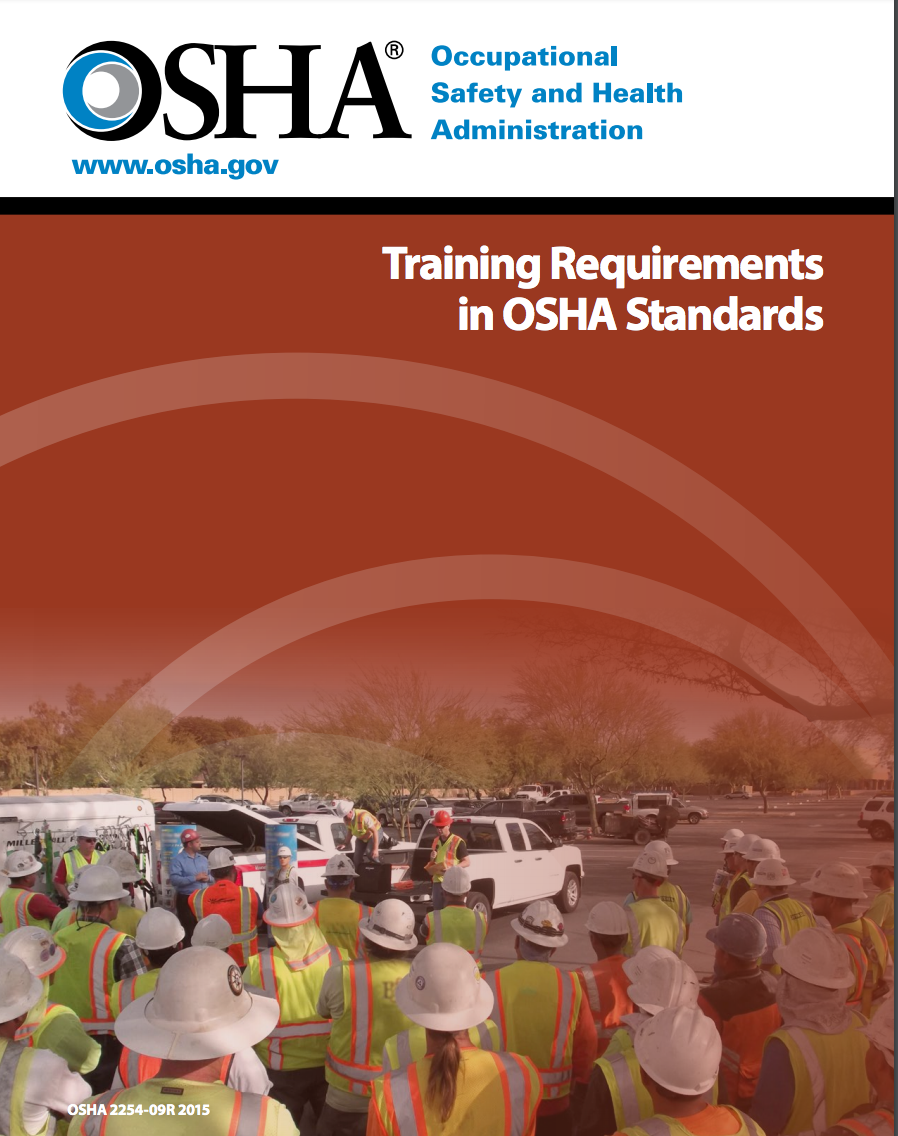 Blended Learning Solutions and Online Safety Training
The next thing you should know is that learning and safety experts recommend a "blended learning" solution for safety training. For all training, really.
For example, you can see that ANSI Z490.1, the (US) national standard for EHS training, calls for blended learning solutions. And so does this research on the effectiveness of blended learning (and more) by the well-respected learning expert Dr. Will Thallheimer.
Blended safety training involves mixing different training delivery methods in your training solution. This can mean using instructor-led classroom training, field-based OJT training, written training materials, videos, online eLearning courses, webinars, and more.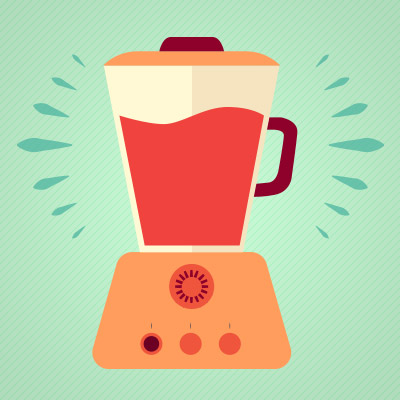 Adding Online Safety Training Tools to Your Current Safety Training Program
For many reasons, it makes sense to use online safety and health training as part of that blended learning safety training solution.
The short video below gives a quick idea of some of the titles and the quality of the online safety training graphics produced by Convergence Training.
Below, we'll list a few reasons why online safety training can help you improve your workplace safety record.
Improving Your Overall Safety Culture
You may not have expected to read this, and that's why we're putting it at the top of the list.
Many of our customers have told us that once they added an online safety training component at their workplace, their safety culture improved. Employees bought in to safety more, and they became more active participants in the safety culture.
Why? For a few reasons, which we detail in our How Online Safety Training Improves Your Safety Culture article (remember, these are real stories from real customers).
But one of the biggest reasons is that when management makes an investment in online safety training, it demonstrates to workers that management is committed to safety and takes safety seriously. Once employees see this, they begin to actively participate in creating a safer workplace themselves.
This creates a safety culture of continuous improvement resting on the two essential pillars of management leadership and employee participation.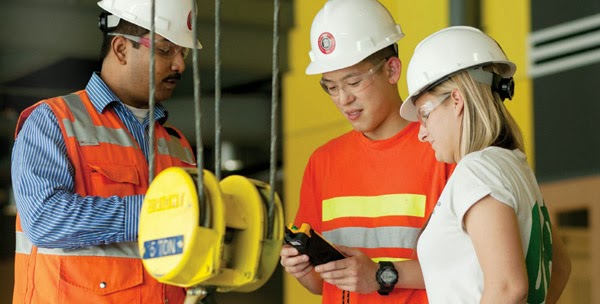 More Safety Training Topics than You Can Produce On Your Own
You'll want to make your own site-specific safety training, or partner with a provider to help you make it. But there's probably no way you can make good, effective safety training for all the safety training needs at your workplace. After all, you've got a lot of other things to do as a safety manager. Plus, your resources are limited.
If you partner with an online safety training provider, that will let you choose titles from a very large library of hundreds of safety training courses. You can add these off-the-shelf titles to your own self-created safety training activities in order to have a complete safety training solution at your work.

Easier to Deliver Same, Consistent (and Complete) Safety Training Message to All Employees
Think of a typical instructor-led safety training session.
Maybe you've got a standard PowerPoint with screens full of bullets ("Death by PowerPoint"). The safety manager or safety instructor uses that PowerPoint and those bullet points as a rough guide to lead the safety training session.
But how do you know the safety trainer is going to say the same thing to each safety training group? Don't we as humans have a tendency to make errors from time to time? Maybe the trainer will mis-state something, or maybe just plain forget to say something critical.
And what if  you've got a "rogue" safety trainer out there who disagrees with the standard company safety policy? What if that safety training goes off-message? How likely are you to even know about this?
Online safety training courses remove these issues because they deliver the same, consistent safety message to every employee who views the safety training. And that's a good thing.
Plus, when the safety policy has been altered, it's easy to alter the online safety training to match that new policy. This ensures that all employees from that point on will see the new safety policy and not the old one.
Better Instructional Design For More Effective Safety Training
How did you become a safety manager, or come to be in charge of safety training at your workplace?
Was it because you studied how the human brain works, how people learn, and the most effective ways of creating training materials?
Probably not. It's probably because you worked hard and studied safety. Safety training is most likely just a responsibility that came along with the job.
Now, that doesn't necessarily mean you're bad at safety training. But it also doesn't necessarily mean you're the most qualified person to create safety training. Or that you're the best one in the world at doing it.
Training content providers employ instructional designers who specialize in these kind of things. And they employ a team of people with other specialties, such as graphic design, writing, and technical skills, too. In many cases, these specialized teams can create safety training materials that are more effective than what you can create.
Here's an example from our Overhead Crane Operational Safety course.
For more about this, read our article that discusses graphic design tips for safety training. We use these tips in every course we make.
Online Tools Make it Easier to Administer and Manage Safety Training
When you think of online safety training, you might first think of the safety courses. For example, training on lockout-tagout, hazard communication, or fall prevention.
But that's only half of the "online safety training" equation. In addition to that, online software applications known as learning management systems, or LMSs, make it easier to manage safety training. This video gives a quick idea of what an LMS can do.
As the video demonstrated, you can use an LMS to manage many parts of safety training program.
That includes important aspects of your safety training program, including:
Creating safety training materials
Updating safety training materials and versioning
Assigning safety training to workers
Notifying workers of safety training responsibilities
Managing all safety training needs, including safety training that occurs in a classroom or in the field
Creating records of safety training completion
Storing records of safety training completion
Keeping track of training expirations resulting from recurrent safety training needs
Reporting on safety training
In the following sections, we'll look at a few ways that using a learning management system (LMS) for safety training can help you out.
In addition, though feel free to click the links below to learn even more.
For more information about using an LMS for safety training, see the following articles:
Easier to Deliver Online Safety Training to Remote Workers, Employees Who Work from Home, Workers at Multiple Sites, and Workers on Different Shifts
It's always a challenge (and often very expensive) to get safety training to workers who:
Travel for work
Work at remote locations
Work from home, full-time or part-time
Work in the field away from the plant or headquarters
Work at different sites
Work on different shifts
Our customers tell us scheduling safety training for these workers is an organizational challenge. They also tell us that it's very expensive, because often it involves travel and lodging expenses, as well as extended times away from work. And they also confess that safety training for these workers often "falls through the cracks" and is never completed appropriately. (Not good!)
Safety training delivered online can be a godsend in situations like this. And not only do the employees actually receive the training they're supposed to, but it's typically much less expensive for the company as well.
Getting safety training to these hard-to-reach employees can drastically improve your company's safety record.
Automated Safety Training Assignments for New Hires, Job Transfers, and More
Using an LMS makes it much easier to pre-assign training in advance of the time when your employees will need it.
For example, in just a few minutes, you can program the LMS to assign safety training to future new hires, or to people who will get moved into a new facility or new job role in the future, or to people who will need specialized safety training, such as forklift training or process safety management, at some future time.
In short, a simple computerized assignment scheduler like the one below can drastically reduce the chances of forgetting to assign safety training to workers when they are first hired and/or change their job role. And that, in turn, drastically improves the chances that these employees will view and complete that training and be safer workers as a result.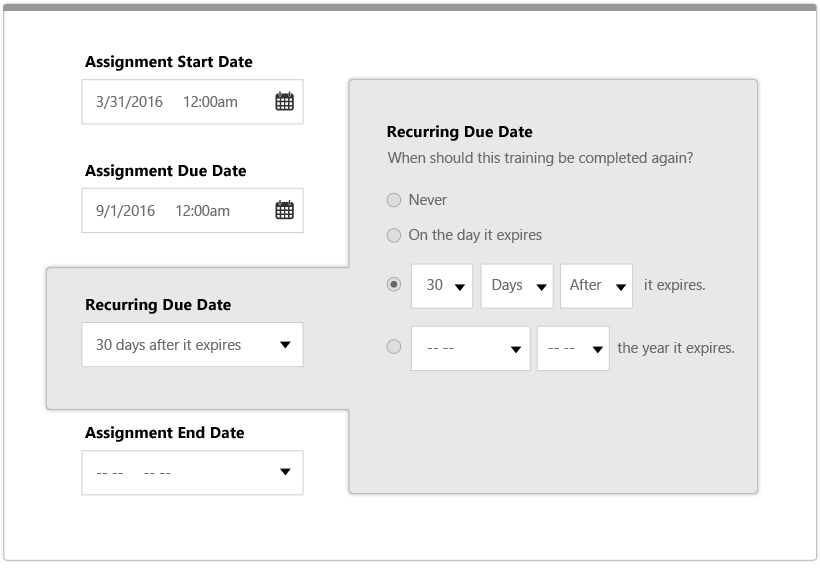 Allows Supervisors to Easily See Who's Done and Not Done with Safety Training
Having safety training assignments be automated is nice. And having the LMS automatically inform employees of their safety training assignments is very helpful. But you'll still want an easy way to confirm that employees are completing that safety training.
The LMS can help with that in two ways.
First, it makes it easy to sit at your computer, click a few buttons, and generate a report showing who's complete and incomplete in only a few seconds. Nice!
But second, it also lets you schedule the LMS to automatically generate completion reports like that every day, week, or month, and then email them to you or other managers and supervisors. You just come to work in the morning, check the inbox, and the information you need is right there for you. Even nicer!
Imagine how receiving a report like this in your email inbox every Monday morning would make life easier for you and help ensure that workers complete safety training.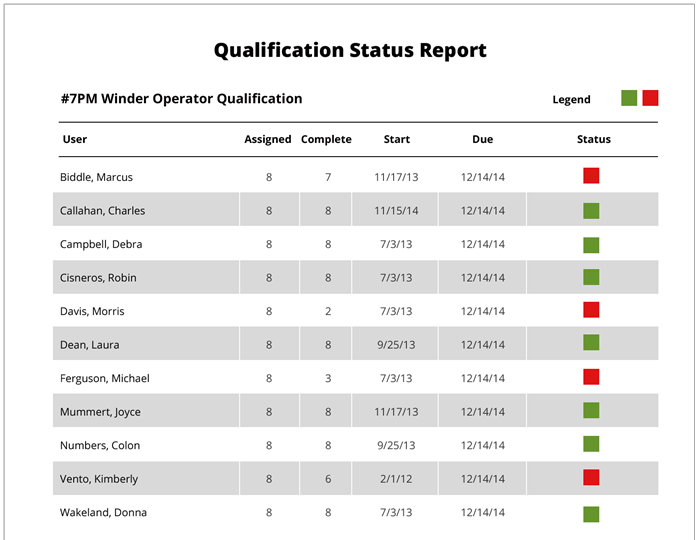 Makes Refresher Training Easier, Improving Retention of Essential Safety Knowledge
Safety training can't be "one and done."
You can't explain safety hazards, appropriate controls, and safe work practices to an employee one time and assume they'll get things right from that point on throughout their entire career.
In fact, learning researchers refer to this as the Forgetting Curve. The basic idea is that if if an employee learns something in a lecture (or even online course), the employee will very quickly forget almost all of it.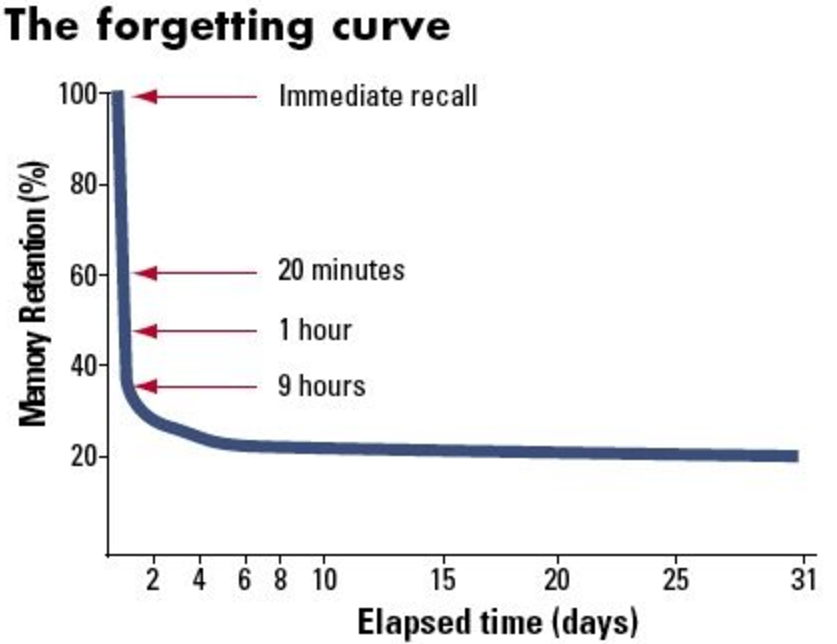 (source of image above…ignore the exact figures, nobody has reliable exact data on this, but the general idea is what is important)
However, if an employee is exposed to that same information again in the near-term future, even in smaller "chunks," the employee will remember much more of it. Learning researchers highly recommend this kind of periodic refresher training, which they refer to as spaced practice.
Being aware of the forgetting curve, and using online safety training to provide spaced practice to your workers, will help to create more informed, safer workers and a safer workplace.
Using Mobile Devices to Allow Workers to Access Safety Information in the Field
Mobile devices, the Internet, and wireless connectivity mean that the future of safety training is here today.
Employees can work much more safely if they can use mobile devices like the ones shown below when they're out in the field where the job hazard exist. This is much better than having to remember something from a class that occurred months ago. It's also much better than having important safety information stored on paper-based documents that are so far away from the work area that workers will never choose to go get them.
If you put critical safety information at your worker's fingertips when and where they need it, they'll use that information and create a better, safer workplace.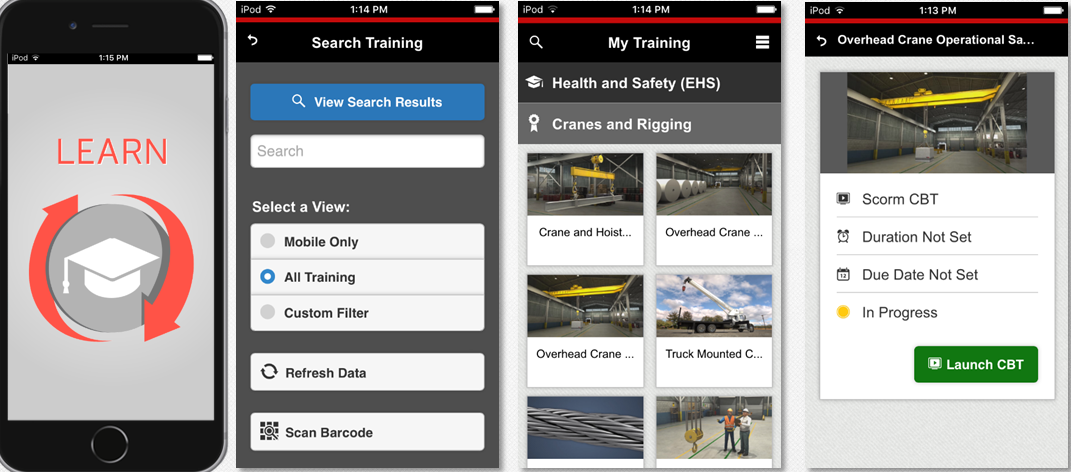 Well-designed mobile devices like the ones above make it easy for workers to quickly search for and find safety information related to the job task they're performing. This can be done by:
Using logical search-by-text capabilities
Presenting safety information in nicely organized categories by safety topic, work area, job task, and/or job role
Using the GPS locating ability built-into the mobile device to automatically present safety information relevant to a specific job area
Using the mobile device's built-in ability to scan a barcode or QR code to call up a filtered list of safety information related to a work area or machine (demonstrated below).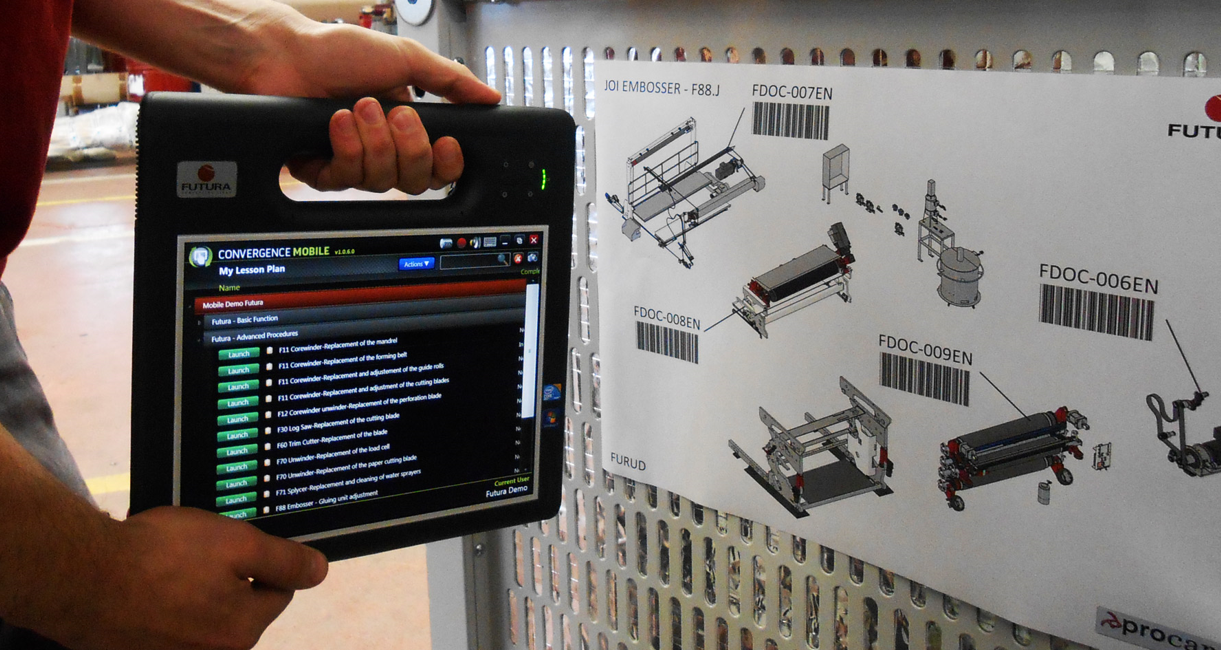 Recording Safety Observations and Safety Training Skill Demonstrations In the Field
Online safety training programs that are compatible with mobile devices are a great way to give employees credit for successfully demonstration proper safe work procedures in the field and also for recording observed safe (and unsafe) behaviors on the job.
Having the ability to do this digitally while you make these observations will improve your recordkeeping. And not only that, it will also make you more likely to perform these safety observations on a routine basis.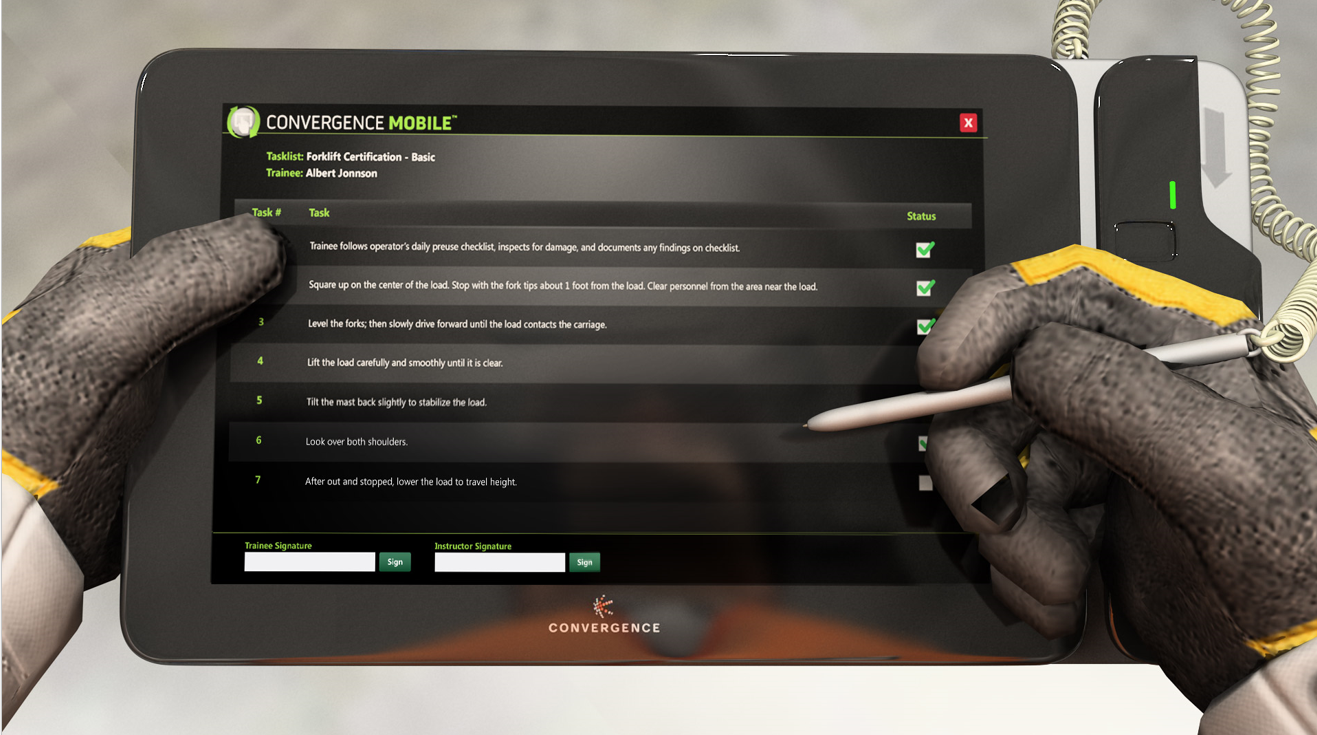 Tracking Leading Indicators for Workplace Safety
At the top of this article, we mentioned that safety training is one of many leading indicators of workplace safety.
Because online safety training systems include such robust dashboards, completion record creation and storage abilities, and reporting functionalities, it's easier to keep track of safety training as part of your leading indicator tracking.
Here's an example of a quick online safety training dashboard that can help you identify safety training gaps that might lead to workplace safety incidents at a quick glance.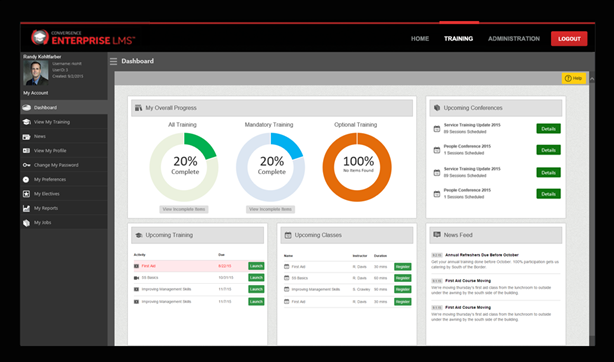 Helping to Identify Root Causes of Safety Incidents
When you do experience a safety incident, it's important to perform a root-cause analysis to determine why it happened and to prevent similar incidents from happening in the future.
And while these safety incidents can have any number of root causes, including things like work process design, it's often true that a gap in safety training is involved as well.
If you're keeping your safety training records by hand, or in a series of Excel spreadsheets, or in a combination of the two, it's going to be hard to (1) get a bird's eye view to see large trends and (2) "zero in" on specific details and determine if a problem with safety training was the root cause or a contributing factor in the safety incident.
Online safety training systems, with their powerful record storage and reporting capabilities, can vastly improve your ability to inspect the safety training aspects that may or may not have been related to safety incidents at work.
Saves Money in the Safety and Health Budget for Other Safety Initiatives
Online safety training tools are a great way to save money, too. You save money creating training. You save money delivering it. You save money when employees complete it instead of attending a class away from the work area. And you save money creating and reviewing documentation of it, too.
And that's good, because your safety budget isn't infinite. It's a fixed pie and each slice you take out leaves less for other safety initiatives. So if you're using online safety training tools to be more efficient and spend less money on safety training, you can use more money for things like safety audits, job hazard analyses, incident investigations, and so on.
For more real-life stories along these lines, don't forget to download the guide at the bottom of this article.
Conclusion: Online Safety Training CAN and WILL Help Improve Your Safety Training Record at Work
Share with us your thoughts about safety training, online safety training, and general workforce safety in the comments section below.
And if you want to investigate online safety training further, download the free Online Safety Training Buyer's Guide and Checklist below.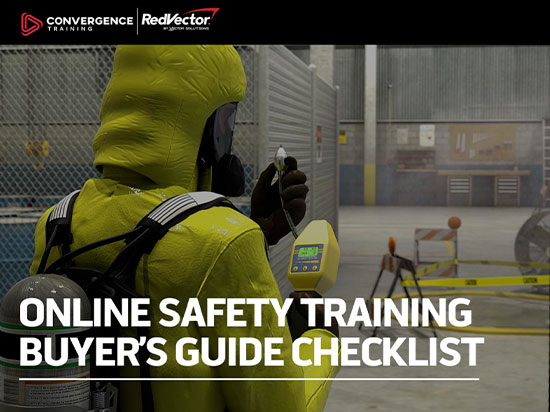 Online Safety Training Buyer's Guide Checklist
Learn how to evaluate different online safety training solutions to find one that best fits your company's needs with our FREE informative guide and checklist.