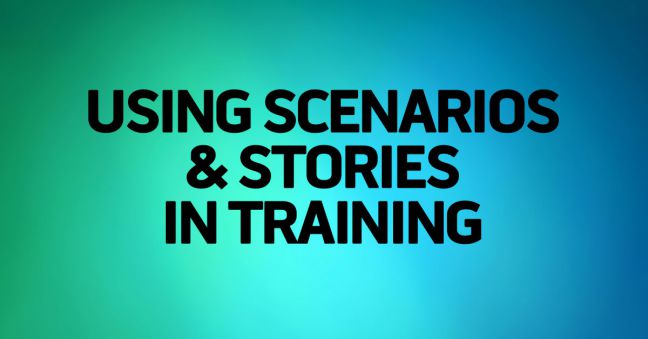 We always enjoy an opportunity to talk about learning and developing materials to help people learn. And we always enjoy the opportunity to talk about using storytelling and scenarios to do that. And of course we always enjoy talking with our friend Anna Sabramowicz, an elearning developer who excels at all of this and who generously and freely shares advice and tips on doing this stuff and doing this well.
You may recall we've spoken with Anna about scenarios, stories, and training in the past. She's been nice enough to "stop by" for a chat again, and we've included a transcription of that conversation below. We hope you enjoy the conversation and we thank Anna for time and experience.
Also, know that this discussion with Anna, in which Jeff Dalto interviewed Anna, was part of a longer discussion that begin with Anna interviewing Jeff.  You can click here to see that earlier discussion at Anna's YouTube channel.  Thanks to Anna for that.
Anna on SMEs, Stories & Scenarios in Training
Here's our discussion with Anna Sabramowicz about using stories and scenarios in training. We start by talking about working with SMEs and go on to discuss stories and how to build them, scenarios and how to set them up, creating options for the learner to select during scenarios, and more.
Working With SMEs to Create Story-Based & Scenario-Based Training
Convergence Training:
We talked already a couple times today about working with subject matter experts (SMEs) in order to create scenario-based learning or story-based learning.
Now, I wondered if you could talk to us about some of the challenges of working with a subject matter expert in order to create that meaningful scenario and the possible answers and the feedback and the consequence and everything.
Anna Sabramowicz:
I love this topic, because I did this survey, probably five years ago. And the survey had like 200 responses, and the word SME came up in a hundred of them. It's insane how intense this topic is.
And about five years back or so, I was at Learning Solutions and I did a presentation on this very topic, how to work with a subject matter expert, and part of my research was looking at what is already out there as far as how to work with subject matter experts, and I found a common thread, which is that the language that we use around introducing people that come into our projects to our subject matter experts is extremely negative, like it is bad.
Convergence Training:
"How to manage and control your SME."
Anna Sabramowicz:
Yes, like there's some sort of this weird entity that's out to get you, right? And it's like, they're just humans trying to do their job really well. And they're doing it so well that they get picked for these projects, which actually ends up being a curse, right? Because they're like, "I'm trying to do a good job. And then I get distracted by these people trying to put these things together."
And so I feel like what's happening is we've created this stigma around a SME. And when you enter a relationship, any relationship with a "this person is going to be difficult" mindset, they're going to be difficult, because that's what you expect. And that's what you're going to help happen. Right?
So for me, it's that's, that's huge. Language is very important. And it's not about what you say, it's about what you think. So if you're thinking it, it's going to manifest. That's what I believe.
And then the other thing that I really promote, because I think the other question I get is, "How do I get this SME to give me all the info that I need, they never give me good info?" They, they don't get it, especially if you're trying to put together like something like an engaging story. And they're like, "They don't know how to do that." And I'm like, "Of course they don't! They're an expert the super widget, they've never done this before."
So I think that the challenge is that a lot of us come in with our domain, we live in it, we breathe it, and then this person that has no interest, clue, whatever, they're brought in. And we think we have to educate them on the inner workings of how we do stuff, the inner workings of how elearning works, inner workings of software phase cycles…no.
Just let go of all that. Ask them really good questions that they would understand without having any inner insider knowledge of whatever you do in the background. And then your job is to translate that into the elearning without them feeling the pain of it. That's how I feel.
So I say this was my "make them a part of the product, not the process" theory.
Convergence Training:
There's got to be a general team dynamics thing going here, because I feel like everything you just said about how an instructional designer can work with the SME, I could have just said about how a safety manager can work with the frontline worker, you know, like, they're not the problem. They don't need to be controlled. You don't have to complain about them. The important thing is not telling them what to do but asking the right questions.
Anna Sabramowicz:
Yeah, they're your allies. There's a rivalry sometimes going on, like "You're trying to wreck my project, you don't want to be helpful." And yes, I know, that does happen. There are people who are very guarded with their knowledge. But I find that if you approach it, like you said, with empathy and humbleness, most people warm up to that, especially if you're bringing a cup of coffee, because coffee is warm, and warm stimulates the heart and is actually psychologically proven to inspire people to be feeling better towards you. Don't bring them cold drinks.
Convergence Training:
That's a low cost of entrance. That's pretty good.
Anna Sabramowicz:
Totally. Cookies, too.
Good Questions to Ask Your SME While Designing Training
Convergence Training:
Yeah, and they'll give you a good five-star rating?
Um, what are those good questions, then? What are some good questions to ask a SME?
Anna Sabramowicz:
A good question. Okay. So one of the problems that happens is when we have a conversation with a subject matter expert, we're coming at them from a learning perspective. So we'll ask them learning-type questions. But, and we talked about this before, just because you're an expert in your field doesn't make you a good teacher coach. So that's why we get crappy information back is because they haven't thought about it in that context yet.
So you want to start it off…like when I talk to people, I talk to them as if–I know this sounds bad–but I talk to them like they're my mom. Like, I'm trying to get my mom's expertise out of her brain without having to do all this stuff back here. Right. So then I'll say something like, "Tell me the last time you were in this kind of situation? Oh, yeah. And when and what happened, then? Oh, yeah. Well, why would somebody think that?"
Why is a huge part of my process. I've been in interviews where I have another instructional designer sitting across from me, and we're interviewing a subject matter expert. And I'll ask why three times in a row. And this person would just glare at me because they're getting bored. Why are you asking another why? But the person who is the subject matter expert, they're excited that you're asking them the reasons why something is happening. And they actually don't ever notice that you've gone down the route of why five times, they'll actually just keep on thinking, the minute you ask somebody a question, right? They have this…it's a psychological urge, they want to answer it.
I think we're self-conscious that we're asking those kinds of questions to dig deep. But if you ask just that opening one, like, "Tell me a time with this, where this actually happened, where you saw somebody really make a mistake, or where it didn't work out the way you wanted it to?" Then they give you an answer. And then you go, why, why, why, why. And that creates the fodder for all your scenarios, you come up with awesome consequences. And like how you said, the biggest skill is shut up and listen, this is what I've learned. I used to ask a question. And then I go, if you just ask the question, and then just wait past the uncomfortable silence, give them a chance to formulate the gold. And just wait.
Convergence Training:
That that's a lesson I learned in instructor-led training too.
I'm sure you know The Five Whys is kind of a big problem-solving technique in quality and manufacturing.
Anna Sabramowicz:
I didn't know it was from quality and manufacturing. I just I read this book on problem solving.
Convergence Training:
I don't know the origins, but it's used in in manufacturing and quality.
And it makes sense. If you ask a subject matter expert, why about what they do, they're passionate because there's a reason they're good at it. People do tend to like to talk about what interests them.
But I love in particular, your questions are open-ended, and they're asking for specific situations, and that not just letting the person tell you.
So what else do you do with SMEs in terms of asking them questions? Is that it?
Anna Sabramowicz:
No, what happens is, I'll get them to tell me…
There's a difference in subject matter experts. And the difference for me is there's a subject matter expert who's an expert in the process, and there's a subject matter expert who is a top performer. And those two people have different perspectives, sometimes they speak a different language.
And also, this is one of the things you have to be careful of, the subject matter expert sometimes has never been the top in that field, like the guy who's teaching your sales may not have ever sold a vacuum in his life. So the stories sometimes are very hard to get out of the subject matter expert has never had a story. He just knows the right answer.
So you might want to engage different people at different points. You might want to talk to the top performer to get the stories and the mindsets. "And what are you thinking, where you messing up?" And then after you take their transcript and build it out into some demos, then you take it back to the expert in process and procedures and say, "Where are we, where are the gaps?" Because those two need to marry.
But I try to talk to those two kinds of people always, because you discover different things.
Like one time I worked with Rubbermaid. And it was their top salespeople, they were they were implementing a new sales process. They had this five-step sales process that every sales rep should follow. And what became evident…they were like, "We're launching this thing, and they're skipping a step or something, because the people who are following all these steps are getting sales." And then when we talked to the top sales people, and it was just an hour, that's all I needed is an hour with the top two people in the country, I said, "Okay, walk me through your day." I didn't I didn't ask anything about the five-step process, I didn't ask anything about the procedure. I said, "Tell me what your day looks like, and what do you do before you get into the call and when you are in with the person?" And what you realized is that, yeah, they were doing that five-step stuff. But the majority of their day, or of their call, or with that meeting with that person, was them just making small talk and listening to their challenges. All the best salespeople were the best listeners. It wasn't them going through the checklist.
So if I just talked to the expert, I would have created something that was very removed from reality. Because that fact that listening was most of it, that you really probably could have skipped that five-step process and just listened to the person…they buy from people that they trust and know. And who do you like? People who listen to you, people who care about you, people who remember your children's names, all those things, right? That's what it was.
So I suggest the conversations don't have to be very long, your questions are just there to open up that dialogue. And then you can just come back to the SME, the top expert after talking to them probably for 45 minutes or an hour with those ideas drafted to make sure that they work.
SMEs and the Curse of Knowledge
Convergence Training:
That's a good tip. I love of course that we're back to listening once again, and to empathy.
In addition to talking to your process expert, the person who kind of knows in theory, and then you're also talking to your job performance expert, your peak performer, when each of those people have some level of expertise? Do you ever run into what they sometimes, I think in Made to Stick they called it "the curse of knowledge," where those people just know so much that they don't know all the steps to it? Do you ever talk to as a novice as well?
Anna Sabramowicz:
Yes. But not as often as I'd like to, to be honest with you. And you're right, the curse of knowledge is…they Whys help with the curse of knowledge a lot, to help get the reasoning behind something. A lot of people are just like, "Yeah, I've been doing this for years." And they don't actually think about the reason why they do that anymore. Although that's easier to discover with the why than a procedural thing, the mental steps that you take, that you've now compressed into a single step. That's much harder.
So yes, and I feel what you can do, and this stays a part of that humbleness and empathy piece, you represent the learner. So I try to be as ignorant as possible about the process. And I know that's probably hard for somebody in your position, because you've been, you've been there for years, you've seen the different courses, you've seen what works, what doesn't, right? So you, it's almost like you have to shut that off and say, okay…
Convergence Training:
You apparently would be surprised at how easy it is for me to be ignorant.
Anna Sabramowicz:
But if you can come in, being the novice, you can solve a lot of those crazy…it's funny, because I've talked to people and I said, "Yeah, just come in and ask all the dumb questions, because you don't know." And everybody's like, "Yeah, but I don't want to look dumb." But you've got to drop your ego there. And I'm like, "That's exactly how you gotta look. It's got nothing to do with you. Nobody's going to be impressed. Because there's no way you can fool yourself into thinking that you could somehow be an expert after reading a single module, or reading a manual, and then coming in with this guy who's been doing it for 20 years." And now I'm trying to like, you know, look good that I know my stuff. No, I don't. None of that matters to me, whatsoever.
Convergence Training:
I get the point. And it's a good thing to discuss. I've never had a subject matter expert think I was stupid, because I asked questions about his or her job.
Anna Sabramowicz:
I know that's all you think. Right? You think that. They don't think that.
Convergence Training:
Yeah, and so you just need to banish it. And again, I think they're more than happy to tell you about their job. It's the field they chose to go into. I'll talk your ear off about instructional design.
Anna Sabramowicz:
I love it.
Even More on Working with SMEs to Create Training
Convergence Training:
Okay, so if that's discussing SMEs, do you have more to say about SMEs? Or should we move on to the alternatives when you're creating a scenario-based learning exercise?
Anna Sabramowicz:
No, that's it, that's what I have to say about SMEs.
But what do you think what has been your experience in this area? This is this is a big topic. A lot of people struggle with this.
Convergence Training:
Yeah, yeah. I think you're right. Because I do think you want to talk to people know how to do it well, but I do think they're also not going to be able to clearly articulate why they do it well, because a lot of it is stuff they've moved into automaticity, and they do it without thinking and everything. And that's why I do think coming in and asking those questions and asking them something like the five whys, you probably will get kind of a more esoteric or more superficial answer or indirect answer that first time, that's not going to break down the real learning nugget there. And it's really difficult to put yourself back into the footstep or shoes of a novice learner as an expert learner.
Which is why I I called it if you ever get to talk with a novice as well
Yeah, but that seems like a logical. It's great that you're working with both sides, that kind of theoretical person and the actual job performance person. And then I think you're doing the right thing to try to identify what's really going on? Like, why do things really work? Which is shutting up and chatting up a potential  sale about his or her kid and listening to his or her problem at work. More so than checklist item number three?
So the reason you're talking to the subject matter experts in your case, is because you want to create compelling scenarios and interesting stories, and in particular, present a learner with a scenario where they have to make a decision or perform an action. And which means, especially as an elearning developer, you're going to have to pre-script a certain number of alternatives. So how do you go about creating the right alternative actions for that learner in scenario A or scenario B?
Creating Alternatives in Scenario-Based Training
Anna Sabramowicz:
So I think this point really messes people up. Because when you think of scenario and context, you think that it means reality. Or scenario supposed to be like reality, right? It's supposed to simulate all options. And, it's actually funny, because in real life, you only have mostly two options. It's take action or not take action most times, or a or b. When I give you three options, and that's actually luxury, right?
So the other thing that you have to think about is…when I design a scenario, I'm not trying to make that person feel like, this is them, this is their life, and these are all the options that are available to them.
What I'm trying to do with a story is constraints to a single person who has only these available options to them. Because of either their mindset at that point, even that's all that they see as an option, or that their circumstance allows them to only have these options.
And the options themselves, which a lot of people struggle with, coming up with valuable ones, all you have to do is at the very base, just say, what are the top three common mistakes? And when you say mistakes, they don't have to be manifested in action, they can be a mindset mistake, like "What are my assumptions? What am I thinking that drives me to make the wrong decision?"
So it's funny, because sometimes you can actually make the same decision, but it was the wrong mindset, and so it leads to a different outcome, because you perceive it differently, or something happens that is not the way that it should be.
So for me, that's why those stories, talking to subject matter experts to discover the whys behind their decision making is very important, because then the consequences are driven by their mindset at that point.
I hope that answers your question.
Identifying Common Errors to Use as Alternatives in Scenario-Based Training
Convergence Training:
I'm glad you mentioned, one of the things I try to do, along with presenting maybe a great answer or a good answer or something is to include some common errors. Are you extracting those common errors in your discussions with your subject matter experts as well?
Anna Sabramowicz:
Yes, because if I have to come up with a disruptor, or whatever, it's always going to be BS. It's never going to be relevant enough. You have to be almost in that position to know what is actually a really contentious issue, because one of the things that you want to do with those distractors is to make each one of them so powerful to somebody who doesn't know that they're all looking valid.
And, in fact, when I go through training, and when I see a question like that, where I'm stuck, I'm like, "Man, somebody did such a great job, because I'm actually having trouble choosing, this is so good!" Like, I know, I'm going to learn, you know. So, yeah.
The ABCs of Engaging Stories for Training (Character, Challenge, Transformation)
Convergence Training:
All right, so you set these scenarios into stories, the kind of stories lead to the scenarios and, and you have expertise, in storytelling in general, and in using storytelling in training. Are there models that have worked for you for presenting stories and creating, these are buzzwords, "engaging stories" that help set up that scenario?
Anna Sabramowicz:
Yes. So I know you're a Joseph Campbell fan, and he's on my bookshelf over here, too. So if you look at the story universe, there are story patterns. However, if you go down that route, one of the scariest thing is that's a rabbit hole that you could take you another lifetime to explore as far as what is engaging.
So one of the things that, and I learned this from my partner, Ryan, is that you can, and he's done a lot of work with this, and I've learned a lot, a lot of it from him as well. That if you can distill your stories down to that 20% that's going to have the most impact, because stories can get very complicated, that if you stick to these, let's say two things, the propensity of your training to actually be more successful as a story will be better.
So one of the things is transformation. So if you have, if the person who was going through your story is a part of a transformation for a character in your story, there's an outcome for that person, then there is a propensity that they'll want to finish it, they'll care about the decisions that are making because they want to see that outcome come to life.
So that's one thing, but that that alone, it does not guarantee success. And actually, there's a lot of stories or even elearning, whatever, where you start off with something like "Jimmy has a goal, the goal is to save the princess," right? And at the end, he saves the princess and I don't care that Jimmy saves the princess. There's a reason why I don't care. It's because you haven't made me care about Jimmy first. And I don't know if you've seen that movie yet…Bandersnatch?
Convergence Training:
You mentioned it, but it is now officially on my list.
Anna Sabramowicz:
So the movie itself was fabulous. Because it's a scenario-driven movie where you make decisions, and it's actually quite, you would consider that it would actually be quite engaging, because you are making decisions in a cinematic experience that reflect in real life. And people actually act on the things that you choose, which has a fleeting, engaging piece.
But after a while, at the end of that movie, I said, "Okay, so I was making a decision on behalf of a character, a movie on my TV screen played out the things that I wanted it to do, but it failed for me, why did it fail?" I saw the transformation of that person, and they achieved their goal. I actually went down a path that was hidden by Netflix, which is pretty cool. I feel smart, smart, I found the Easter egg. That's great. However, I didn't care about the character, because there was no setup.
So people ask "How do I make it engaging for everybody? How do I create a general enough scenario that people will be interested in it?" And it's funny, because what seems intuitive is actually the very opposite of what we should be doing, which is to create a very detailed character, set up the reason why we like them are not, like little details like, this person lost their mom when they were little; their mom made them a little bunny out of old socks; and this guy is now 23, he still has the bunny, because he misses him mother and he struggles in school, he's bullied because he's different; and he can't socially fit in. Just all those things that stack up to make somebody a human and that make somebody care.
If you take the investment up-front to design your story to actually have this person first, explain the mundane world, Ryan calls it the mundane world. Set it up. And then what happens is, then that transformation means something, because you care about them. If there's a transformation, it's nothing if you don't care about why that person is transforming. So those two things are huge.
And then there are other levels, like you probably know about this that Pixar uses. And it's not just Pixar movies that use story beats, right? Where this happens. So this happens. And then this happened. And but then what happened is this difficulty came up. And this happens. So there's actually a formula, you can actually Google it, it's online. And I think this is actually on Khan Academy. They have a Pixar module, I don't know what it's under, it just seemed like it was so out of place to be on the Khan Academy. But they have a little Pixar tutorial. And they walk you through this process.
Now one of the things that, and I know I'm rambling here about this thing—but it's not that this is magic in any way, because there is a formula. And what's good to see is that the people who designed these great stories and follow this formula, they still iterate on it. Like they are always going back to somebody and saying "Hey, can you? Can you look at this is this? Is this cool? Is this interesting to you?"
You can't do this stuff in isolation, you really have to get people's feedback.
Convergence Training:
So if I can try to summarize it, it seems like thing one, according to you is make a character that people care about. Is that correct?
Anna Sabramowicz:
Yeah.
Convergence Training:
And then it seems like a common error, talking to a subject matter expert on this like yourself, one common error would be trying to make a completely generic character so that he or she is completely generic to all audiences. But that's not what works; what works is being concrete and specific and using detail. Because for example, in Breaking Bad, we find Walt interesting not because he's kind of an average white guy who's middle aged, but because he has all these interesting, specific parts of his personality, right? That's what we want to capture–the real human, not the generic. Human, correct?
Anna Sabramowicz:
Yeah, if we didn't know anything about his backstory, about his wife, and his inner struggle to be rid of cancer and his love of science, and all those things that everybody thinks…like, OK, remember, we talked about how you throw in little nuggets of stuff into a module just to keep it interesting. You save all that for the setup of the story, and build it up there. And then that's what will do it.
Pixar takes 11 minutes out of every single movie to set up the mundane life. Set up why this person even wants to go anywhere? Why this? You know, why does John want to be the best sales guy? And if you realize that the psychological journey for him is not just because he wants to make the most money, but because his wife's having a baby, this is their second baby, he wants to be the best dad because his dad left him when he was little, and he doesn't want to repeat that thing. Like you find all those reasons why somebody wants to be there. I want to help John make the best damn sale ever. I want him to be number one, because I resonate with his goals.
Convergence Training:
So then the third thing you talked about was the Pixar thing. I think if we can condense it is something like "this character I like gets a challenge."
Anna Sabramowicz:
Yeah, there has to be an obstacle, there has to be something in their way. If it's hunky dory, then…it's funny, I've seen this a lot where you're like, "Hey, join Jim on his first day at work. Can you help Jim be great at work?" And, and you're like, "Jim's great, so what's the point? Okay, well, why do you need me?" So then "Jim's socially awkward, and he has a list and he's terrified of talking to people." You have so much fun with this stuff.
Convergence Training:
So this interesting character meets this challenge and he or she succeeds, and that's going to learn to a transformation.
Could you give us some examples, and in real-world, job-training contexts, what that transformation would be?
Anna Sabramowicz:
Yes. So the transformation is like…we've done leadership training with Adidas and the transformation wasn't manifested in the person necessarily themselves. Within leadership training, the premise was that what we wanted the new leaders to do is not necessarily–because there's leaders all over the world in this organization, and we're not going to have the same situation for each one–but the major premise was that a good leader will look at their environment and see opportunities to enact these small leadership actions and enable their people; will find opportunities to do that, instead of just saying, "This is how we're doing things," right.
So what happened is, as this person was placed in different situations, we'd ask "What should you do," tell them how to do it, provide encouragement, or provide feedback, whatever. And as they moved on, what they saw and what changed was the environment around them, and the kinds of ideas people were coming to them with now, because they felt they could. So the transformation was not necessarily about what the learner was doing. But the environment around the learner was changing as a result of the small actions that the leader took, which then later, we made it explicit; they reflected on the difference between when they started, and when they finished the journey, if they if they went down the path of leadership.
Convergence Training:
Great. Not that long ago, I read not Made to Stick, which is the book by the Heath brothers, but Make it Stick, which is a book about what they call desirable difficulties. And that idea of spaced practice, what you're doing in that course, coming at things from different perspectives repeatedly and building up a mental model and that's where you starting to develop expertise. And I think that book, Make it Stick, segues really nicely with Anders Ericsson and his book Peak about building expertise. Because at that point they're talking about the same thing, which is spaced practice but also throwing things at me in different perspectives and increasing my learning over time. I don't care if you do scenario-based training live or if you do it in elearning. And there's a use for elearning there that's maybe not as easy to do and to scale with instructor-led training.
Anna Sabramowicz:
I would just love to see people reuse the live scenarios into the elearning and back and forth. I read a book Principles by Ray Dalio, it's a great book, he's so logical and he's got all these systems. It's just it's a really cool book.
But one of the things that they did is–I'm thinking that organizational-wise this is so smart–there were two managers with some sort of a personnel issue. And one of them handled it with that with that person. And then the other manager completely disagreed with their approach. They both approached Ray and said, "We're both right, right?" Both of them felt they were like, 100%, right. And Ray didn't know and didn't want to take sides. So what he did is he actually took that scenario, and send it out to the entire company. And then they had, and this is wonderful because that's what scenarios can do, it's like, here's the situation, here's what happened, here's the outcome. Now, let's talk about this, is this the way we do business? Right? Is this the way we deal with people? So if you have all these variables, is this the right decision to make? And I loved that, and I was like, "Man, this guy's like a scenario genius." Right? If Ray's using scenarios, I'm in the right track.
Convergence Training:
I like that idea of crowdsourcing the answer to the broader audience. And I also like that there's a nice little focus about learning how work really is done in that context.
That's big safety. They refer to it as the black and blue line. And there's work as imagined and work as done. And many times those are different lines. And we really should be facilitating how work is done.
OK, great, so we got the story-based model that work. And I think I took your cautionary tale there. Like, don't get too caught up in trying to do the hero's journey tale or something like from Joseph Campbell.
Anna Sabramowicz:
No. There's so many levels to that, because then there's an obstacle, and then you're doing okay, and then there's another obstacle, you lose it all…
Learner Decisions in Scenario-Based Training
Convergence Training:
So have an interesting character who I care about, a challenge and let them make a transformation.
So that story is going to set up a scenario where I, as a learner have to do something. So how does that fit?
Anna Sabramowicz:
Well, I think that if you look at the purpose of stories, stories are meant to capture history but also to capture lessons from people. Like Aesop's Fables and the way way we process information. We're trying to put random words into a narrative that we can remember, and it teaches us something. So all I'm doing is I'm taking an Aesop's Fable, which is compelling, interesting, and all that stuff, and then adding a level of decision that allows me to explore alternatives based on my level of experience, without killing people in real life. And also, it allows me to see those decisions in context, and I think a lot of times the reason our learning is slow is because the decision point is isolated from all the other things that I have to do, or I make a decision and I don't see the consequences of that decision, because the lesson comes so late. I don't have a self-reflection process to catch it and be like "Oh, you know, I've been smoking for 40 years now. That's why I got cancer? Oh!"
Convergence Training:
That's a good example.
Anna Sabramowicz:
Thanks. I think it was Jim Rome that said that. He said "If we all got lung cancer the day after we started smoking, nobody would start smoking anymore." But because the consequence is delayed, we continue making the same errors.
So in fact, scenarios to me are a way to bring that closer, compress that time and make it like in your face, like you forgot to launch something and six months later, somebody's face get crushed. But you weren't there, so sometimes, you don't catch those things. So it's easier to amp up things.
And like I said, the other thing is the narrative that you're now putting these decisions in helps you remember it. Because it's story.
Using Scenarios to Point out Skill & Knowledge Gaps
Convergence Training:
Yeah, exactly. I had a question. I know one of the reasons you like to use these scenarios is to point out to the learner a gap that they have. Can you talk about that a little bit?
Anna Sabramowicz:
So this is something that has changed a little bit in my mind as I've worked with people, because I'll work with companies and they've been developing repositories of amazing training for a decade, let's say. And it's funny, because they feel like the fact that they have this repository, somehow it is a disadvantage, because it's outdated or something.
And I'm like, "You know, the top people in your workplace use that stuff to be where they are. So it's not that bad." There's nothing wrong with it, it's actually pretty awesome. The only thing is, maybe the only difference between people accessing it now, because now they're distracted by all kinds of stuff, maybe they need more context as to why they should even access it.
So I'm thinking scenarios really are not there to replace the awesome training you already have, the performance tools you already have, the webinars you've already done. It's just there to help somebody who thinks they know everything, because they're coming in because they looked it up on YouTube, to be like, "Okay, well, yeah, show me, I'll see, I'll see if I can make the right decision here." And then when they the outcome, they didn't anticipate, they now know that have a gap. And then your job is to make sure that the minute that gap is perceived in there in that high state of "Hell, I gotta figure out what I'm doing, because I thought this was going to turn out different," your job is to make sure that resource is ready for them, so they can devour it, because they're hungry and ready for that then.
So your job is to create that gap awareness. Get them like they're primed to learn at that point. I think where most of us fail is we create something awesome. They're primed, and then we don't have anything to be like, here it is, here's the next step. Go for it. Get ready, have skill.
Convergence Training:
Two things I liked about that. One is the Heath brothers in the book Made to Stick talk about the importance of surprise, and I think in what you described, the scenario is bring an element of surprise to me the learner that I have a gap that didn't know about.
And I love the what you're thinking about…I think we sometimes think about training, either an activity or a session or what, as a one-and-done kind of thing. And ideally, it's planned out. And it's more of a curriculum, or even, once the trainings over, you're doing performance support or something. But there should be a little bit more of a strategy as opposed to just like once I leave the room or click the exit button, I'm done.
Anna Sabramowicz:
Yes. And most companies that are established, they have so many resources that are just untapped. And when you think about that, imagine a scenario for a leader saying, "Hey, you're not as strong in this communication area, and they realize that. And the next thing I do is I say, "Here's a list of five people at your company who are masters, reach out to them." Hook them up a with a coaching and mentoring program, they're open to it, you know?
Convergence Training:
Which brings us back to the earlier point you were making about learning organizations and learning ecosystems, where training is just part, and if you've got this larger system where I can hook up with a mentor, and learn how to do that skill or something that's really valuable.
I think a second use of scenarios that intrigues me other than just like this element of surprise, and introducing a gap, is this ability to practice something, either because it's too dangerous, or we couldn't shut down the machines. Or maybe just because by running me through this, in a simulation, either in a classroom or online, I get exposed so many more times, in a compressed period of time, than I would on the job. Maybe it would take me 20 years to get all those kind of exposures and learn from them. But maybe with scenarios, you can cut that down into like six months. That's a really valuable way to, if you go back to that Anders Ericsson book, that give me deliberate practice and expose me to all these common problems and different situations where I can develop a really robust mental model about it, that you're not likely to do even with a great job mentor, just because they're not going to come up during the first six months or during your new employee orientation.
Anna Sabramowicz:
Yeah. Oh, I totally agree. And it's funny to me that people design these amazing things, I've seen some great learning, and then they launch it, and then they just leave it alone. And I'm like, you know, it takes people like seven times to get stuff. And you could just basically send it to them again in a month. If you make it onerous, a 45-minute thing, I could see somebody not wanting to do it. But if you've got like three or four scenarios that are pretty punchy, and all of a sudden, somebody has to revisit and rethink about something, it's wonderful, it's awesome.
Because one of the things you want to see is, you train them the first time and they got this result, a month later, they're making better decisions, a month later after that they're making better decisions, because they're thinking about it on the job now. So the exposure happens.
And I always talk about this, this idea that it doesn't matter how awesome your training is, if my cat just died, nothing will stick on that day. And you're really counting on that single event to have impact. And that's why we're taking that training event, unpacking it and spacing it over time, and constantly keep on feeding it until they say "You know what, I love these scenarios. But can you just give me a new one now cuz I'm pretty good, I've got it." I want that.
Microlearning & Scenarios
Convergence Training:
That's a good additional point. I haven't thought about it about how one of the perils of one-and-done training is that I just might be having a bad day, like my cat passed away or something. But it shows again the value of coming back to things and coming back in different training methods and different modalities. And I think that's where microlearning courses can be used really well, for spaced training later. You just give me a one-minute set up and ask me to answer or solve a scenario. And it takes me 15 seconds at the beginning of my day–really valuable.
Anna Sabramowicz:
Yeah, the process of retrieval, the idea of testing is that it's the retrieval that helps you learn. So do it as often as possible, right? As many in as many rooms as possible, right? Because as we know, the color of the room affects your retention.
Convergence Training:
I did not know that. But coming at it from different perspectives and using the same skill, but to solve slightly different problems, and really strengthen your grasp–I think that's a great use of scenario-based training. And, like you said, if it's 45 minutes, I'm not going to buy into that as a worker if you keep throwing that at me. But if it's minute, and it's targeted, that's great.
Anna Sabramowicz:
Yeah. 100% agree with that.
Parting Words of Encouragement (Practice!)
Convergence Training:
Well, anything else about storytelling and scenarios for training that we should be thinking of? Any words of wisdom or final thoughts?
Anna Sabramowicz:
Encouragement, yes. I think that you've just got to try it. And never compare yourself to everybody else's final product. Because that final product is usually a process of iteration, sometimes over years, right? Like, people look at Broken Coworker, and they'll be like, "Oh, you know, this, this is so amazing." They'll get overwhelmed by the all the pieces that make it so.
One of my biggest pieces of advice is if you like something and you want to create something similar, what you have to do is start deconstructing those pieces, deconstructing more and more of the things that you like to see if there are patterns underneath. And once you find that pattern, which is what I talked about in my YouTube channel, as well, once you find the pattern, you can take that pattern and apply it in any space. So then you're no longer having the anxiety of starting from a blank page or trying to figure everything out from scratch. You just have this pattern, you can say, "Okay, I think this will fit here. Here it is, this part is done. Now, let's start asking some good questions to get some info in there."
Convergence Training:
So I know I've seen you on social media basically just telling people, "Hey, don't hold yourself back. Just do it." So I love the fact that you're just telling people "Hey, just do it. Don't criticize yourself if it's not what you want to be and make it better over time."
Anna Sabramowicz:
Yeah, Picasso painted I think a piece a day, every day, just every day, he put together something. So I mean, if you're putting out something once a year, it's not enough practice, right? Get yourself working out loud, doing things every day crafting, crafting, refining your craft, and then you'll get good over time.
Convergence Training:
Yeah, I agree. That's why I really like those elearning communities that have those kind of challenges. You know, when I was a teenage kid, at the Detroit Institute of Arts Film Theater, I watched a movie where Picasso was painting on a transparency with camera on the opposite side. And not only was he creating any number of paintings per day, but he didn't just sit down and do one thing per painting, it was a constant process of repainting, and repainting, and repainting. So, you know, if Picasso makes that many errors in his eyes, I think it's okay for us to make an error too as well.
Anna Sabramowicz:
Yeah, totally. And practice makes permanent, right? So should we start doing it more.
Convergence Training:
So Anna, thank you very much. Where can people go to your website? Where can they find you on social media? How can they contact you and so on?
Anna Sabramowicz:
Well, LinkedIn is always a great place, if you can spell my last name. And I'm on YouTube. I have a Facebook page where I do a lot of daily live videos, too. And there, it's kind of cool, because people send me questions, and I discuss those questions with them. And it's more interactive. And I like that, I'm enjoying it immensely. So that's a good place to be. Yeah. And AnnaSabramowicz.com, if you can spell that, and there's also ScheduleAnna.com if you want to talk to me, so that might be easier for people to spell.
Convergence Training:
And then for those who are wondering how to spell Anna Sabramowicz, let me see if I have this right: A-N-N-A-S-A-B-R-A-M-O-W-I-C-Z.
Anna Sabramowicz:
Yes, that's pretty good. That's scary. Good. It took me years to learn my own last name.
Convergence Training:
I don't know how to pronounce my last name, actually. So it's okay.
Thank you very much.
Anna Sabramowicz:
Oh, this was a total pleasure. I really had a lot of fun. And I have a lot of notes. Now I have to do some research..now I have to plan my next learning cycle.
Convergence Training:
Yeah, well, I'll follow up with you six months from now after I read this stuff as well.
Anna Sabramowicz:
Perfect. I say start with Jordan Peterson.
Convergence Training:
I will do so. And I apologize to Mr. Peterson for not knowing who he is.
Anna Sabramowicz:
No worries. He's pretty good on YouTube, too. So if he ever comes down to Seattle, I'll just I'll make the trip.
Convergence Training:
Let me know if it happens.
Anna Sabramowicz:
Okay, cool.
So have a fabulous rest of the day, I will split this up for you or send you the whole thing and then you can do whatever you want with it.
Convergence Training:
Thanks so much. Appreciate it.
Anna Sabramowicz:
Okay. Take care. Bye. Have a good week.
Convergence Training:
You too.
Before you go, please feel free to download a free copy of our Guide to Using Blended Learning.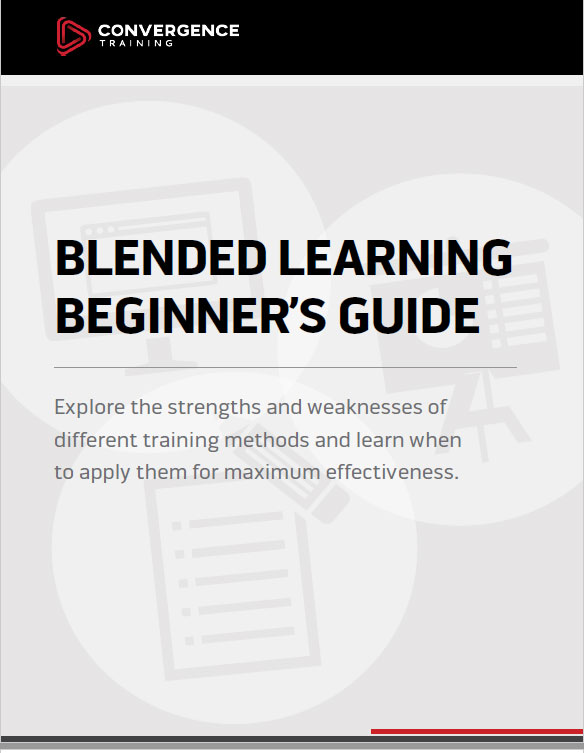 Blended Learning Beginner's Guide
Learn the importance of using differing training delivery methods and get some tips for selecting the right training method for each training need.