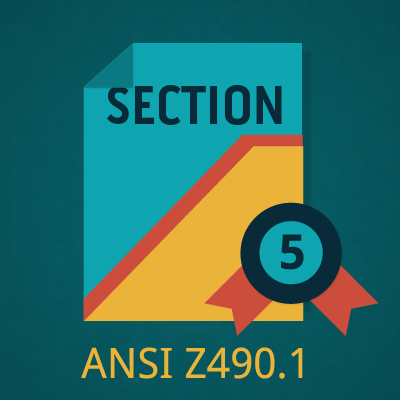 (Note: This article is based on the newly revised, 2016 version of ANSI Z490.1.)
Hello. We're back with our continuing look at effective EHS training. The series takes its cues from and expands on the ANSI Z490.1 standard on EHS training.
In this post, we're going to take an in-depth look at Section 5, which is all about delivering EHS training.
The strong focus is on the EHS trainer in this one, plus there's some stuff about training delivery and training materials.
If you want to download our free 42-page Guide to Effective EHS Training just click that link you just whizzed past. Or you'll get another chance at the bottom of this article.
So with that said, let's learn more about effective EHS training delivery, including trainers, training delivery, and training materials, right?
Effective EHS Training Delivery
As we mentioned earlier, this section addresses EHS training delivery and focuses on the following:
EHS trainers
EHS training delivery
EHs training materials
Let's look at each of those in closer detail below.
Best Practices for EHS Trainers
Effective EHS trainers should share a set of characteristics. They should:
Be qualified
Be able to document their qualifications
Have subject matter expertise
Have training delivery skills
Pursue continuing education to keep their knowledge and skills sharp and up to date
EHS Trainer Qualifications
When you're designing and developing EHS training, you should specify all necessary qualifications for any EHS trainer who will lead that training.
Those qualifications may include subject matter expertise, training experience, and training delivery skill.
Subject matter expertise: This means knowledge of the EHS subject they'll be teaching. The trainer may need technical knowledge, skills, or abilities to lead training on the topic effectively. The trainer doesn't have to be Einstein, but does need to know his or her stuff. The word "appropriate" seems key here.
Training delivery skills: This means knowledge of effective manners of delivering training, with a particular emphasis on knowing and appealing to adult learning principles.
Trainers should keep their subject matter expertise and training delivery skills sharp and current through continuing education and other professional development opportunities. Training program administrators should create documents that show how EHS trainers comply to these expectations. This can include resumes, continuing education certificates, licenses, registrations, and/or simple experience sheets. There's no one defined way to do this properly–just do it.
Proper Training Preparation, Learning Environment Management, Delivery Methods, and Use of Materials
Delivery of effective EHS training and EHS training materials includes:
Planning and preparation before EHS training delivery
Proper management of the learning environment (where the training will occur) and/or of the digital/virtual learning environment
Effective use of training delivery methods and training materials, including:

Use of adult learning principles
Delivery of appropriate feedback and communication
Let's look at each of these in more detail.
EHS Training Planning and Preparation
This stage includes getting the trainer ready. Most notably, this means making sure the trainer:
Meets the qualifications for an effective, appropriate trainer listed above
Knows the course's training materials
Knows and knows how to use the primary training delivery method and the backup/alternate delivery method
(For instructors in virtual training environments) Virtual-training instructor will have practiced training in the virtual environment enough to be completely familiar with the delivery system and familiar with backup plans in case of a malfunction/technical error
 Managing the Learning Environment for EHS Training
Learning happens best in an appropriate learning environment that meets the needs of the trainees. In particular, the training environment should:
Be safe, with no safety hazards
Not be in an environment that's so noisy it interferes with employee's ability to hear
Have an appropriate climate, including temperature and air quality
Have appropriate lighting so that all training materials and activities are easily visible
Have appropriate seating and/or work areas
Be set up with proper ergonomics for the employees
Provide access to water and restrooms
Have enough emergency exits and a planned evacuation route
Have a manner of calling for emergency medical assistance if necessary
Allow enough space for an appropriate trainer-to-trainee ratio
In addition, the learning environment should be one that helps facilitate learning. The Association for Talent Development has some good books on this kind of stuff.
And, if any training materials or aids will be used in the training session, there must be an adequate supply for all trainees, and they must be in good, operating condition.
Lastly, although this isn't mentioned in ANSI Z490.1, a lot of research shows that workers are more likely to remember information from training and apply that training on the job if the training occurs in the same environment that the workers will later be expected to apply the training (the work area). This isn't possible every time for a number of reasons, but try to take advantage of this when possible. Or, try to have them train with equipment and materials that will present the same visual clues they'll see in the work area ("that handle" on the machine, "that row" on the spreadsheet," etc.).
Effective Use of Training Delivery Methods and Training Materials
Now let's look at the requirements regarding training delivery methods and materials.
Familiarity with Training Delivery Methods and Materials as Designed
The first thing the trainer should do is to be familiar with the training delivery methods and training materials that were designed and created during the training development phase of this process and to apply them so that the learning objectives are supported. For more about training development and learning objectives, please see our previous post in this series: Designing EHS Training.
Adult Learning Principles
In addition, the trainer should make appropriate use of adult learning principles. In explaining this more fully,  ANSI Z490.1 states that "at a minimum," the trainer should:
Treat employees in training with respect
Recognize and respond to their individual learning styles/preferences
Manage difficult situations by exercising appropriate professional judgment
Be flexible in tone and pace to accommodate the learning needs of the employees at the training
Do what's necessary to coach, counsel, and guide the employees to make the learning experience as effective as possible
Respect, value, and appreciate the different levels of experiences that the employees bring to the training
Encourage active participation from all employees in the training
Click to read more about how to apply adult learning principles during safety training.
Communication and Feedback
Finally, the trainer also has to ensure appropriate communication and feedback during the training. One of the fundamental concepts of training is that you've got to give the learners (or trainees, or employees, or whatever you want to call them) the chance to ask questions, get feedback on their questions or performances, and generally feel free to communicate openly and effectively about the training topic. Trainers should foster an environment that encourages and supports questions and comments, and they should build-in opportunities for practice and feedback. Remember to always create an atmosphere in which the learners feel safe asking questions; never make fun of or shame people when they ask something.
Our Free Guide to Effective EHS Training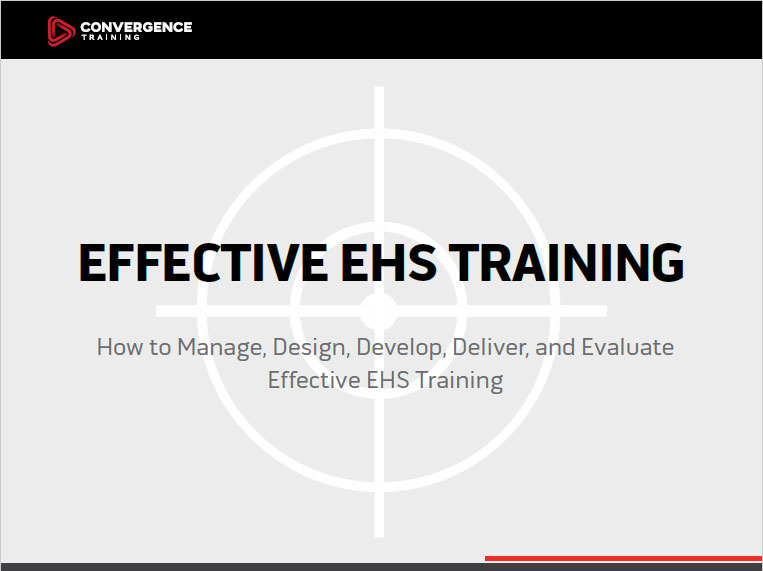 Effective EHS Training: A Step-by-Step Guide
Learn how to design, create, deliver, and evaluate effective EHS training by following these best practices with our free step-by-step guide.