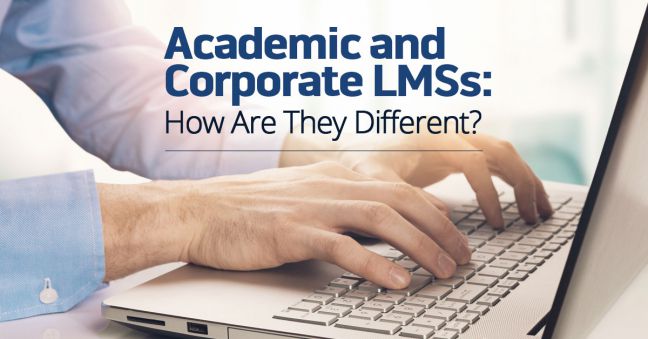 A learning management system, or LMS, is a great tool for education, training, and learning and development. If your organization is looking to streamline these, an LMS can be a great place to start.
But to get the most benefit out of your LMS, you'll want to get the LMS that's best suited to help at your workplace. Although there are many, many different learning management systems to choose from, and no two are exactly the same, it's very helpful to know that in general terms, we can separate learning management systems into two different broad categories: academic LMSs and corporate LMSs.
We'll tell you a little more about what an academic LMS and a corporate LMS are in this article to help you find the right LMS for your organization.
What's the Difference: An Academic & A Corporate LMS
As you may have guessed, an academic LMS is most useful in an academic setting involving teachers and students. And a corporate LMS is more useful in corporations for use in job training (although they are also used by other non-academic, non-corporate organizations, such as NGOs and professional associations, and they're also used for other types of training beyond just employee training, such as training of customers, suppliers, and contractors).
Before we zero in on the differences, it's worth noting that academic LMSs and corporate LMSs do have some things in common, including:
Providing access to educational and/or training materials online
Giving instructors and/or training administrators tools to create and manage training materials
Automating and/or otherwise streamlining different aspects of the education and training processes, including class registrations, assignments, sending notifications to learners, tracking training completion, reporting, and more.
Academic LMS
Because academic LMSs are designed for use in educational institutions such as colleges, they are often set up to facilitate scheduling needs based around time intervals such as quarters and semesters.
They will often allow students to self-register for classes, and will include a host of tools that are helpful for the kind of communications students and their teachers need to have during a course.
Academic LMSs tend to have a more robust emphasis on extending the classroom experience into the virtual or online world for the purpose of meeting, discussing, and collaborating.
In addition, an academic LMS will have a heavier emphasis on grading than a corporate LMS will.
Corporate LMS
Corporate LMSs obviously won't have a lot of the features that are unique to and helpful in an academic setting, including scheduling tools based around semesters or quarters, the kind of grading that's more common in an academic LMS, and language that includes terms like student, teacher, and professor.
Corporate LMSs include many features that are more useful for job training or other types of adult education that exist in similar organizations. Typically, they have a strong emphasis on the delivery of online courses (elearning courses) as well as tools for designing, delivering, and completing training intended to help workers develop specific job skills and/or competencies (or entire training paths for specific job skills).
A corporate LMS also will typically include features that make it easy to assign training to different parts of your workplace organizational hierarchy, such as the entire workforce, just one site, a particular department, a small number of individual employees, and even custom groups you create.
On top of that, corporate LMSs will often include a way for employees to access training in addition to training that's been assigned to them. This will allow the employees to independently learn more helpful information about their jobs or about other jobs they'd like to have.
And in addition, corporate LMSs will include features for notifying people in managerial and/or supervisor roles that would not typically exist in the academic LMS setting.
Corporate LMS for Targeted Corporate Users
There are hundreds of learning management systems set up on the corporate model. And, again, no two are the same.
Some are larger, more comprehensive LMSs that intend to do all things for all customers. Others are smaller and more targeted and/or focused, purpose-built for a particular type of corporate user. For example, some LMSs are built with a strong emphasis on compliance training, whereas other corporate LMSs are set up more to enable knowledge share between employees and social learning.
For more on these different types of LMSs designed for different types of end users, see this helpful article on specialty LMSs by the reputable source Talented Learning.
An LMS Overview Video & a Free LMS Buyer's Guide
To get a quick idea of what a corporate LMS can do, watch the video below or check out the Convergence manufacturing LMS web page for more details.
Before you move on, go ahead and download the free LMS Evaluation Guide below. 🙂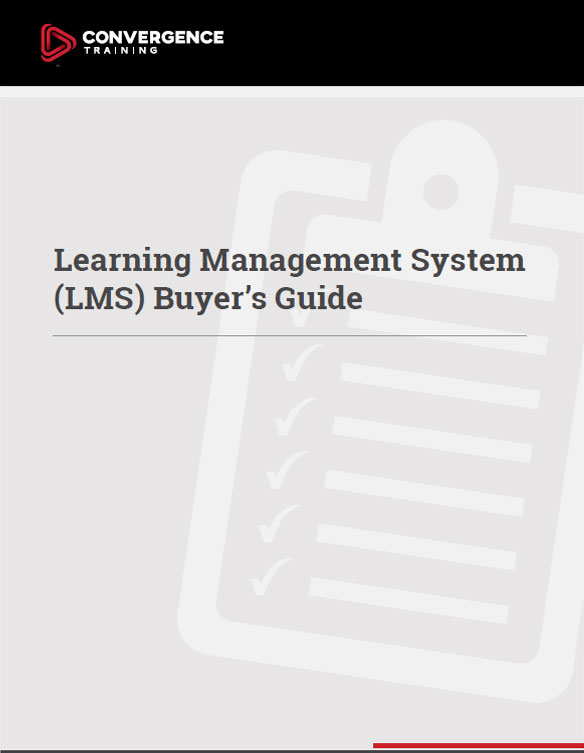 Learning Management System (LMS) Buyer's Guide
Learn what you need to know BEFORE you begin your search and get a free checklist to guide you, too.