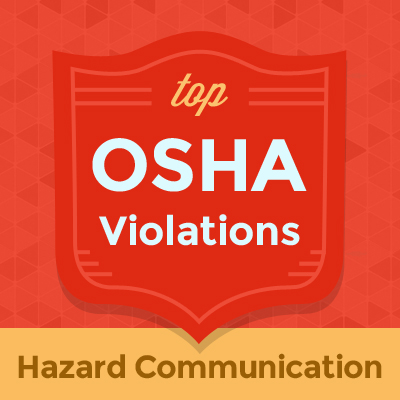 OSHA puts out a list of the ten most cited violations every year. Many of the same standards appear on the list again and again. So we're pulling together some things to help you train your workers about each.
In this post, we've got a bunch of materials for you about hazard communication (the 2012/GHS-aligned version). There's a link to a sample of our own e-learning course, a fun Haz-Com interactive word game, an interactive glossary based on the terms that OSHA defines in the regulation, and a Haz-Com FAQ section.
Convergence Training is a training solutions provider with an extensive collection of learning management systems (LMSs), e-learning courses including health and safety e-learning courses, custom training solutions, apps for mobile devices, and more.

Contact us to set up a demo or learn more.
Hazard Communication Training Materials
To start, here's a sample of our Hazard Communication e-learning course.

We've also got this hazard communication word game you might enjoy. Just click to start playing–it's fun.
Plus, here's an interactive hazard communication glossary based on terms defined in the OSHA standard.
Hazard Communication 2012 FAQ
What's the regulation, again?
1910.1200 (Hazard Communication)
Does OSHA have a Safety & Health Topic webpage for chemical hazards and regulations?
Here's OSHA's Safety & Health Topic page for Hazard Communication. This page is an especially good resource for information related to the Hazard Communication 2012 alignment with the Globally Harmonized System (GHS).
In addition, there's a Safety & Health Topic page for Chemical Reactivity Hazards, another for Chemical Sampling Information, and many, many additional Safety & Health Topics for individual chemicals (follow the previous link and use the search feature in the top right corner).
Does OSHA have any eTools for the HazCom regulations?
Nothing specifically about Hazard Communication. But they DO have eTools on related topics including Eye and Face Protection, Respiratory Protection, and Safety & Health Management Systems, and plus they also have a downloadable Hazard Awareness Expert Advisor.
Does OSHA provide any other helpful resources?
Many. Here's an OSHA HazCom Brief, a HazCom Fact Sheet, some HazCom Quick Cards on Safety Data Sheets, Labeling, and Pictograms, downloadable HazCom/GHS Pictograms, and a Hazard Communication 2012 PowerPoint presentatation (look for the link at the bottom of the "highlights" box on the right).
What about NIOSH? Do they offer resources too?
Here's a NIOSH Hazard Communication Self-Inspection Checklist.