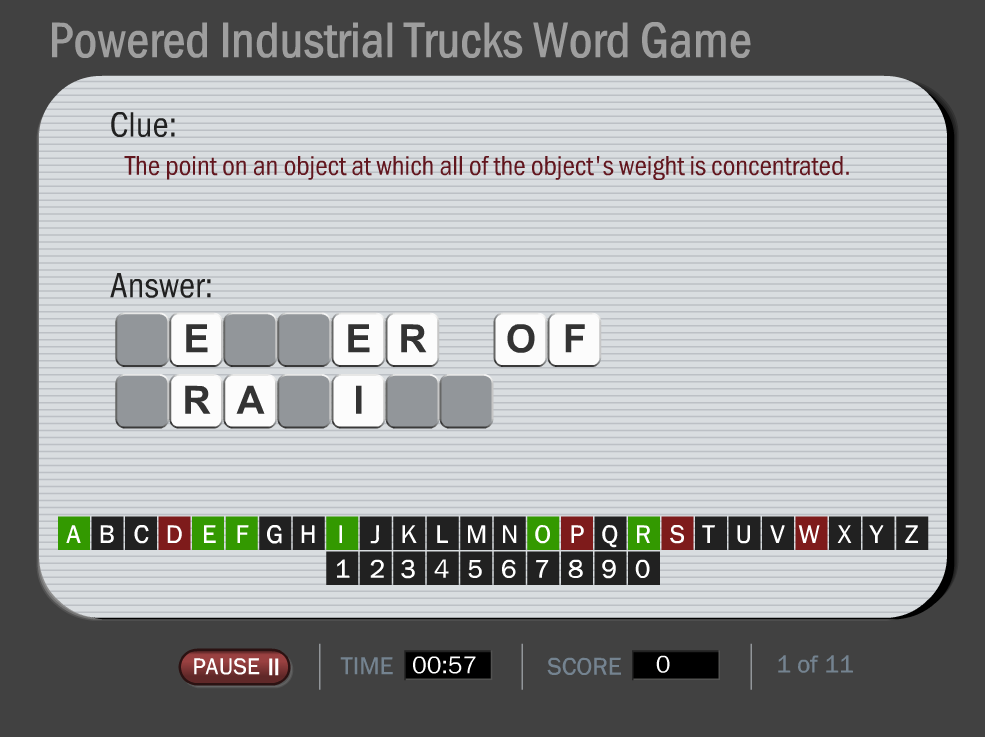 A good forklift training program should have a lot of elements.
Obviously, the operating demonstration and evaluation is critical, but you can do more than that.
For example, a fun little word game like this one might be a good way to introduce some terms to new employees, or to test their knowledge after some instructor-training, or as a quick refresher six months down the road.
Whatever you choose to do with this–hey, maybe it would be fun during a safety meeting or a toolbox talk?–we hope you enjoy it.
Stay safe, friends!
Our forklift training game is just a few scrolls down this page, but let's set the scene for you a little bit first.
Fun Forklift Training Game: What We've Got For You
It's a word game, kind of like what you see on the TV show Wheel of Fortune, except it's all about forklift operation and forklift safety.
Where the Questions and Answers Came From
We based the questions and answers on the Forklift Safety online training course developed by Convergence Training. That is just one course in the extensive Safety & Health online training library from Convergence.
The short sample below is taken from that forklift safety course if you'd like to check that out.

Where You Can Get Some Other Fun Safety Training Games
Forklift training is important, but odds are good you've got more safety training to do than just that.
To help with those other safety training needs, we've got these other fun safety training games for you. Click anything that looks good to you.
We've also got some surprises coming for you in the near-term future, so keep an eye on our blog for more news. You'll going to like it.
What It Isn't: A Different, Earlier Forklift Training Game
If you read our blog on a regular basis, you may know we already made one forklift training word game available to you.
This game isn't the same one as that earlier one. We created that earlier one by taking words directly from the OSHA forklift/powered industrial trucks regulation. As you recall from above, this game is drawn from terms taken from our own forklift safety course.
So, the two courses are similar, but not the same, and the questions asked are different (and as a result, so are the answers).
You can check out that earlier Powered Industrial Trucks/Forklift Word Game by clicking that link you just saw. We also included that earlier game in our OSHA Word Game 10 Pack.
Fun Forklift Training Game
Here's the game. Enjoy it!
NOTE: If the game doesn't display well for you, try using the Internet Explorer (IE) web browser instead.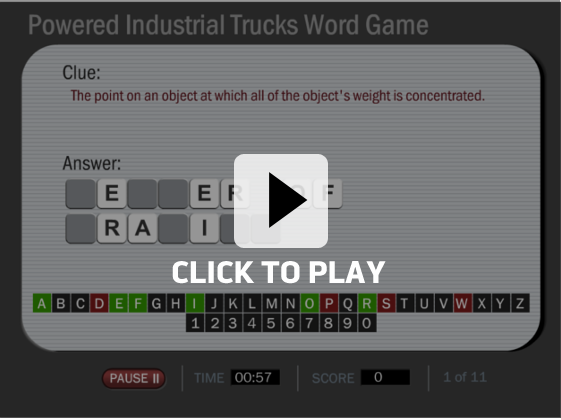 How 'bout That? Forklift Training Can Be Fun!
Did you like it? Was it fun? How did you do? Let us know your thoughts below.
For more about fun, engaging, and effective safety training, you may enjoy this article with tips from real safety managers about making safety training more fun and engaging.
Plus, if you REALLY want to add some fun to your safety training, you might find the short sample video below, which includes a few highlights from the safety and health courses by Convergence Training, to be interesting.

For more information about online safety training, download the guide below to learn 10 ways real customers of ours benefited when they added online safety training to their safety training program.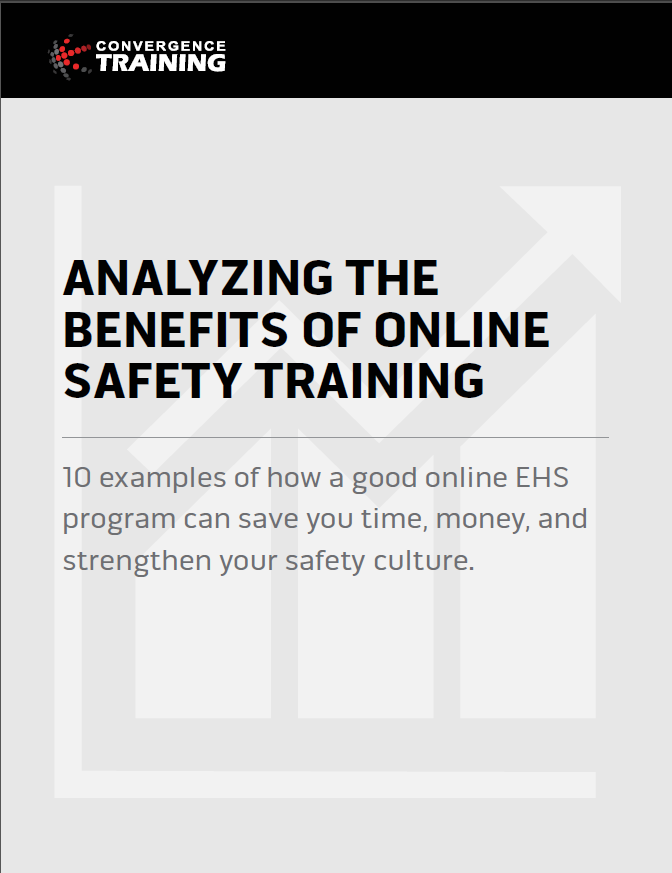 Benefits of Online Safety Training
Wondering if you should make the plunge with online safety training? This guide gives 10 reasons why, each based on experiences at real companies like yours.