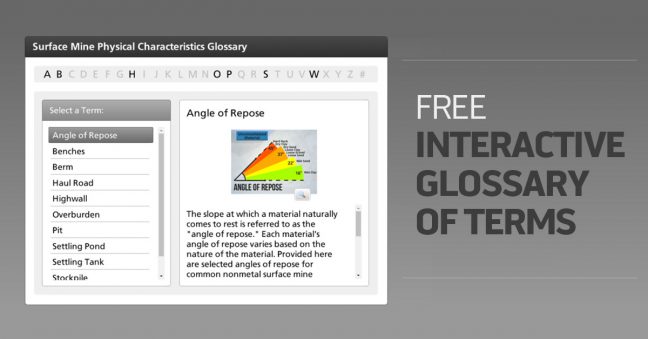 We've been revamping our mining safety training e-learning library, in case you didn't know.
What does that mean? Well, we've added a BUNCH of new courses, for one thing. We've spruced up older titles, adding new information when relevant and improving our graphics (our 3D animation capabilities become more and more impressive every year). And we've broken some of the courses up into shorter, more "bite-sized" learning activities to make them easier to watch and more effective learning experiences.
One of the courses we've updated is our General Physical Characteristics of Surface Mines (great for Part 46 New Miner and Annual Refresher, by the way). To show that off a bit and give you a free training resource, we've taken some of the terms, definitions, and images from that course and made the free interactive glossary below.
There are two ways you can enjoy this free resource. The first is to just play it here from our blog. You can do that any time you wish. The second is to download your own free copy and then import it into your SCORM-compliant LMS. We've included more information about that second option below.

Convergence Training
 provides online safety training courses, learning management systems, incident investigation software, and contractor orientation solutions for mining safety and general safety. Explore the links below to learn more about what we do.
Download our FREE Guide to Online MSHA Training Solutions
Feel free to flip through the glossary and see if you know what's what. You can come back and watch this as many times as you want. Plus, you can send this links to others, too, so they can check it out and use it.
Even better, we've now made this glossary available as a free download. The download button is a little below the glossary.
Here it is. Hope you enjoy it.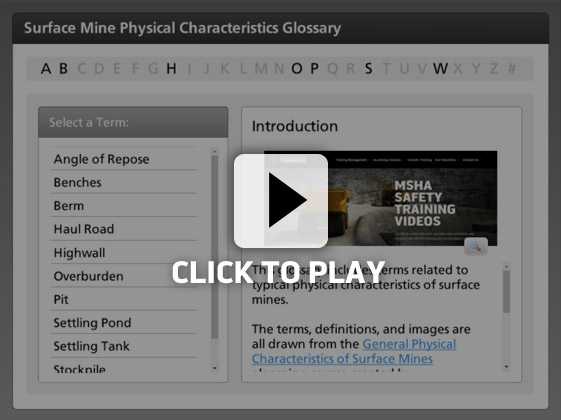 If you liked this glossary a LOT, you can also download a free copy. Please note that this free copy is in the SCORM format and is intended to play inside an LMS. You can't play it if you don't first import it into an LMS. If you're not sure what that means, check the two linked articles below before you download the glossary:
If you're now sure you've got a SCORM-compliant LMS, go ahead and download the glossary.
Here's a short sample of the General Physical Characteristics of Surface Mines course that we took these images from.
If you're looking for an LMS, we've got several, including our Mining Safety LMS with special features specifically intended for MSHA Part 46 compliance.  Check out the overview below for more information about our Mining Safety LMS.
Let us know if you'd like to get more information about our online MSHA training course options, including:
And hey, while you're here, why now download this free guide to online mining safety training?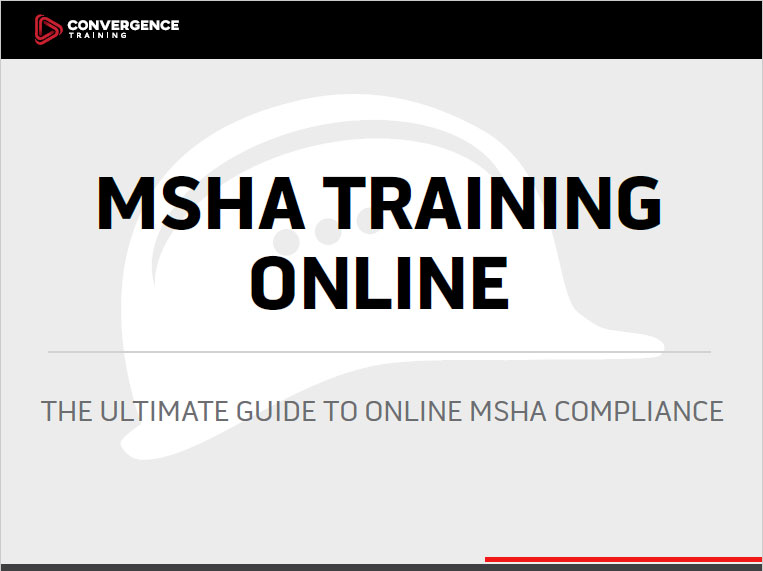 Online MSHA Compliance Guide
Download our free guide to learn how online tools can help you create safer work conditions at a mine site, stay compliant with MSHA Part 46 regulations, and manage your training program more efficiently.