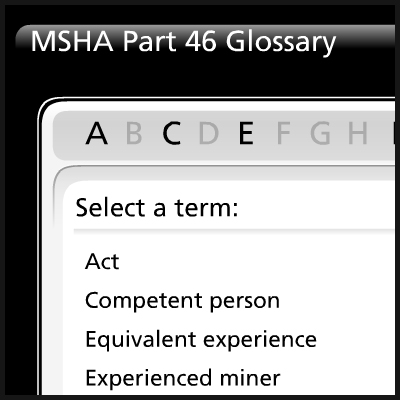 Note: the downloadable glossary is at the bottom. 🙂
Convergence Training provides a number of training solutions to help mine production-operators and owners comply with the Part 46 mine training requirements.
First, we've got the Convergence MSHA learning management system (LMS). This lets you create training plans, deliver training, keep records that your workers have completed their training, and create required MSHA documents and reports. If this sounds like a one-stop MSHA-compliance solution to you, that's because it is.
Next, we've got a full library of 3D animated MSHA Part 46 surface miner training materials, including 27 separate titles (all carefully matched to the training subjects MSHA requires as part of Part 46).
And of course, your friendly Convergence Training blogger (that's me, folks!) has MSHA Part 46 squarely in his sights, and this is just the first of several anticipated posts on MSHA. So keep coming back for more helpful MSHA resources.
And what's more, if you lower your eyes just a touch you'll see that we've created a free, interactive, downloadable MSHA Part 46 glossary. The glossary contains all of the terms listed and defined in Title 30, CFR 46.2, "Definitions." You can check it out now, bookmark it and come back later, or download a free copy to your own computer (just click the red "Download" button). Once you have a copy, you can save it to your desktop or network, put it on your Safety Home Page, email it to friends and coworkers, or even put it in your learning management system (LMS) and assign it.
A few important notes: The terms and definitions were taken directly from the text of the standard as printed on MSHA's website in January, 2013. Convergence Training makes no claims regarding the accuracy of those definitions, nor to keep this glossary up to date to match any changes that MSHA makes after the date of this posting.