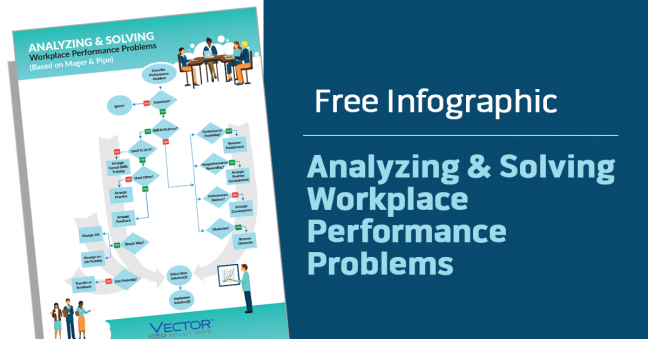 One of the key tenants of human performance improvement, or HPI, is that there can be a variety of causes for workplace performance problems and therefore also a variety of potential solutions.
A corollary to this is that workforce training, while it CAN be a great idea, isn't always the best or even an appropriate solution to a workplace problem.
Creating the RIGHT solution (or intervention) to a workplace performance problem, therefore, begins with correctly analyzing the cause of that problem (this is covered in a little more detail in our article on the ATD's six-step HPI model).
There are many different methods or models you can use to analyze the cause of a workplace performance problem. At the bottom of this article, we've provided a free workplace performance problem analysis flow chart you can use for this. The flowchart is drawn from the famous book Analyzing Performance Problems; or, You Really Oughta Wanna by Robert F. Mager and Peter Pipe (if you're not familiar with the flowchart, the book, or with Mager & Pipe, we encourage you to study up on all of them–start by reading our article here and then run, don't walk, to buy and read the book).
Of course, there are other methods for analyzing workplace problems and improving performance, and we'll being writing about some of them in the future as well (actually, this article on systems thinking for performance improvement and this article on the value of thinking slow, not fast at work are good places to start), but this is a pretty solid place to start.
Enjoy the free downloadable flowchart, let us know if you have any questions, and good luck improving the performance of workers at your workplace.
You can download the free infographic by clicking the black button at the bottom of this screen. In addition, you might find some of these other articles, recordings, and free downloadables of interest as well:
Download the infographic, enjoy it, and let us know if you have any questions!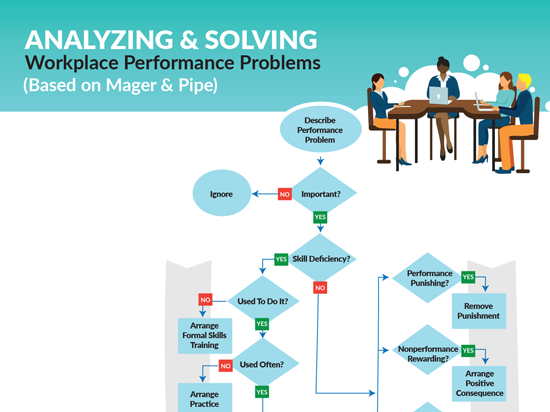 Analyzing & Solving Workplace Performance Problems Flowchart
Download this free infographic, based on the famous Mager/Pipe flowchart from their book Analyzing Performance Problems, to determine the cause of workplace performance problems and then select the appropriate solution/intervention.