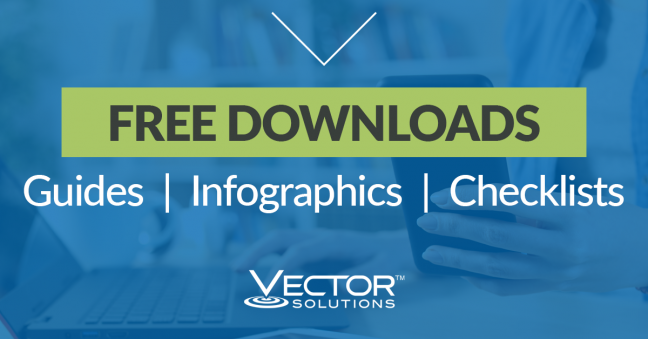 From time to time, we create stuff that you can download for no cost right here from the Convergence Training blog. These include a wide variety of things (guides, interactive word games, checklists, etc.) on a wide variety of topics (online safety training, lean manufacturing, job hazard analyses, corrugated board manufacturing, and so on).
We figured you might appreciate it if we created one blog post that includes links to all those different free downloads we offer. And that's what this post is.
Please note: Although there's no financial cost for any of these downloads, we will ask for you name and email address. 
Hope you find some downloads that are helpful for you! And let us know if you'd like us to make anything specific for you–we'll see what we can do!
Free Downloads from Your Friends at Convergence Training
We've done our best to categorize these "freebies" in order to help you find something that might be useful to you.
Buyer's Guides or Similar Evaluation Aids
Learning Management System (LMS) Evaluation Checklist
Learning Management System (LMS) Buyer's Guide (coming soon)
Beginner's Guide to Online Training
Online Contractor Orientation Buyer's Guide
Online Safety Training Buyer's Guide Checklist 
Selecting Online Manufacturing Training Guide 
Selecting Online Maintenance Training Guide
Guide to Online Paper Manufacturing Training 
Guide to Online Facilities Maintenance Training
Guide to Online Training for Design & Construction Staffs 
Guide to Online Training for Electrical Transmission & Distribution
Guide to Online Pulp Manufacturing Training 
EHS Management Software Buyer's Guide 
Guide to Selecting & Using Online Tissue Manufacturing Training 
Guide to Selecting & Using Online Corrugated Manufacturing Training 
Case Studies Related to Online Job & Safety Training
10 Benefits of Online EHS Training
8 Ways Training Can Boost Your Company's Bottom Line
Guides Related to Training & Performance Improvement
Blended Learning Beginner's Guide
Construction Safety Training Guide 
How to Create Learning Objectives 
Paper Manufacturing Training Guide
Analyzing & Solving Workplace Performance Problems Flowchart (based on Mager/Pipe)
State of Architecture, Engineering & Construction (AEC) Training in 2021
State of Manufacturing & Industrial Training in 2021
State of Learning & Development in 2021: See What the Experts Say! 
Guides Related to Occupational Safety and Health
Job Hazard Analysis (JHA) Guide
Guide to Using Risk Management for Occupational Safety and Health Management
Guide to OSHA General Industry Compliance
Guide to OSHA Construction Industry Compliance 
Guide to OSHA Injury & Illness Reporting & Recordkeeping
Guides Related to Contractor Orientations
Common Contractor Orientation Challenges & Solutions 
Safety, Compliance & Operational Checklists
Powered Industrial Trucks (PIT) Safety & Operational Checklists 
OSHA General Industry Portable Ladder Compliance Checklist
COVID-19 Return to Work/Mitigate the Spread Checklist 
Safety Training Checklists
Fall Prevention Toolbox Talk Training Checklists
Guides Related to Quality/Quality Assurance
(see also the Infographics section)
Deming's 14 Points for Management
Infographics Related to Lean/Quality/Six Sigma Continuous Improvement
Plan-Do-Check-Act (PDCA) Cycle Infographic
Design, Measure, Analyze, Improve and Control (DMAIC) Infographic
Define, Measure, Analyze, Design and Verify (DMADV) Infographic
5 Principles of Lean Manufacturing Infographic 
3 Wastes of Lean (Muda, Mura & Muri) Infographic
Infographics Related to Safety & Safety Management
First 10 Steps of General Industry Safety Management Infographic 
Silica Compliance (OSHA-Construction) Infographic 
Getting Started with Construction Safety Management Infographic
Core Elements of Construction Safety Management Infographic
Five Principles of Human & Organizational Performance (HOP) Infographic 
Recorded, On-Demand Webinars
Check out our ever-growing library of free recorded webinars on issues related to workplace learning and development.
Comparing Online Safety Training Solutions Webinar (Recorded)
Manufacturing Training that Works Webinar (Recorded)
Effective Safety Training Webinar (Recorded)
Understanding Key Aspects of MSHA Part 46 Webinar (Recorded)
Integrating Safety into Organizational Learning Webinar (Recorded)
Into to "New Safety," Safety 2, HOP, and Safety Differently (Recorded) 
Tips for Effective Safety Training (Recorded)
Evidence-Based Training Practices (Recorded) 
OSHA Reporting & Recordkeeping Overview (Recorded) 
Selecting Online Safety Training (Recorded) 
Selecting Online Manufacturing Training (Recorded) 
Creating a Culture of Organizational Learning for Maintainability & Reliability 
5 Key Areas for Training Your Maintenance Staff 
Maintenance Tech Training Program Development: A Case Study 
Getting Training Online Quickly due to COVID 
Implementing Lean & Continuous Improvement 
Human Performance Improvement (HPI) in the Pulp, Paper, Tissue & Corrugated Industries 
The ANSI/ASSP Z490 EHS Training Standards 
IT & Cybersecurity Certification Programs 
Cognitive Bias & Incident Investigations 
Selecting & Using Online Manufacturing Training (October, 2020) 
Preparing for PMI Project Management Certifications 
Safety Performance Reconsidered 
Selecting & Using Online Maintenance Training (December, 2020) 
More Webinars from our Business Partners at RedVector