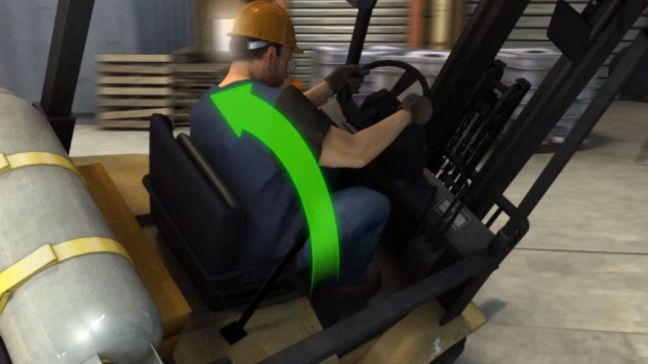 In this article, we've pulled together a series of forklift safety tips for forklift operators. Putting these forklift safety tips into action should help your company reduce risks associated with forklift operation.
As you'll see, some of the most important things you can do are to ensure that all employees receive proper forklift safety training, make sure all forklift are in proper operating condition through regular inspections and maintenance, and perform workplace hazard assessments to ensure a workplace that reduces forklift-associated hazards.
To help with this, we've included some helpful checklists at the bottom for performing forklift inspections and recording fuel use/battery charging on forklifts.
Forklift Safety Tips: Operational and Safety Training, Inspections, Maintenance, and Workplace Hazard Assessments
Forklifts are hazardous pieces of equipment. Because we often see them at workplaces, however, it's easy to forget about their hazards. And that can lead to:
But that doesn't mean we shouldn't work with forklifts. It just means we should try to do so more safely.
Four great ways to improve safety while working with forklifts include:
Forklift operator safety training
Routine forklift inspections
Routine preventive maintenance and maintenance for repairs
Performing workplace hazard assessments in areas where forklifts will operate
Putting these forklift safety tips into effect at your company should give you and your fellow co-workers a better chance of going home safely at the end of the day. We'll discuss each of the four in the sections below.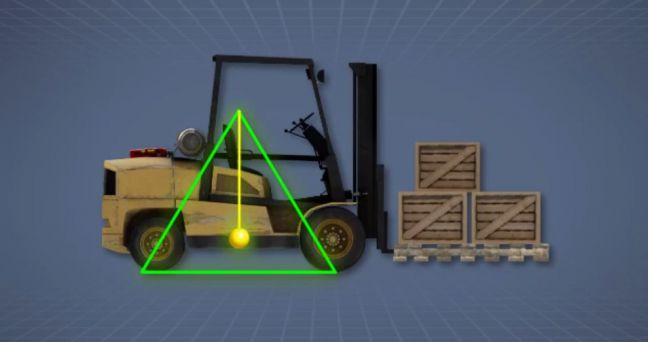 Forklift Safety Tip 1: Forklift Operational and Safety Training
Nobody should operate a forklift without proper operational and safety training. In fact, that's not just a good idea, it's required by OSHA regulations.
The OSHA standard 29 CFR 1910.178(l)(2)(ii) requires that employers develop and then put into practice a forklift operator training program based on:
The general principles of safe forklift operation
The type or types of forklifts employees will use in the workplace
The hazards that the use of forklifts in the work area will cause
General safety requirements of the standard
Trained forklift operators have to know how:
To do the job properly
To do the job safely
Forklift operators must be able to demonstrate both of the skills above through a workplace forklift operator skill demonstration and evaluation.
Forklift operator training must be completed every three years, and the employer must keep suitable records of that training.
In addition, the employer must provide the forklift operator with refresher training anytime the employee demonstrates a problem with safe forklift operation, or when circumstances change (such as the use of a new type forklift).
Forklift operator training can include many different times of training, including formal instruction (classroom-style instructor-led training, interpersonal discussions, online training, videos, written materials, and more) as well as hands-on, field-based practical training. The practical training component must include demonstrations by the trainer, practical exercises by the trainee, and evaluation of the trainee's performance by the trainer.
Online forklift training as demonstrated in the sample forklift safety training video below can be a great part of your training program.
Some forklift safety tips that should be covered during this forklift operational and safety training include the issues covered in the sections below (inspections, maintenance, workplace hazard assessments) plus the following:
Types of forklift
Type of forklift to be operated
Engine operation
Refueling and/or recharging
Hazardous atmospheres
Operating instructions
Rear-wheel steering and how this is different than operating a car/auto
Center of gravity
Stability, instability, and the forklift stability triangle
Load capacity
Load center
Inspections
Controls
Surroundings–obstructions and surfaces
Arranging, pickup up, and unloading loads
Load height
Driving
Speed
Inclines
Working near people
Shipping containers
Attachments
Parking
Rollovers
For more information on this topic, read our extensive articles how to operate a forklift and on forklift operator training requirements; check out our article on how to use online forklift safety training as part of your forklift operator certification training program; and check out our online forklift safety training video and reducing forklift-related property damage video.
Forklift Safety Tip 2: Routine Forklift Inspections
It's important to inspect forklifts on a routine basis to ensure that they're in proper operating order before using them.
OSHA requires the following inspections:
Pre-operation inspections with key off
Pre-operation inspections with key on
In 29 CFR 1910.178(g)(7), OSHA requires all forklifts be examined at least once a day before they are placed into service. If a forklift is used around the clock, then inspections must occur after every shift.
For more information about this, please see our detailed blog post on operating a forklift, which includes a section on forklift inspections.
Also, don't forget our forklift inspection checklists, which are available as a free download.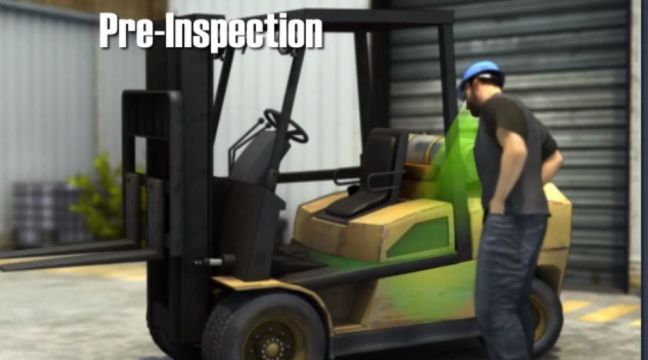 Forklift Safety Tip 3: Forklift Maintenance
Like any machine, a forklift requires maintenance to operate properly and safely.
One of the purposes of the forklift inspections we just explained above is to identify any problems with a forklift that would require maintenance. If the forklift operator does detect a problem during an inspection, the forklift should be immediately stopped, parked, and turned off, and the forklift operator should report that the forklift needs repair.
The same is true if a forklift operator notices a problem not during the inspection but during normal operator. For example, maybe the operator suddenly hears an unusual noise, or feels an abnormal vibration. In these cases as well, report the forklift for maintenance.
When a forklift has a problem and has been reported for repair, it should be immediately removed from service and not returned to service until the problem has been fixed.
In addition to this, it's a good idea to perform routine, regularly scheduled, preventive maintenance as well. Preventive maintenance programs have been proven to reduce hazardous incidents and have the additional benefit of saving money as well (by extending equipment life and avoiding more costly repairs, as well of course as by avoiding costs associated with incidents).
For more information about this, please see our detailed blog post on operating a forklift, which includes a section on forklift maintenance.
Forklift Safety Tip 4: Workplace Hazard Assessments
Finally, our last set of forklift safety tips has to do with observing the workplace, trying to identify any workplaces hazards that might affect the forklift, and of course using the hierarchy of controls to eliminate, reduce, or otherwise control those hazards.
Watch for the following (and other hazards) while inspecting the workplace where forklifts will operate:
Surface and ground conditions, including floor loading limits, slippery surfaces, uneven surfaces, and obstructions
Overhead clearances
Pedestrian traffic
Ramps and grades
Loading docks
Narrow aisles
Corners and doorways with limited visibility
Elevators
Enclosed areas
Railroad tracks
Floors of railroad cars and/or trucks the forklift will operate in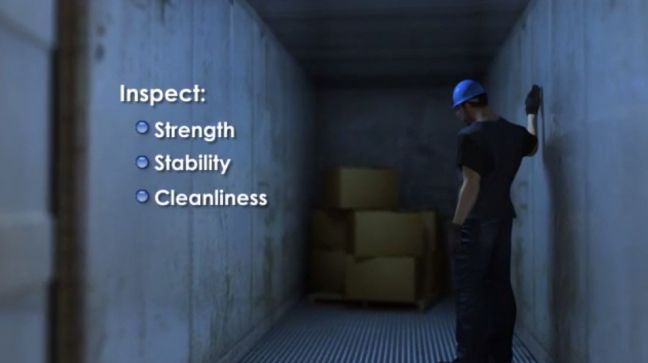 For more related information, check out our article on the job hazard analysis (JHA) and download a free JHA guide.
Summary: Forklift Safety Tips
We hope you found these forklift safety tips helpful. Let us know if you have some tips of your own!
Some Other Articles We've Written About Forklifts
We've got some more articles about forklifts you may find helpful:
Online Training Courses We Offer for Forklifts
We've also got the following two online forklift operator courses available you may find helpful, which we've listed below.
Here's our online Forklift Safety Training course:
And here's an online course focused on reducing product damage when using forklifts:
And don't leave without download the free forklift safety checklists for you below.
Free Forklift Inspection & Fueling Checklists
Hope you gained some benefit from the forklift safety tips above.
As an added bonus, and as promised, we have for you a series of checklists based on materials available on OSHA's website.
Download all four of the checklists by clicking the button below. Once you click the button, you'll fill out a form. Next, we'll send you an email. You click the link in the email, and you'll get a zipped folder. That zipped folder includes all four checklists, each in PDF format. Use whichever ones work for you.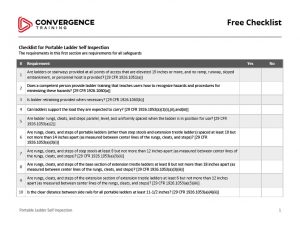 Powered Industrial Truck Safety & Operational Checklists
Here are four checklists to help with powered industrial trucks safety and operations…two for electric-powered PITs, and two for internal combustion PITs.