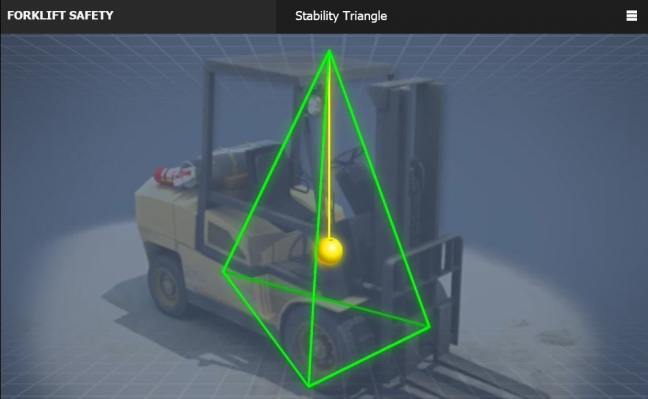 We've got some online forklift training materials for you in this article. Really, it applies to all sorts of powered industrial trucks (PITs). Let us set the scene first.
OSHA puts out a list of the top 10 most cited violations every year. Here's the list from 2016. The powered industrial truck standard is on that list every year. Violations of the OSHA Powered Industrial Trucks (PIT) standard (1910.178) were #6 on OSHA's Top Ten List of 2016. And as you know, PITs include things like forklifts and clamp trucks.
Almost every year, the OSHA Top Ten list includes the exact same standards. Maybe there's a little re-ordering, but that tends to be the big difference. So we're pulling together a series of articles to help you train your workers about each of the top ten OSHA standards, and this article on forklifts and PITs is part of that bigger effort.
In this article, we've got a bunch of resources about forklifts and other powered industrial trucks for you.
And in addition to this article, we've got the following forklift-related articles for you too:
Read on to learn about forklift safety and online forklift training.
The Need for Online Forklift Training
We already mentioned that violations involving forklifts and other PITs were common, with the OSHA PIT standard being #6 on OSHA's Top Ten list for 2016.
To help you comply better, here's the regulation itself (1910.178-Powered Industrial Trucks) and below is some information about PIT violations that we included in our earlier article on the Top Ten List.
Total violations– 2,855, down a tick from the 2015 total of 3,004.
Ranking in previous year– #6 (same as this year)
Top five sections cited–
1910.178(l)(1)(i) Ensuring competency of powered industrial truck operators, 617 citations
1910.178(l)(4)(iii) Evaluation of powered industrial truck operators performance at least once every three years, 298 citations
910.178(l)(6) Certification, 288 citations
1910.178(p)(1) Removing unsafe powered industrial trucks from service until repaired, 255 citations
1910.178(l)(1)(ii) Training shall consist of a combination of formal instruction, practical training, and evaluation of operator's performance, 185 citations
With that intro completed, let's move on to some training material and helpful information about forklifts and other powered industrial trucks for you.
Online Forklift Safety Training–How to Make Your Own
Did you know there are inexpensive, simple-to-use software tools that you can use to create your own online forklift safety training courses? It's true.
They're called elearning authoring tools and include Articulate's products, Adobe Captivate, Lectora (that's the one we use), and more.
In this blog post we teach you how to build your own online safety training course. Or you can watch the same thing in on-demand webinar version.
Online Forklift Training Courses–Some Samples
Let's start by demonstrating some effective online forklift training courses you can use as part of your powered industrial truck operation and safety training at work.
Here is a sample of our online forklift safety training course. Check it out, it's pretty cool. A course like this is a good way to help ensure the employees at your site who operate forklifts and other PITs do so safely.
If you're curious, read more about how to use this course as part of your overall forklift safety training program.
Here's another fun course, this time about forklifts and reducing product damage. Improper forklift damage can lead to injuries and illnesses and also to product damage, all of which you want your forklift operators to avoid. In many cases, the same root causes that can lead to injuries and illnesses also can lead to property damage.
And one more, this time on warehouse and loading dock safety. Forklifts and other PITs are often used in warehouse and loading dock settings, and this training helps to place the operations and safety training messages in that context.
Online Forklift Training Word Game
Here's a fun online forklift training word game–just right for the Friday safety meeting.
The terms and ideas in the word game below are drawn from our Online Forklift Safety Training–it's a perfect way to get some fun refresher training in.
NOTE: If the game doesn't display well for you, try using the Internet Explorer (IE) web browser instead.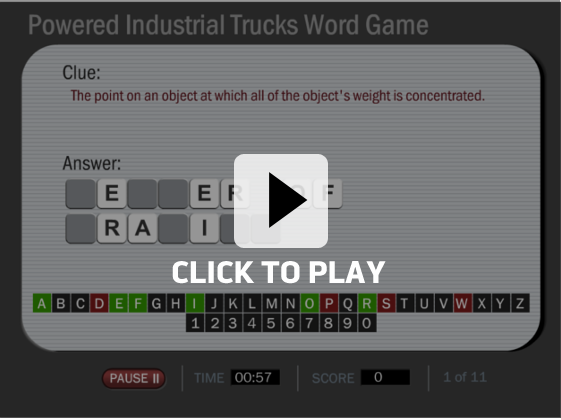 Pretty fun, huh? How'd you do?
Forklift and Powered Industrial Trucks FAQs
We've got some answers to common forklift and PIT questions for you.
What's the regulation, again?
1910.178 (Powered Industrial Trucks)
Does OSHA have a Safety & Health Topic webpage for powered industrial truck hazards and regulations?
Yep, here it is.
Does OSHA have any eTools for the powered industrial truck regulations?
Here's OSHA's Powered Industrial Truck (Forklift) eTool.
Can I get any free daily checklists for the operators of powered industrial trucks, including forklifts?
Yes, we've made some for you. You can download our free PIT safety and operations checklists here.
What about NIOSH? Do they offer resources too?
Here's a NIOSH publication called Preventing Injuries and Deaths of Workers Who Operator or Work Near Forklifts (catchy title, huh?).
Free Online Safety Training Buyer's Guide Checklist
Hope all that information about forklifts and PITs helps! And don't forget to check out some online forklift training as part of your forklift training program.
And since you're here, don't leave without downloading the free guide below.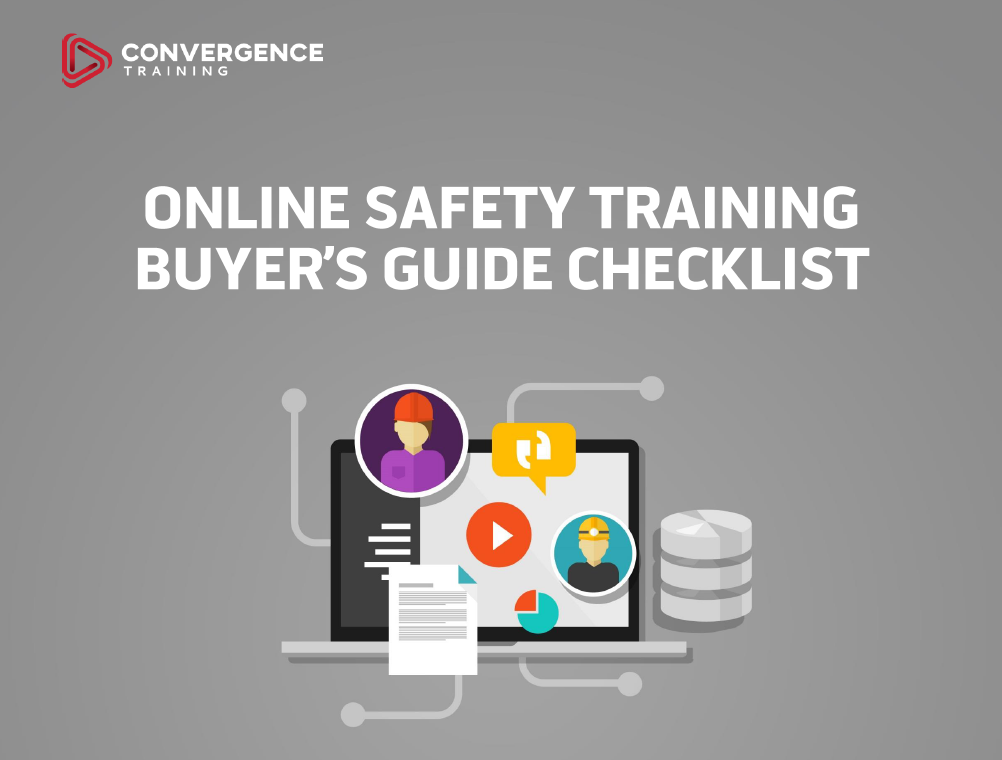 Online Safety Training Buyer's Guide Checklist
Learn how to evaluate the different online safety training solutions that exist to find one that best fits your company's needs with our FREE informative guide and checklist.