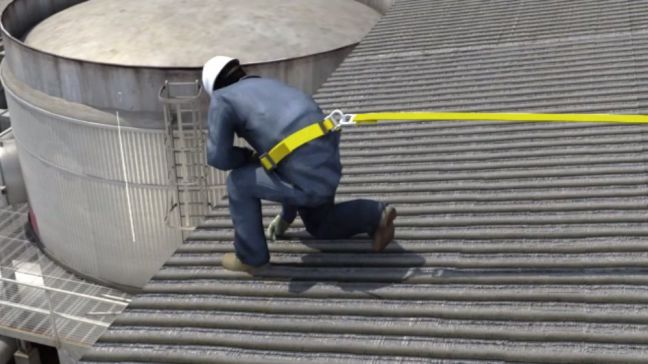 Fall Prevention and Protection has been in news a lot lately. The safety news, at least.
Fall prevention always generates a lot of discussions because falls are the leading cause of deaths in construction. In 2015, for example, there were 350 fatal falls to a lower level out of 937 construction fatalities. And fatalities are actually increasing in the last few years, not decreasing.
In addition, OSHA just held (May 8-12) their National Safety Stand Down to Prevent Falls in Construction.
And of course, OSHA just recently created a new final rule to update the General Industry Walking-Working Surfaces and Fall Protection Standards. We wrote an earlier article discussing how to update fall prevention training in relation to this new OSHA final rule.
Plus, I just attended a full-day fall prevention training course offered by the Pacific Northwest OSHA Education Center (this is part of the University of Washington's School of Public Health Department of Environmental Occupational & Health Safety). The class was led by the excellent instructor Harvey McGill, special "guest star" Craig Hamelund of Oregon OSHA, an all-star panel including David Douglas of Fred Shearer & Sons, Doug Pettyjohn of SAIF Homebuilders Group, and Travis Stone of Associated General Contractors (AGC), plus a good-sized audience of industry professionals looking to learn more about fall prevention/protection and how to keep workers safe.
The class was excellent, I learned a lot about fall prevention and protection, and I left inspired to try to do good work in the safety industry. Not a bad recommendation, huh?
The article below will cover some of what we learned.
Fall Prevention & Protection Course Learning Objectives
Here are the learning objectives set up for the course:
Identify factors that contribute to fall hazards
Explain how to analyze work areas for fall hazards
Discuss hierarchy of controls for fall hazards
Describe OSHA regulations and resources addressing fall protection
In the following sections, we'll look at each of these in more detail, cover a bit of what we learned in class, and provide links to resources when we can.
Before we do, though, it's worth noting that we began the class by discussing what many of you already know: that falls are a major cause of fatalities in the American workplace, and in fact are the leading cause of deaths in the construction industry.
Factors that Contribute to Fall Hazards
Fall hazards mentioned in class or listed in the helpful companion booklet include:
Scaffolds
Ladders
Roofing
Falls from a floor (one level to the next)
Nothing too unexpected there. Craig Hamelund of Oregon OSHA noted that when you boil it down, all of these are factors that contribute to falls, but the real cause is one our friends Mr. Newton and Mr. Einstein taught us about: gravity. And with gravity being rather omni-present, falls are a constant concern.
Analyzing Work Areas for Fall Hazards
I thought this was one of the most important parts of the course–at least in terms of how to prevent injuries and illnesses.
Class materials suggest doing the following to help identify fall hazards:
Reviewing blueprints and similar drawings
Anticipating hazards as work progresses (remember, construction is very dynamic and new hazards can arise at any time)
Reviewing the current hazards on site
Developing a pre-planning checklist
It's that pre-planning checklist that instructor Harvey McGill emphasized most strongly, and I can see why. He had a great template for performing one of these. Here's helpful information about creating a fall hazard survey that you'd fill out BEFORE work begins.
Hierarchy of Controls for Fall Hazards
The point of analyzing the work area for fall hazards is so you can then implement proper controls to protect workers.
In safety, the traditional way to plan controls for a hazard (or hazards) is  by working through the hierarchy of controls. The hierarchy is shown below.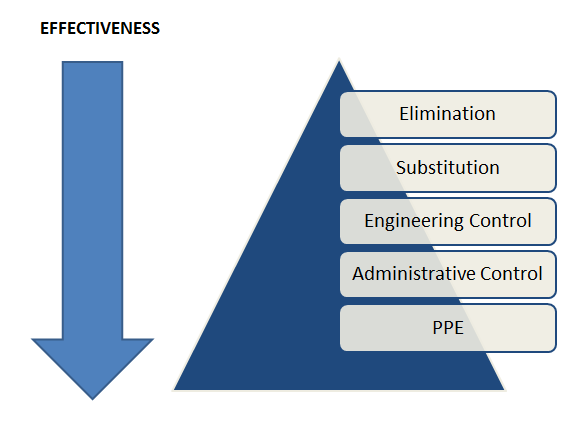 The basic idea is you'd begin from the top of the hierarchy, trying to eliminate the hazard, and then work your way down through the other controls, trying to use each in turn (substitution, engineering control, administrative control, and PPE as a last resort). Notice that the further you go down the hierarchy, the less effective the controls are. Also remember there may be cases when you have to use more than one type of control to adequately control a hazard and protect workers.
For more general information about the hierarchy of controls, see our articles What is the Hierarchy of Controls? and/or Free Hierarchy of Controls Training Course.
In the context of fall prevention & protection, this poster from Roco Rescue (shown in class) presented the hierarchy of controls in this manner:
Eliminate the fall hazard
Passive fall restraint–physical barriers guardrails
Active fall restraint-restraint system required, such as body harness
Fall arrest–personal fall arrest system
Controlled access zones
There was a lot of discussion around the idea that we should put as much effort as possible into item #1 of the hierarchy of controls–eliminate the fall hazard. Instructor Harvey McGill, Oregon OSHA representative Craig Hamelund, and various audience members all discussed different examples of how work could be reconsidered or redesigned in order to completely remove the fall prevention hazard (instead of having people strap on harnesses). I think that's where the big safety gains can be made, and a lot of people felt the same way.
OSHA Regulations and Resources Addressing Fall Protection
As many of you know, OSHA recently created a new final rule to update the General Industry Walking-Working Surfaces and Fall Protection Standards. Oregon OSHA rep Craig Hamelund walked us through the key changes for that, which was very helpful.
For a pretty thorough high-level overview of the changes, please see that link in the paragraph immediately above (that leads to a federal OSHA website).
Also, we wrote an earlier article discussing how to update fall prevention training in relation to this new OSHA final rule that you may find helpful.
Open Issues/Additional Issues in Fall Prevention
Here are a few additional issues that came up in the course. I'll list them briefly below:
There was concern that the number of fatalities related to falls is actually increasing.
Some suggested the increased fatality number was due in part to the economic upswing and more work being performed.
Others suggested younger workers are entering the workforce (to replace baby boomers) and aren't getting trained properly, potentially putting them at a higher risk of falling. All agreed we can do better with training young workers, although this explanation DOES contradict data presented in the class that shows the people most likely to die in a fall were 45-55 years old.
We didn't discuss this much in the course, but I wondered WHY people who are 45-55 are the most likely to fall and die on the job. Have they become complacent from years on the job? Are they stubborn about not using controls? Or is there a physiological aspect that's related to aging? Anyone know of any research on this?
There was a lot of concern about Spanish-speaking workers who may not be getting proper safety training in a language they can understand, and all agreed something must be done to improve that situation. The same goes for non-training communication on the job site.
Fall Prevention Resources
Instructor Harvey McGill had some neat resources to share. Here they are:
Fall Prevention & Protection Training
To help protect workers, you may want to consider increasing your current fall prevention training by using a fall prevention safety training video like this one:
Also, feel free to download the free GUIDE TO OSHA CONSTRUCTION INDUSTRY COMPLIANCE, below.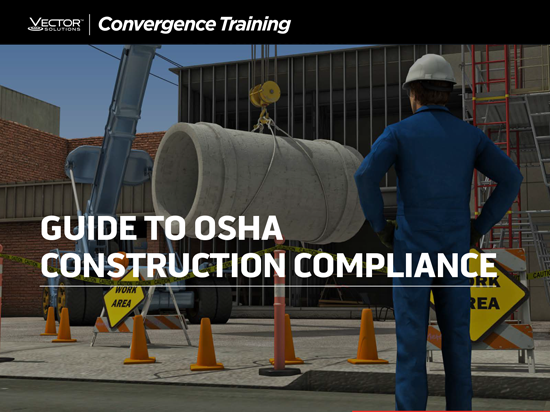 Guide to OSHA Construction Industry Compliance
Get some helpful tips for complying with OSHA's requirements for employers in the construction industry. Remember, all workplaces have unique hazards and compliance requirements and this guide can't guarantee compliance for all workplaces.