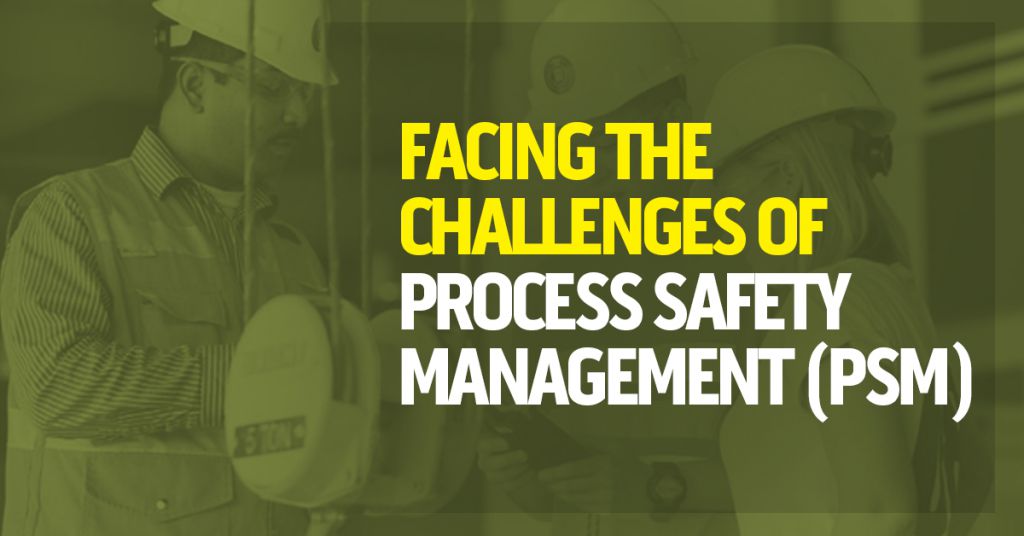 Spills, leaks, and explosions involving hazardous chemicals have been responsible for some of the world's worst industrial disasters. Because of the potentially massive human and environmental costs involved, companies that utilize hazardous chemicals in their manufacturing processes are subject to one of the most comprehensive (and complex) of OSHA's regulatory standards: Process Safety Management (PSM).
We approached Sathy Rajendran, Ph.D, CSP, and Coordinator of Central Washington University's Safety and Health Management Program, for a brief chat about PSM and what it takes to set up an effective program.
The interview is below and we hope you enjoy it.
And if you scroll down to the bottom, you'll see we've got a FREE PSM COMPLIANCE AUDIT CHECKLIST you can download. Nice!
The Complexity of OSHA's Process Safety Management (PMS) Regulation & Compliance Challenges
Convergence: Compared to other OSHA standards, how difficult is it to get PSM right? It seems much more complex than other regulations regarding things like ladder safety, fall protection, PPE, etc.
Dr. Rajendran: I would say given the sheer number of program elements it's almost like a mini safety program in itself. OSHA's standard requires certain elements, for example: Operating Procedures, Pre-Startup Safety Review, Process Hazard Analysis, Mechanical Integrity… there are all these different elements and each element requires a lot of effort from the team. With something like ladder safety, you don't necessarily have to get your whole organization involved in maintaining a safe work environment and managing compliance. With PSM, in my experience, you have to involve a lot more people like the engineers and the quality control people and all the people involved in your process to come up with a plan. So, there are many more people involved with PSM, and the standard is really comprehensive.

Some elements require you to have startup flow charts, flow diagrams—something you can't have a safety professional just come in and make up. You're going to have to have a safety professional work with your engineers, for example, understanding the equipment and technology in your process. For example, one of the sections in your Convergence [PSM] training course talks about information and equipment in each process that must be documented, including materials of construction, process and instrumentation diagrams, design codes… so, it's not only complicated in terms of implementing, but for documentation purposes as well, because there's so much documentation that goes with it.
For me, I teach classes here and I cover process safety management, and it stands out because it in itself sounds like a separate mini safety program. And not only that, you also have another regulation from the EPA, in addition to OSHA, coming into the picture. So, you have to really make sure you don't miss something with regulations from multiple organizations.
An Overlooked Aspect of PSM Regulations–Contractors
Convergence: There are 14 elements of process safety management: Process Safety Information, Process Hazard Analysis, Incident Investigation, Training Contractors… Do you feel there's any one element of PSM that doesn't receive enough attention?
Dr. Rajendran: I would say that training contractors could be challenging, because you have your own clients and you're running your own business, and suddenly you have to do some retrofit or modification and you have to bring some contractors into your facility. They're from a completely different organization. You can have your own safety culture, but you're bringing in a completely different group of people who are not familiar with your facility, so you have to train them and make sure they're safe and make sure their safety is up to speed with yours. I would say that would be the biggest challenge, because they're not from your company, they're short-term and they come and go.
I came from a construction background, so in my book, that would be one of the biggest challenges.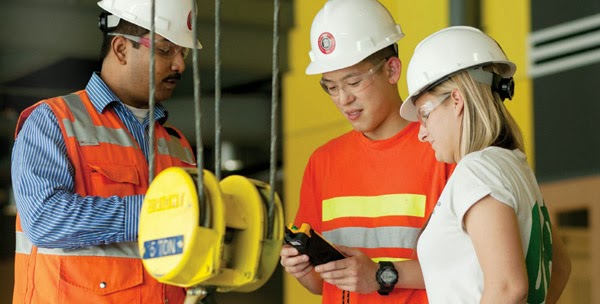 Convergence: With PSM there's a lot of emphasis on Employee Involvement and teams. This is a key part of PSM. With the Process Hazard Analysis that needs to be updated every five years, incident investigation, compliance audits… What's the best way to develop or select these teams?
Dr. Rajendran: The way the standard is written, it has to be somebody who has the knowledge of the facility and operations, so it can't be contracted out to completely outside contractors. To be successful it has to have a lot of people working for the company involved.
OSHA's PSM Regulation: Challenges for Smaller Companies
Convergence: If you look this regulation, you get the sense that you have to be a pretty massive company with a lot of resources to fully comply. Is that the case? Is this something that a smaller company can manage?
Dr. Rajendran: Well, it's based on the quantity of chemicals you're producing, but you have to comply if you fit OSHA's requirements. If you look at a lot of OSHA regulations you sometimes wonder how a small company would manage to comply with them. But you have to comply. That's why the training comes in handy. If a small company doesn't have anybody in-house to train, at least they can bring in a consultant who specializes in PSM and they can do a large training with their staff so they can pick it up from there and run with it.
But I agree, I just got done teaching this last quarter and my students, they look at the standard and they're like "whoa, we have to do all these?" It's a lot of stuff, but it's a requirement.
If you look at the big picture, it's to protect employees. I mean, anytime there's a chemical accident, most of the time it's catastrophic. If you look at the numbers, something like the Bhopal tragedy, which you cover in your PSM module… I'm from India, so we grew up talking about it. It happened in 1984 and it's in all of our science textbooks and we always talked about that accident in our classes. Because it killed more than 2,000 people and injured more than 20,000.
I have a textbook that I use that has a chapter on Process Safety Management and the statistics are incredible. The number of fatalities and the millions of dollars in property losses from this sort of accident—this is why it's critical to have such a stringent program, because most of the time there's an accident it can turn deadly really quickly.
Quick Tips for Improving PSM Compliance
Convergence: Where would you recommend a facility start if they're looking to develop or improve their PSM program? Are there simple things that organizations can do to improve PSM and reduce risk?
Dr. Rajendran: Well, I'm not trying to be too promotional, but I do think the Convergence PSM training course covers the basics really effectively. OSHA also has some good guidelines for explaining what's required. I would suggest starting off with OSHA's Process Safety Management Guidelines for Compliance. It's sort of old, but it goes over each step really clearly and simply. It's on the OSHA website. I tell my students if they want to get started that's the first place I'd start because it gives you a good idea of what's required.
Final Thoughts on PSM & PSM Compliance
Convergence: Anything else we should know about PSM?
Dr. Rajendran: It's an important topic. I spend a lot of time with my students on PSM, discussing the importance of it and why they have to be familiar with it, because it's a critical topic. If you rank the risk involved in something like ladder safety or fall safety, the risk associated with process safety if it's not controlled is tremendous, comparatively.
Additional PSM Articles and Resources
We hope that helps answer some questions about PSM. You might also find these other PSM-related articles interesting:
To help you prepare for those inspections, and to provide PSM training at your workplace, you may be interested in our online Process Safety Management (PSM) training video. We've included a short sample immediately below.
And hey, don't forget to download the free PSM compliance checklist below!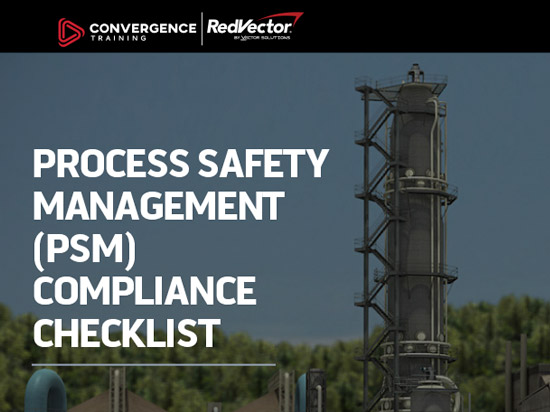 Process Safety Management Compliance (PSM) Checklist
Here is a checklist to help your process safety management compliance.