As you probably know, OSHA's got a new rule on respirable crystalline silica that goes into effect September 23, 2017, with different compliance requirement dates based on industry (read more about that here).
With that, safety issues related to silica have been on lots of people's minds. And rightly so, as the health risks are real. According to OSHA, the rule can save about 700 lives and prevent 1,600 new cases of silicosis every year. If you missed it, we've already published a blog post full of resources about respirable crystalline silica.
In addition, Convergence Training is offering an Employee Silica Exposure Monitoring Checklist to help you monitor your employees' silica exposure. You can download it below. The checklist is drawn from a Silica eTool from OSHA.
This is the first of several silica-related posts and free resources we have planned for you, so keep checking back here at the blog for more.
Also we've got more free downloadable checklists on other topics here.
Two Crystalline Silica Resources
We've got two Silica-related resources for you here.
First, the promised FREE Silica Exposure Checklist. Just click the button at the bottom of this page. You may want to read the additional notes about this download as well.
And in addition, we've got an online Crystalline Silica Awareness training course you might want to check out. Click the link you just passed for more details or to buy a copy, and/or watch the short sample video below.
Additional Notes about Downloading the Silica Checklist
Just click the button below to download the Silica Exposure Checklist.
You'll then be asked to complete a form. Complete the form and we'll send you the checklist in an email.
If the email doesn't seem to appear, check your spam folder. Sometimes email servers automatically direct emails there.
If you run into any problems along the way or have any confusions or questions, shoot us an email.
We hope you find this helpful. For more thoughts about checklists and workforce training, check this article and this book review.
A few important notes: This checklist is based on one in an OSHA Silica eTool. Convergence Training makes no claims to the effect that using this checklist will guarantee safe work conditions at your workplace or ensure that your employees' silica exposure levels are acceptable/safe. Also, Convergence Training makes no claims to keeping this checklist up to date to match OSHA's version after 11/13/2012–which means we're not sure if this is 100% up to date with any new Silica regs. Still, if nothing else it's a good start.
There's the checklist. Hope it helps.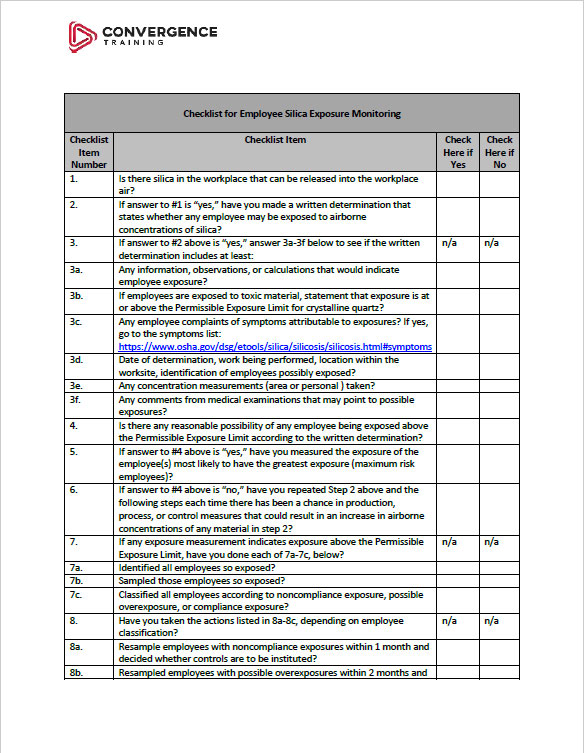 Employee Silica Exposure Checklist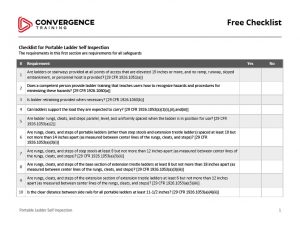 Here is a checklist to help you monitor employee silica exposure.