We've got another in a series of articles related to safety training in the July issue of Professional Safety, the official magazine of the American Society of Safety Engineers (ASSE).
The series of articles provides tips for better safety training, and takes as a starting point some key parts of the ASSE/ANSI Z490.1 standard on effective EHS training. This article focuses on delivering effective EHS training (as opposed to designing it, or developing it, etc.).
We encourage you to check out the ASSE, their Professional Safety magazine, and of course their ANSI Z490.1 standard for environmental, health, and safety training. Also, be aware that ANSI and ASSE are beginning the process of creating ANSI Z490.2, which will deal with online or "virtual" EHS training. We're on the committee to create that standard and you can read more about that here, here, and here.
To download our free guide to effective EHS training, based on ANSI Z490.1, scroll down to the bottom of this article.
Our article, titled "Effective Safety Training: How to Deliver the Goods," is on page 30 of Professional Safety.
The article introduces adult learning principles, as you'd expect–and includes a link to our article about applying adult learning principles in EHS training.
It also addresses the importance of feedback for your learning audience, which is key to making your safety training effective, and gives some tips (and online resources) for ensuring an effective environment for safety training. Both of these are addressed in the Z490.1 standard for effective environment, health, and safety training.
The article also includes a section on the linked concepts of the forgetting curve and spaced practice, and the related concept of the testing effect. You can read about the forgetting curve and spaced practice here.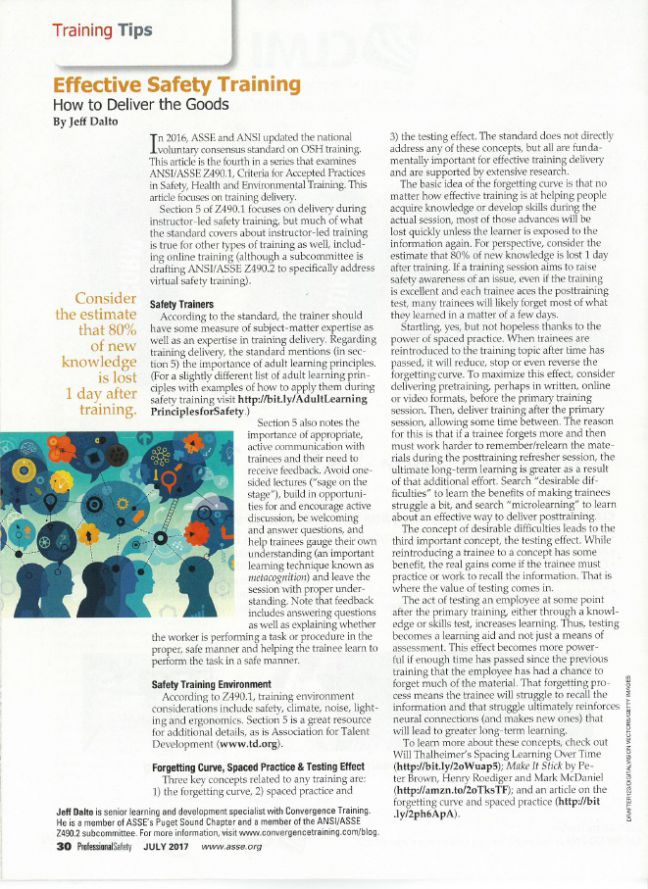 Hope you find it helpful. Let us know your thoughts. And stay tuned for the next articles in this series with ASSE's Professional Safety. We'll be writing about evaluating EHS training next. Feel free to check out some highlights of a few of our own online environment, health, and safety training courses.
If you need any other information about the show or EHS compliance solutions, just shoot us an email.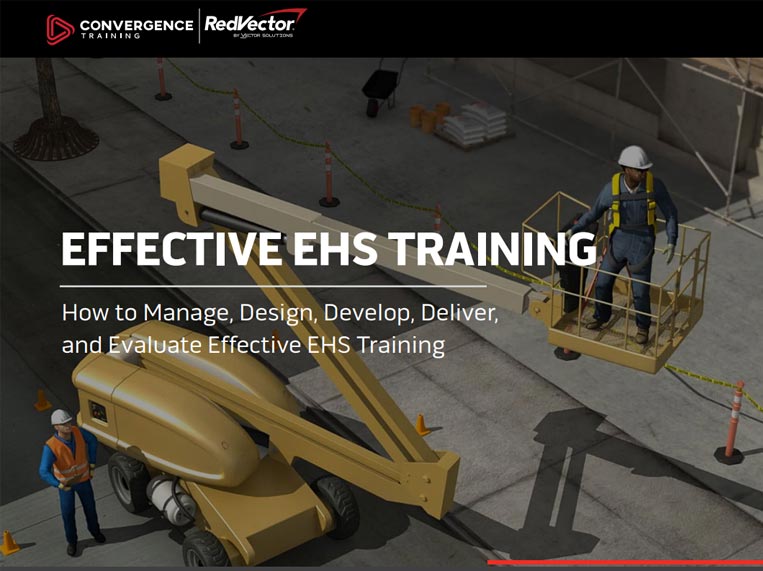 Effective EHS Training: A Step-by-Step Guide
Learn how to design, create, deliver, and evaluate effective EHS training by following these best practices with our free step-by-step guide.