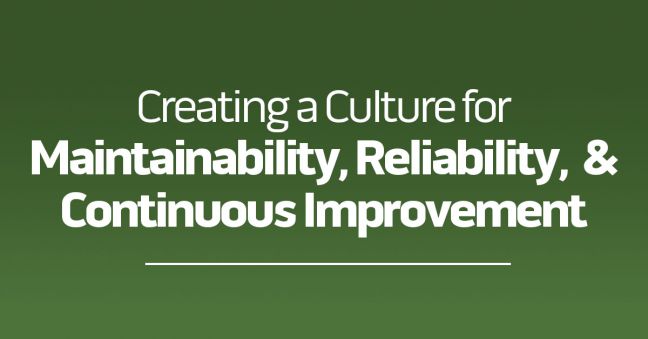 Would you like to create a culture that supports maintainability, reliability, and continuous improvement? Sure you would!
So how should you do that? Well, one of the ways it is look at (and perhaps improve) your organizational culture. In fact, our friend Dr. Klaus Blache from the University of Tennessee Reliability & Maintainability Center (UT-RMC….read below to learn more about our partnership) says this on the topic: "For as long as I can remember, culture has been, simultaneously, the top roadblock and leading opportunity for large implementations and ongoing improvement."
Source: Efficient Plant Magazine, "Cultural Improvement Takes Work," February 2018, page 36
In this article, we'll talk a little more about the importance of organizational culture for increasing maintainability, reliability, and continuous improvement and give you some tips for improving culture to see some of these benefits.
This is another in our series of collaborations with UT-RMC. If you've missed our previous articles in this series, you might want to check out our What Is Reliability & Maintainability? article.
Plus, check out our recorded webinar on maintenance, maintainability, organizational learning, and continuous improvement.
For many organizations, creating a culture that supports maintainability, reliability, and continuous improvement requires a significant change from current practices. If management, operational processes and key performance indicators don't support the desired improvement behavior, you can't expect plant floor practices to change. According to Dr. Klaus Blache of the University of Tennessee's Reliability and Maintainability Center (UT-RMC), implementing this change requires three initial steps:
Knowing the current state at the organization, including what you personally know and don't know about the organization and its culture
Changing or improving the culture
Instilling or improving the reliability of a process, product, or practice
That cultural component, including getting employee buy-in, is key. Here's how Dr. Blache puts it in his book The Relativity of Continuous Improvement:
To instill sustainable change, you can't just talk about it….Until you demonstrate your support and continue to demonstrate it, you are not going to get lasting change…you need to tie the change to something that is visible to the workforce and requires stakeholders to make decisions or offer opportunities to show support. Any lasting improvements can only happen and continue if there is buy-in to the tools, methods and overall process.
Blache goes on to list 25 key findings based on major change implementations he's been a part of in his career. Numbers 1, 2, and 3 on his list are telling:
When you focus on changing the process of the people, the organizational change will follow.
The rate at which we change behavior will determine the rate of business process success
The level of capability and willingness of your employees to perform problem-solving/continuous improvement will determine the flexibility and robustness in achieving and sustaining competitive practices.
So your take-away here is: to enable significant change in your organization, you need to first take a candid look at what is really going on in daily practices. Then gain an understanding of what is needed at your location to ready your people for change. An organizational culture that's ready, prepared, and primed will provide a strong foundation for your efforts. Without such organizational efforts, all your reliability/maintainability/continuous improvement efforts will have lost the race before having left the starting gate. Over 70% of such efforts fail because of culture.
This article is a collaboration between the University of Tennessee Reliability and Maintainability Center (RMC), Convergence Training, and RedVector. The University of Tennessee Reliability and Maintainability Center (RMC) provides professional development training, assessments, company studies and a University-sanctioned certification based on measurable results (safety, culture, quality, throughput/uptime and cost). Convergence Training and RedVector both offer online training solutions related to reliability and maintainability, and RedVector offers online courses that can be completed as part of the UT-RMC's Reliability & Maintainability Implementation Certification (RMIC) program. 
Don't forget to download the free Guide to Online Maintenance Training below before you go.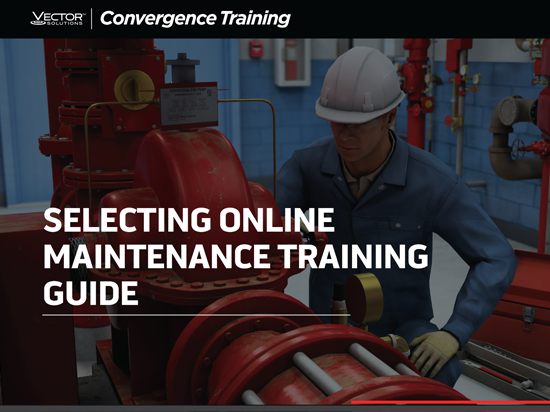 Free Guide to Selecting Online Maintenance Training
Download this free guide to discover everything you need to know to select and use online maintenance training, including courses, learning management systems, and providers.