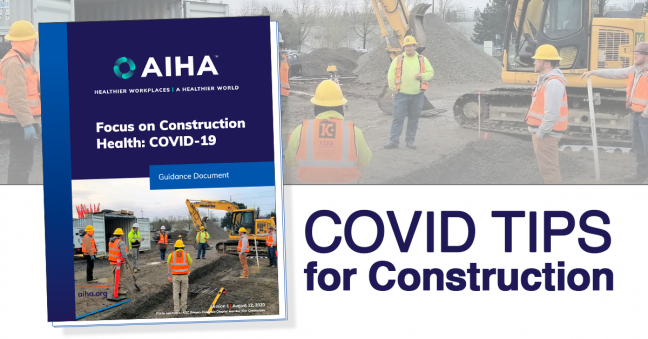 COVID's been a major challenge for employers and employees in every industry and, frankly, for everyone in the world. And there's some light at the end of the tunnel, as we've got some effective vaccines and we're starting to get shots into arms out there (well done, healthcare workers, and thanks!). But that said, we're still a long way from being out of the woods on this one.
Every industry has had to grapple with ways that are common from industry-to-industry. For example, it's good for all of us to main social/physical distance, to wash our hands, and to wear masks to reduce the spread of the virus. You can learn more about a lot of this stuff that applies in all walks of life and from industry-to-industry in the series of free COVID awareness videos Vector Solutions has made available, and we'd recommend you check out OSHA's January 29, 2021 COVID guidance as well.
But it's also true that each industry has its own unique COVID-related health challenges, risks, and controls. And that's true of the construction industry. Thankfully, the American Industrial Hygienist Association, or AIHA, has published a guidance document called Returning to Work: Construction Industry to help construction employers and workers in their efforts to work safely and preserve their health within the context of the COVID-19 pandemic.
We'll provide a brief overview and some tips we gleaned from the document, but we encourage you to download it, read and apply it yourself, and to keep in mind that OSHA COVID guidance and materials from trusted sources such as the Centers for Disease Control (CDC) as well.
Also, because we all know that COVID is creating an extreme strain on our mental health as well as our physical help, feel free to check out these two recorded discussions with some industry experts addressing issues related to the construction industry, COVID, mental health, and suicide: Cal Beyer discussing suicide and mental health in construction and other high-risk industries and Dr. Sally Spencer-Thomas discussing the National Guidelines for Suicide Prevention (both in general and in the context of the current COVID pandemic).
Overview of Some Key Information in the AIHA's Guidance for Returning to Work in Construction During COVID
Here are some high-level overview points from the document.
What Is COVID?
It's a virus that's also known as SARS-CoV-2 and COVID-19. It is a type of virus known as coronaviruses. Learn more about it at the CDC's webpage on COVID.
How Does a Person Get Sick from COVID?
The primary way that COVID spreads is when one person is infected and they "pass it" through their breath when they're talking or sneezing. The virus is carried in the breath to the uninfected person, and it may infect that second person through their mouth, eyes, or nose.
There is much research and plenty of discussion about whether or not a person can get it by touching an object that a person with COVID had just touched (because that sick person may have had COVID on their hand) and there's a lot of research going into how long the COVID particles "float" in the air and how far they can travel. Again, the CDC webpage is your best source for this emerging scientific research.
What Are the Primary General Defenses Against COVID?
As you probably know, there are now vaccines to guard against COVID infection. Nationally, we're currently racing to get as many people vaccinated as possible, but this effort will take a long time. And we still need to wait to know how long people will be immune from COVID infection after they've been vaccinated and if and when we'll ever achieve "herd immunity."
Beyond the vaccination issue, though, the general precautions, controls, and defenses are the ones we've all heard about for a year or so now: stay home when you can, reduce the number of people you come into contact with, wear face masks, wash your hands a lot, cover your mouth when you sneeze, stay at least six feet away from people, and limit the amount of time you're with people outside your "bubble."
Of course, at work, other controls come into play, possibly including things like PPE (beyond masks), ventilation, and more. Keep your hierarchy of controls in mind here!
What Does the AIHA Guidance Recommend for Returning to Work in Construction?
Here's an overview of SOME of the tips provided in the AIHA guidance. We've categorized these from the guidance in a way we hope is helpful.
Keep up with Current Science, Research & Guidance on COVID
COVID-19 is a new virus, we're still learning, and things are changing as we're learning. An easy example of that is that we've now seen the development of vaccines and of new COVID variants, plus the CDC recommendation for "double masking," in just the past few months.
So the lesson here is to keep up to date with the science related to COVID. The CDC's webpage on COVID is a great place to do that.
Follow and Implement Helpful Resources and Guidances
None of us are in this situation alone. There are lots of helpful resources and guidances to follow to help us create safer, healthier work environments for workers. Obviously, this AIHA Return to Work in Construction guidance is one of those.
Of course, there are more. The AIHA guidance recommends you follow the CDC Interim Guidance for Implementing Safety Practices for Critical Infrastructure Workers, for example.
Additionally, OSHA has published a lot of COVID-related safety and health materials, including a Return to Work guidance in 2020, a more recent guidance on mitigating the spread of COVID on January 29, 2021, a guidance for the construction industry, and a separate guidance for construction workers.
And there's even more, too. We've linked you to a few more below:
Get Accurate, Practical, and Useful Information about COVID to Employees to Help Them Preserve Their Own Health and Safety
Be sure to provide education, training, and other information to employees so they'll know how to protect their own health and safety on the job (as well as at home).
They'll need to know the basics about the virus and how it's spread. They'll need to know basic prevention methods, such as physical distancing, wearing face masks, and proper hygiene. They'll need to know what the symptoms of COVID are and how to recognize those symptoms.
Our free Vector Solutions "Vector Cares" Free COVID Courses can help you get this vital information to workers.
Make Sure Employees Know, Understand, and Follow Your COVID-Related Policies and Procedures
We won't list EVERYTHING you should tell your employees about here, because the next section will cover some of those EMPLOYER responsibilities and best practices and you should keep employees in the loop on most or all of them, but there are a few important things to call out here.
If you're modifying your sick-leave policy to make it easier for workers to stay home if they've been exposed, have symptoms, or have tested positive, make sure the employees know this. Likewise, make sure employees know you want them to stay home if they've been exposed, have symptoms, or have tested positive for COVID. Be certain employees know the importance of cleaning work areas and how to do it properly and safely (and be sure you've given them the appropriate Haz-Com training). Make sure employees know the importance of washing any facemasks and work clothes they wear at work when they return home at night.
Design, Implement, Sustain, and Evaluate Your Own Workplace-Specific COVID Mitigation Strategies
The AIHA guidance has a LOT of great tips on doing this, so be sure to read it, but here are some key call-outs:
Conduct task-based risk assessments and job hazard analyses. Use the hierarchy of controls to determine the best controls, keeping in mind the preference for engineering and administrative controls over PPE and training.
This isn't business as usual. Consider and implement new policies and procedures to support workers and help prevent the spread of COVID. Again, make sure employees know what these new policies and procedures are.
Make your sick-leave policies more flexible for both COVID and things that might be COVID
Make facemasks freely available to workers
Make sure there are plenty of handwashing stations (and soap) for employees to use
Find ways to reduce the number of employees to complete work; find ways to allow work to be completed while people maintain six feet of physical distance; stagger shifts when possible; eliminate "random" and/or unnecessary movement of employees around the site, between floors, and/or between buildings; redesign break rooms to improve physical distancing; stagger break schedules to reduce crowding; reduce the need for ridesharing for commuting and travel to work sites and the number of people in shared vehicles when necessary
Keep people who are symptomatic offsite; reduce non-essential visits and visitors
Have a visitor log for all on site every day so you can later use it for contact tracing
Consider giving workers wearable devices that (1) signal if they're too close and (2) can later facilitate contact tracing
Have project teams clean and disinfect shared areas and equipment; clean and disinfect temporary sites, such as job trailers, daily; set up a disinfectant routine and SOPs/checklists/audit systems; make sure you've got SDSs available and people know how to access and read them
If cloth materials are reused, ensure they're washed after each use and that they're washed and dried on the highest temperature settings; develop deeper cleaning protocols if there are confirmed cases of COVID
Ventilate areas by opening windows and doors and using HVAC system
When possible, keep humidity at 40-60%
Reduce the need for shared hand tools
Set up some mechanism for ask employees about symptoms, exposures, and travel daily
In the event of a confirmed COVID case at work, (1) inform potentially exposed people using contact-tracing data; (2) disinfect the work area, especially where the infected worker was; and isolate those areas until they're cleaned
Conclusion: We Hope That Helps Your Construction Organization Keep Workers Away From COVID
Before you go, feel free to download our Guide to OSHA Construction Compliance, our Construction Safety Training Guide, and/or our COVID-Return to Work Checklist (you can download the R2W Checklist by clicking that big button, below).
COVID-Return to Work Checklist
Download this checklist, based on OSHA's January 29. 2021 "Protecting Workers: Guidance on Mitigating and Preventing the Spread of COVID-19 in the Workplace," to help keep the workers at your organization safe and healthy during the COVID-19 pandemic.