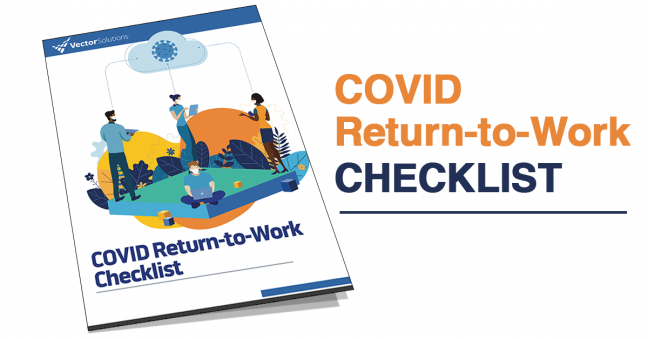 On January 29, 2021, OSHA published Protecting Workers: Guidance on Mitigating and Spreading the the Spread of COVID-19 in the Workplace. As in all instances like this, we encourage you to click that link we just provided and become familiar with the primary source.
At the bottom of this article, you'll see we've created a downloadable checklist you can use to help mitigating the spread of COVID at your workplace while you're trying to get work done during a pandemic. The checklist is based on a section of the OSHA guidance we just mentioned and we think you'll find it useful. You'll also see the checklist includes some additional links to even more useful resources that we think you'll find helpful as well as you try to protect the health and lives of employees in the face of this COVID pandemic.
Although we recommend you read the entire OSHA guidance and we've provided the downloadable checklist at the bottom, we're also going to provide a quick, high-level overview of the guidance for you immediately below and tell you about a few products Vector Solutions makes to help you keep workers safe and healthy in general and to help you with the COVID-related issues discussed in the OSHA guidance.
An Overview of the OSHA January 29, 2021 COVID Guidance
Skipping the Executive Summary and Purpose sections and getting right into the heart of the matter, the guidance gives information on:
What COVID Is–a contagious, airborne respiratory-track illness that is caused by a virus
What workers need to know about COVID–the basics about physical distancing, face masks, hand sanitation, vaccines, etc., as well as specifics about your workplace's COVID Prevention Plan
The roles of employers and workers in responding to COVID-19–this is the part of the OSHA guidance that is covered by the Return to Work checklist below and it includes 16 elements your workplace's COVID Prevention Plan should have in place and take account of
More information on key measures for mitigating the spread of COVID at work–in many cases, this is additional information related to the 16 issues listed in the section above. It includes additional information on having sick, exposed, or potentially exposed workers stay home; quarantining workers; implementing and sustaining physical distancing at work; using face coverings; using ventilation; using PPE; providing materials necessary for good hygiene practices; and cleaning & disinfecting.
Some Tools From Vector Solutions to Help Your Organization
For some of the 16 elements called out in OSHA's guidance and the checklist below, you're just going to have to put on your safety professional hat and do safety professional things. But that's OK, because you're a safety professional and you can do it!
But you don't have to do it all alone, because Vector Solutions has a number of solutions and tools to help your organization work safely during this COVID pandemic and mitigate the spread of the virus. We've given you a list below to show you just SOME of the ways we can help you out here.
Online safety and health training courses and a learning management system–a learning management system is web-based software (typically on the cloud) that you can use to manage and administer ALL of your health and safety training program–including elearning courses, online training activities you make yourself, your existing PowerPoints and videos, written training materials, and a lot more. And of course, we've got online safety and health training courses for you as well.By the way, Vector Solutions offers a number of free online COVID-related courses. Help yourself.
Vector EHS management software–-this software includes modules for performing job hazard analyses, generating risk matrixes and conducting risk assessments, conducting safety inspections, and handling all your COVID-related OSHA reporting and recordkeeping
LiveSafe/WorkSafe mobile risk communication & intelligence platform–this mobile communication platform helps you manage daily health self-checks, anonymous reporting, distribution of changing and timely information, explanations of testing and vaccination policies and locations, and a lot more.
Get a Copy of the Mitigating the Spread of COVID-19 Checklist for Your Workplace Below
Click the button below to get the checklist, let us know if you've got any questions or would like more information about our Return-to-Work During COVID solutions, keep an eye here for additional helpful articles and materials on COVID as we publish them, and of course good luck keeping yourselves, your families, and everyone at your organizations safe and healthy during this trying time!
COVID-Return to Work Checklist
Download this checklist, based on OSHA's January 29. 2021 "Protecting Workers: Guidance on Mitigating and Preventing the Spread of COVID-19 in the Workplace," to help keep the workers at your organization safe and healthy during the COVID-19 pandemic.