Convergence Training, a division of Capstone Technology, achieves First Place honors for Surface Miner Training software at MSHA's Training Resources Applied to Mining (TRAM) Conference hosted by the National Mine Health and Safety Academy in Beaver, West Virginia.
The TRAM contest is part of an annual conference spotlighting the importance and effectiveness of safety training for our nation's miners. It provides an opportunity for mine safety trainers and others responsible for administering safety programs to gain valuable exposure to the latest training materials and technologies. With support from the Joseph A. Holmes Safety Association and the State Grants Training Program, both public and private organizations come together to exchange ideas, present safety training material, and exhibit products and services.
Convergence Training's Surface Miner Training software has attracted industry attention since its recent release this summer. Unlike other existing MSHA-related training, this product couples advanced, computer-modeled content with functional, intuitive administrative tools for MSHA's Part 46 compliance.
"Our goal with Surface Miner Training is to improve mine safety by setting new industry standards for training quality and compliancy tools," said Randy Kohltfarber, Director of Product Development for Convergence Training. "We feel that being recognized with this award is an early step toward that goal."
In addition to Surface Miner Training, Convergence Training has just released Convergence Training Viewer, a free software platform for accessing and viewing a library of digital health and safety training media in compliance with OSHA and MSHA regulations.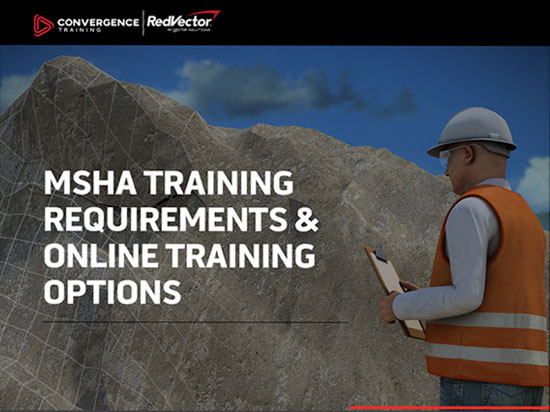 MSHA Training Guide and Online Training Tools
Download our free guide to learn about MSHA, the MSHA Part 46 and 48 training requirements, and how to use online tools to satisfy MSHA Parts 46 and 48.