The new courses just keep on coming. We're in the middle of a year-long push to produce over 200 new paper manufacturing training courses. We're releasing about 50 new courses each quarter until the end of 2014. The first 50 courses, which include our new Introduction to Paper and Board Machines, Recausticizing Fundamentals, and Continuous Cooking Introduction courses, are available now and provide expert instruction on many complex paper manufacturing processes.
The new courses are between 10-40 minutes each in length, and feature a combination of video-based instruction and interactive knowledge assessments. Each is designed using our signature blend of true-to-life 3D models and striking motion graphics.
Our paper training course catalog targets newly hired workers, sales and marketing teams, and experienced personnel starting new positions within a plant. Facilities looking to train up replacements for older, retiring employees can make use of our content to reduce the amount of time it takes to get a newer, less-experienced workforce up-to-speed on the intricacies of the paper manufacturing process.
View our entire library of Pulp, Paper, Tissue, and Corrugated training materials, as well as our OSHA Health & Safety and our Operations & Maintenance course libraries, on our website.
Available Now
Available June 2014
Sheeting of Paper
Kraft Pulping Liquor Chemistry
Brown Stock System Basics
Black Liquor Evaporators – Operations
Web Guiding and Spreading
Batch Cooking Introduction
Sheet Formation
White Water Clarification
White Water System Design
White Water Circulation Loops
Strainers and Filters
Dissolved Air Flotation (DAF) Systems
DAF System Chemicals and Chemistry
Brown Stock Washing
Brown Stock Screening
Lime Mud Filtering
Lime Mud Washers
White Liquor Clarifiers
Roll Handling and Wrapping
Pulp Sheet Cutting and Baling
HVAC – Heating and Cooling
HVAC – Hot Water and Ventilation
HVAC Basics
Paper Ream Packing
Available September 2014
Wet End Chemistry – Papermaking Process Additives
Pump Types and Applications
Kraft Pulping By-Products
Pulp Bleaching Environmental Considerations
Chlorine Dioxide Generation and Use
Starch Cooking
Paper Machine Winder Slitting
Chlorine Operations and Environmental
Supplemental and Recycled Fiber – Fiber Prep and Screening
Supplemental and Recycled Fiber – Fiber Deinking
Supplemental and Recycled Fiber – Rejects Handling
Supplemental and Recycled Fiber – Bale Handling
Operator Visibility Around Heavy Equipment
Equipment Hazards
Maintaining and Repairing Equipment
Steam Theory Fundamentals
Paper Fiber Sources
pH and Consistency Control
Thick Stock System Design
Paper Machine Refining
High Consistency Refining
High Density Cleaners
Stock Approach – Deaeration
Thin Stock System Design
Tail Threading
Dry End QCS Scanner
Paper Machine Reel System
Supplemental and Recycled Fiber – Recycling Fiber Overview
Supplemental and Recycled Fiber – Fiber Fundamentals
Supplemental and Recycled Fiber – Fiber Cleaning
Log Handling and Chip Storage
Chip Screening
Kraft Recovery Boilers – Waterside
Kraft Recovery Boilers – Sootblowers
Kraft Recovery Boilers – Precipitator
Kraft Recovery Boilers – Liquor
Kraft Recovery Boilers – Fireside
Bleaching Equipment
Bleaching Sequences and Filtrate Recycling
Chlorination and Extraction
Oxygen Delignification
Ozone Bleaching
Chlorine Dioxide Bleaching
Peroxide Bleaching
Roll Storage and Tracking
Bleaching Basics
Kraft Recovery Boiler Fundamentals
Thin Stock Screening
Available December 2014
Power Boiler Fuel Supply Systems
Power Boiler Air and Combustion
Power Boiler Feedwater and Steam
Multi-Stage Turbines
Turbine Generator Basics
Contaminated Condensate Systems
CNCG Systems
HVLC Systems
Hydraulic Systems Equipment
Recaust – Liquor Testing
Blow Line Refining Operation
Recovery Boiler BLOX System Operation
Wood and Chip Properties and (Quality) Testing
Broke System Purpose and Operation
Boiler Feedwater – Chemical Additives
Boiler Feedwater – Deaeration
Paper Machine Sheet Coating
Papermaking Process Testing
Air Emissions Monitoring Instrumentation Basics
Paper Machine Vacuum Systems
Paper Machine Drying
Paper Machine Cascade Steam Systems
Paper Machine Thermocompressor Steam Systems
Paper Machine Other Drying Equipment
Paper Machine Dryer Hood Air Systems
Dryer Felt System Design
Dryer Felt System Operations
Size Presses
Common Paper/Board Product Tests
Common Paper/Board Optical Tests
Common Paper/Board Strength Tests
Under-machine Repulpers
Broke Repulpers
Broke Screening and Cleaning
Broke System Inventory Management
Paper Machine Direct Drives
Paper Machine Line Shaft Drives
Paper Machine Lubrication Systems
Cooling and Chilled Water Systems
Compressed Air Systems
Paper Machine Seal Water Systems
Process Sewers and Effluent Collection
Fresh Water Systems
Steam Turbine Mechanical Drives
Building Air Systems
Power Boiler Ash Handling
OCC – Bale Handling
OCC – Pulping
OCC – Coarse Screening
OCC – Fine Screening
OCC – HD Centrifugal Cleaners
OCC – Cleaning
Vacuum Pumps, Blowers, and Ejectors
Wastewater – Primary Clarification
Wastewater – Secondary Treatment
Boiler Feedwater – Demineralizer
Paper Machine Hydraulic Systems
DC Motor Operation
Power Boiler Basics
Take a second to download our free guide to online training for people in the pulp, paper, tissue, and/corrugated industries since you're here.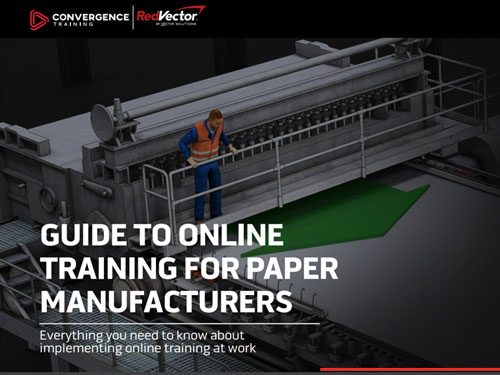 The Papermaker's Guide to Online Training
Learn everything you need to know about using online training at your paper manufacturing facility and get tips for getting started now.