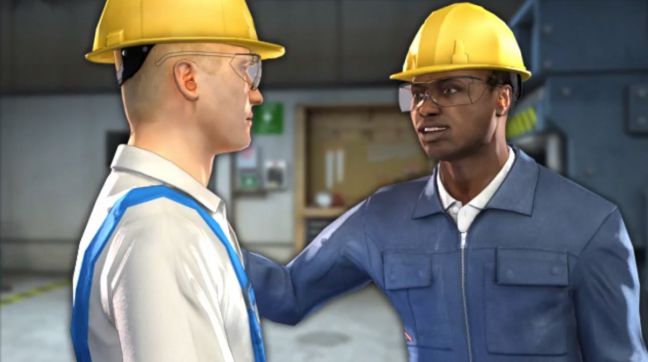 What's the best way to provide a site-specific safety orientation to contractors before they work at your site (or to visitors and vendors)? Is it with classroom-style, instructor-led training, field-based training and walk-arounds, or online training?
I have this discussion quite a bit and find that people generally think one way is better than the others. My answer to that is the same answer I always give for safety training and workforce training in general: a blended learning solution is probably the best way to do it.
A blended learning solutions means combining different training delivery methods, such a face-to-face training, online learning, and written materials, and even performance support that can be accessed via  a mobile device while on the job, to create a more comprehensive, effective orientation program for contractors. And you might be interested to know that the ASSE/ANSI Z490.1 standard on EHS training suggests blended learning solutions, too.
We'll give you some more tips on how to use a blended learning solution for your site-specific contractor safety orientations below.
Even better, perhaps, we've included a free online contractor orientation buyer's guide at the bottom of this article! 
The Need for Site-Specific Contractor Safety Orientations
You're probably on board with this already, but if not, you definitely should be providing site-specific safety orientations to contractors before they work at your site. And the same goes for visitors and vendors.
Don't confuse providing site-specific safety orientations with providing the necessary safety training that a regulatory agency such as OSHA requires. While it IS your responsibility to provide that kind of safety training to your own employees, it's not your responsibility to provide that safety training to contractors. Instead, their own companies/employers should provide their "normal" safety training–it's their responsibility.
But on top of that, your contractor safety orientation should make contractors coming to work at your site aware of specific hazards at your site, specific procedures to follow on the job, what to do in case of an emergency, who to contact in the event of an emergency, where are the alarms, and special training, permitting, and work procedures for hazardous job tasks such as confined space entry, electrical work, hot work, energy control, forklifts, elevated work, and so on.
For more information on this and other "contractor basics," see our Best Practices for Contractor Management article.
Blended Learning for Contractor Orientations: Some Examples of Different Delivery Methods/Media
Remember that we think the best solution is a blended learning solution where you're mixing and matching different types of training delivery methods. If nothing else, we highly recommend you at least consider doing that.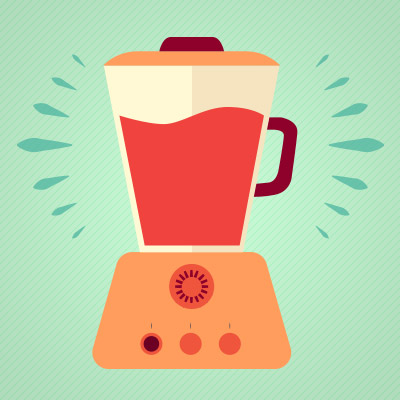 Given that recommendation, here are some examples of what delivery media to use and how to use them.
Classroom-Style Instructor-Led Training
There are a lot of benefits of classroom-style training, including:
The ability to provide face-to-face instructions
The ability to look into the contractor's eyes and see if they're "getting it" or if you have to repeat something another way
The ability to have spontaneous conversations and Q&A sessions
The ability to perform hands-on demonstrations, skill demonstrations, and observations
The fact that many people are comfortable with this method of learning
Of course, there are some challenges or downsides to classroom-based instructor-led training for contractor orientations as well. Some of these include:
The difficulty of arranging classroom sessions for large groups of contractors so you don't have to do a lot of sessions for smaller groups
The problem of holding lots of sessions for smaller groups if you can't manage larger sessions
The need to "drop everything" you're doing at work and lead an orientation
How to handle contractor no-shows
How to manage the orientation when the planned instructor can't make it (got sick, had a family emergency, etc.)
How to determine if contractors who aren't raising their hands, aren't answering questions, and aren't asking their own questions are "getting it"
The limited number of hours in a day for leading orientations and getting other stuff done
Having to have contractors onsite for a longer time before they can begin work
So, we definitely recommend doing instructor-led training for contractor orientations when the need calls for it and when it provides true value to your orientation solution. But we also recommend seeing when other methods, like the ones we've listed below, might be more effective, more efficient, more convention, and less costly.
One thing a lot of companies don't initially think of is that when you're using classroom-style instructor-led training for contractor orientations, you can still use an online contractor orientation system to:
Notify contractors they must complete this orientation training, including provide date, time, location, and duration
Provide a reminder to your organization that contractors must complete this orientation
Create a list of contractors who have and/or have not completed the instructor-led training component of the orientation
Create and deliver an online quiz to assess if the contractors understood the concepts in the classroom orientation
So even if you're providing all or some of the orientation in a classroom setting, using an online contractor orientation system to handle all of the clerical/logistical/scheduling/recordkeeping/documentation tasks on the back end can be really helpful.
Field-Based Contractor Orientations
Field-based orientations, including site walk-arounds and hands-on demonstrations, can also be a very useful part of the contractor safety orientation experience. It absolutely makes sense to provide some of the contractor orientation experience in the real work area.
Most of the strengths and weaknesses for this delivery method are the same as instructor-led classroom orientations, since they're both forms of face-to-face learning experiences, although the field-based orientation does have the added bonus of providing the orientation in the actual work area/context. (For those learning nerds out there, studies consistently show that people are more likely to remember training and apply training if the training occurred in the work context).
So absolutely, provide a field-based component to your contractor orientation if there's value there.
And the same point we made earlier about using  an online contractor orientation system to handle all of the clerical/logistical tasks on the back end apply to the field-based component as well.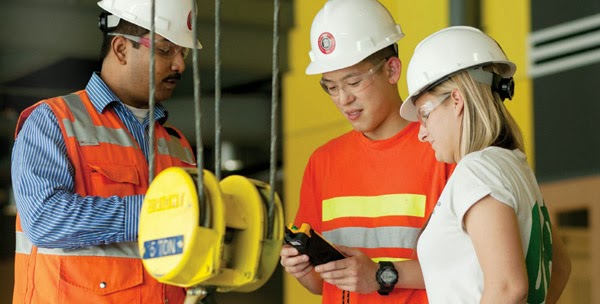 Written Documents
Many people like to learn from written materials. That's one reason to include a written component.
Plus getting something in writing makes it easier to go back and check it later. For all the wonders of instructor-led training and field-based training, once the training session is over, the contractor can't magically summon the experience back up and hear the instructor repeat a key training point again).
So some of the benefits of written documents can include:
Ability of contractor to learn at his/her own pace
Ability to learn at time/location of contractor's choosing
Possibility that contractor can read the materials before arriving at your site
Opportunity for contractor to keep the written training material and refer to it later as necessary
Of course, this written material can be delivered in old-fashioned, paper-based format, but it can also be delivered online in a digital format (and then, if the contractor wants, he/she can read it, return to read it online again, print it out for later reference, etc.).
One benefit of providing the written material in digital format instead of a paper-baed format is that it's easy to update and redistribute in the event of a change.
An online system can be a nice way to supplement written orientation materials, too, by allowing your organization a method to create and assign an online quiz to determine if the contractor read and understood the written document.
And of course, as you may have guessed, you can use an online contractor orientation system to handle all of the delivery, recordkeeping, and documentation tasks too.
Online Courses
Online courses can also be a very useful delivery method for contractor orientations.
Here are a few of the pluses of online courses (elearning) for these site-specific safety orientations:
Some people prefer to learn this way
Studies show that elearning is as effective and often more effective that classroom training (see this study for an in-depth look at the effectiveness of elearning and the reasons for it)
With a younger generation of Millennials entering the workforce, the number of workers who are comfortable with or prefer online training is increasing yearly. And not just comfortable with it, really–expecting it and even kind of demanding it.
It allows for a self-guided learning experience; the contractor can learn at his or her own preferred pace
The contractor can complete the training on the day, at the time, and in the location of his or her choosing (before arriving, of course)
The contractor can return to review the online course if necessary
The course can be constructed with a built-in online quiz for assessments
Online courses with sophisticated, well-designed visuals (including maps and diagrams of your locations; photos and videos of your buildings, machines, and equipment; photos of your personnel; 3D-animated visuals that illustrate tricky to visualize concepts; and more) that complement the audio can greatly improve learning outcomes
An online course guarantees a standard, consistent safety message is delivered to every contractor
Of course, on the down side, online courses don't allow for Q&A, looking at the contractors' eyes to see if you need to rephrase a key point, providing feedback during skill demonstrations, etc.
All the other points we made before about using an online contractor orientation system to handle all of the clerical/logistical tasks on the back end apply to the online component too.
The video below gives an example of the kind of high-end, engaging, visually sophisticated images an online contractor safety orientation course can include.
Webinars (Live or Recorded)
A webinar is sort of a mix the the features of instructor-led training, especially classroom-style instructor-led training, and online courses. In some ways, you get the best of both worlds (along with some of the limits of each as well).
Because we've addressed instructor-led and online courses above, we'll just leave this as a reminder that you CAN include a webinar, and that the webinar can be either "live" or pre-recorded.
As with the other delivery methods, you can use an online contractor orientation system to handle all of the clerical/logistical tasks on the back end apply to the webinar component as well.
Videos
Yep, you got it–you can include videos too. This can be include:
A video you project in front of a group
A video you record, import into an online orientation management system, and deliver online
A video hosted on a site like YouTube (or OSHA, or MSHA, or the Chemical Safety Board, etc.) that you link to and then deliver online
Some of the more modern video-based approaches that technology is making possible now, including interactive video, 360 video, virtual reality, and augmented reality.
We've covered the pros and cons of video-based training above, so we'll leave this point here.
Performance Supported Access As Needed on the Job Via Mobile Apps and Devices
One last point we'd like to leave you with is an issue that's true for safety training and even workforce training in general. A lot of times, learning & development efforts focus on that one initial training and/or orientation effort and hope their learning audience (the employees, contractors, visitors, and/or vendors) remember it all.
But that's just not realistic. It's not how people work. We forget things. For more proof of that, read our article on How People Learning & Why They Forget Their Training.
As a result, there's an increased awareness of the importance of helping workers gain access to important information when and where they need it–in the field, at the time and point of need. This is called performance support, and the idea is that it reinforces, supplements, and even in some cases replaces the need for training.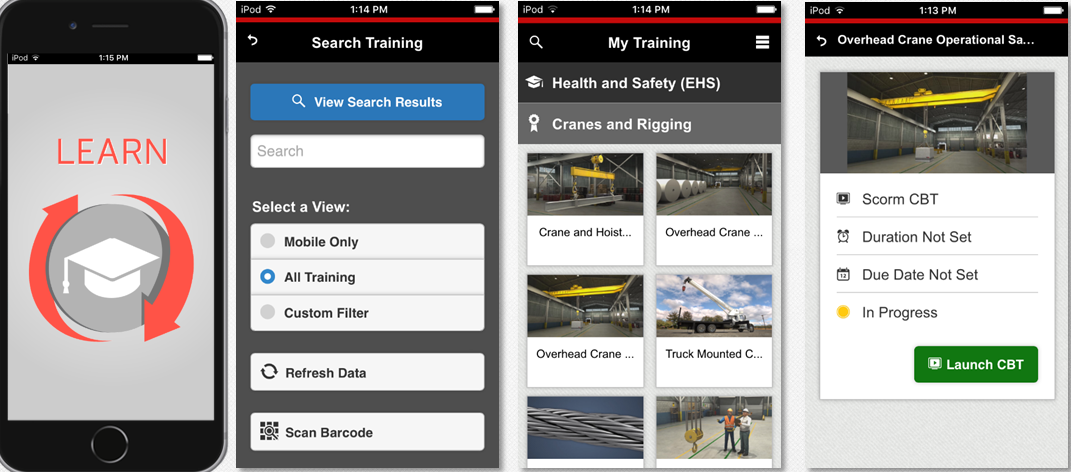 How does this apply to contractor orientations? Simple. Look for an online contractor orientation system that contractors can access using mobile apps and mobile devices in the field to look up that important information they need on the job but are likely to forget.
Conclusion: Blended Learning Is the Best Solution for Contractor Orientations
So–what do you think? Are you using blended learning for contractor orientations now? If so, what's in your blend?
What do you think are especially helpful and effective uses of some of the different contractor orientation delivery methods we mentioned–classroom training, field-based training, online courses, written materials, webinars, videos, on-the-job performance support?
We look forward to hearing your answers. Until then, please do download the free online contractor orientation buyer's guide below.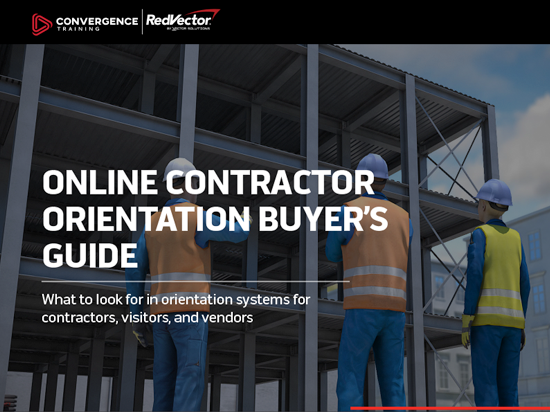 Online Contractor Orientation Buyer's Guide
Everything you need to know before buying online contractor orientation content or management sytems.