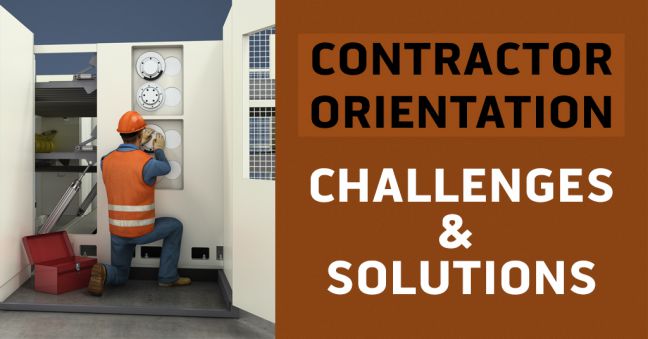 Many workplaces struggle to find an effective, efficient way to provide site-specific orientations to contractors who will work on their site. Confirming that contractors who arrive on site are properly trained, and maintaining accurate, up-to-date records of training, are equally challenging.
Fortunately, you can work with a training provider to create your orientation materials for you, and they can set you up with an online system that allows you to administer the whole thing online, including deliver the orientation to your contractors online and run reports to see who's done and not done online.
Let's look at some of the challenges in trying to provide contractor orientation (or visitor orientation) on your own, and then list some things you should look for in a contractor orientation provider.
Challenge: Creating Effective Orientation Materials
It often falls to safety managers, human resource professionals, or workplace administrators to create the materials used in contractor and visitor orientations. In many cases, this is appropriate because these people are very familiar with the material contractors and visitors need to know.
But knowing the materials well doesn't mean these same people have the time, skills, or knowledge necessary to create effective orientations. If you've seen orientations created in PowerPoint that contain any of the following, you already know what I mean:
Text-heavy screens
Blurry pictures
Unrelated clip art
Too much or too little material
Material that is at times contradictory or confusing
Questions about insignificant details
Questions about material the orientation never covers
Put simply, most people who create contractor and visitor orientations for their work are experts at their primary job but aren't skilled in multimedia and/or training production. And that leads to orientations that are confusing, inaccurate, or uninformative.
Solution: Have your training materials professionally created.
Training content providers have experienced workers with skills in writing, instructional design, graphic design, and software engineers who do this stuff for a living. Let them do what they do well and your staff can get back to doing what they do well. It's a win-win situation that makes everyone happy.
Challenge: Scheduling Orientation Sessions
Once the orientation materials are created, the next big hurdle is to deliver the orientations to contractors and visitors. This can be done in a few ways, including:
Sending the orientation to contractor companies and having them deliver the orientations to their employees
Scheduling a time and location (or several) for contractors to come onsite and complete training
Providing training on a spontaneous, ad-hoc basis as contractors arrive to work at your facility
Each of these options provides any number of scheduling and logistical problems. Will the contractor companies deliver the orientations you send them? Who will take the time to schedule contractors to attend onsite orientations, and will those contractors arrive? If the contractors do arrive, who will take time to lead orientations? What happens if contractors arrive for spontaneous training at inconvenient times?
If you've ever tried any or all of these approaches, you know well that they're a hornet's nest of problems.
Solution: Use an Online Delivery System.
The simplest and easiest way to handle this is to provide the orientations through a secure, online website that's available 24/7. Let contractors self-register, receive appropriate orientation assignments, and complete the orientations from their o ces or homes before they arrive at your work place.
Challenge: Maintaining Accurate Training Records
You might think that once a contractor or visitor has completed his or her orientation, the hard work is done. But in reality, that's just the start. Who completes a record that each contractor has completed the training? Who stores it? Where is it stored? If the training expires after a year or two, who keeps track of that and schedules refresher training? Where are your records kept—in a paper-based system in manila envelopes in a metal file cabinet in the corner? Or maybe in one of a thousand Excel spreadsheets saved somewhere on your network?
No matter how you look at it, traditional record-keeping systems are a recipe for disaster.
Solution: Store Completion Records Electronically.
Your online system should provide the ability to create and store completion records confirming that a contractor has completed his or her training. Ideally, the system should:
Allow the contractor to print out a completion certificate to bring to your site
Allow your security, receptionist, or other staff to quickly run a report to con firm the contractor has completed the orientation
Manage orientations that expire and must be repeated on a regular basis(such as every year) by moving the contractor to an "incomplete" status, informing the contractor of the expiration through email, and informing you and the contractor's employer of the expiration
Allow you to schedule reports for automatic generation and email delivery
Conclusion: Online Contractor Orientation Courses and Administrative Software
An online contractor orientation program can provide better orientations to your contractors while also easing administrative hassles and reducing your costs. One customer told us that switching to our program saved him nearly $60,000 in one year. Why not give it a try?
And hey, free free to download the free buyer's guide below.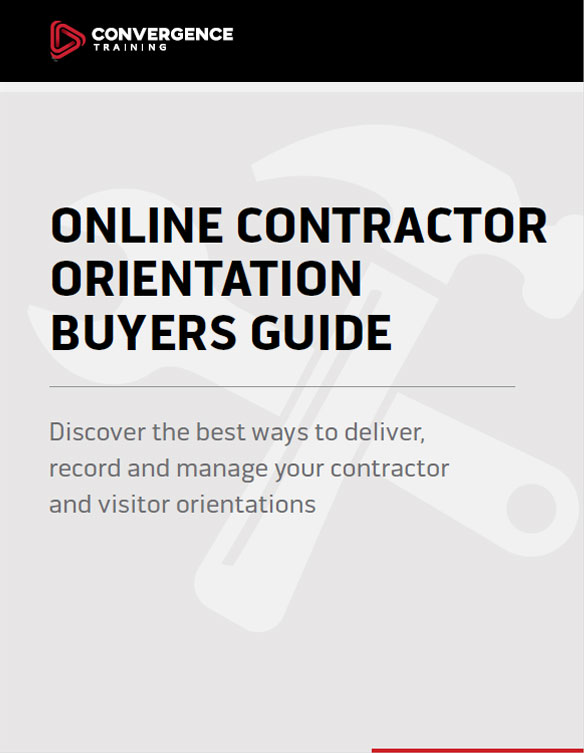 Online Contractor Orientation Buyer's Guide
Discover the best ways to deliver, record, and manage your contractor and visitor orientations.