We just completed attending, presenting at, and exhibiting at the recent Western, Pulp, Paper, and Forest Products Safety and Health Conference in Portland, Oregon (December 2016). A triple threat–how about that!
First off, a thousand thanks to Oregon OSHA and everyone involved in planning, organizing, and putting on the conference. Here's a list of other conferences that Oregon OSHA's putting on, including of course the upcoming Governor's Occupational Health and Safety Conference (GOSH), which happens in Portland, OR on March 6-9, 2017.
And of course, thanks to everyone else, too. This includes the conference attendees (the whole reason for the conference), the conference presenters (lots of very smart and experienced people were sharing valuable information at the conference this year), and the conference exhibitors explaining their health and safety offerings (a special shout-out here from me to folks from the Oregon Healthy Workforce Center and Washington State Department of Labor and Industries, both of whom had some good stuff and were mighty knowledgeable and friendly). And let's not forget the hotel staff who took care of everything so we could focus on learning–rooms, food, and more.
I'd also like to say thanks in particular to everyone who I had a chance to meet with and talk to at the show. It's always a pleasure to get out of the office and meet others in the field, and invariably a learn a lot from it.
Below is an overview of the conference presentations that we attended through the three-day meeting and the conference presentation we delivered at the end of the third day. Obviously, if you attended you may have seen some different presentations than we did, so hopefully you'll (1) find our brief overviews below interesting and (2) you'll use the comments section at the bottom of this article to tell us about the presentations you attended or led yourself.
For those of you who attended the Effective Safety Training presentation that we led, we'll include some links below where you can download some additional information on effective safety training, and we'll let you know about a second follow-up blog post specifically for you (which we haven't yet completed but will soon).
If you stopped by  at the Convergence Training exhibit desk, liked what you saw in our solutions for health and safety training, pulp and paper training, and general training management software, feel free to drop an email to our representative Brian Andrewjeski.
Pulp, Paper, and Forest Products Safety and Health Conference Presentations
Below are short write-ups about the sessions I attended, credit to the presenters, and links to additional related resources.
If you attended or led other presentation sessions, please tell us about those in the comments section below.
Keynote Address: Brad Livingston, "Just a Second Ago"
If you've been to a few safety conferences, you may have heard a speech like this one before. But that doesn't make it any less attention-grabbing, and it doesn't make it a less effective cautionary tale.
Mr. Livingston was nice enough to share his experiences after being involved in what he describes as a "100% preventable" incident involving two explosions. His coworker died, and Mr. Livingston was badly burned. Doctors gave him a 5% chance of survival. Happily, survive he did.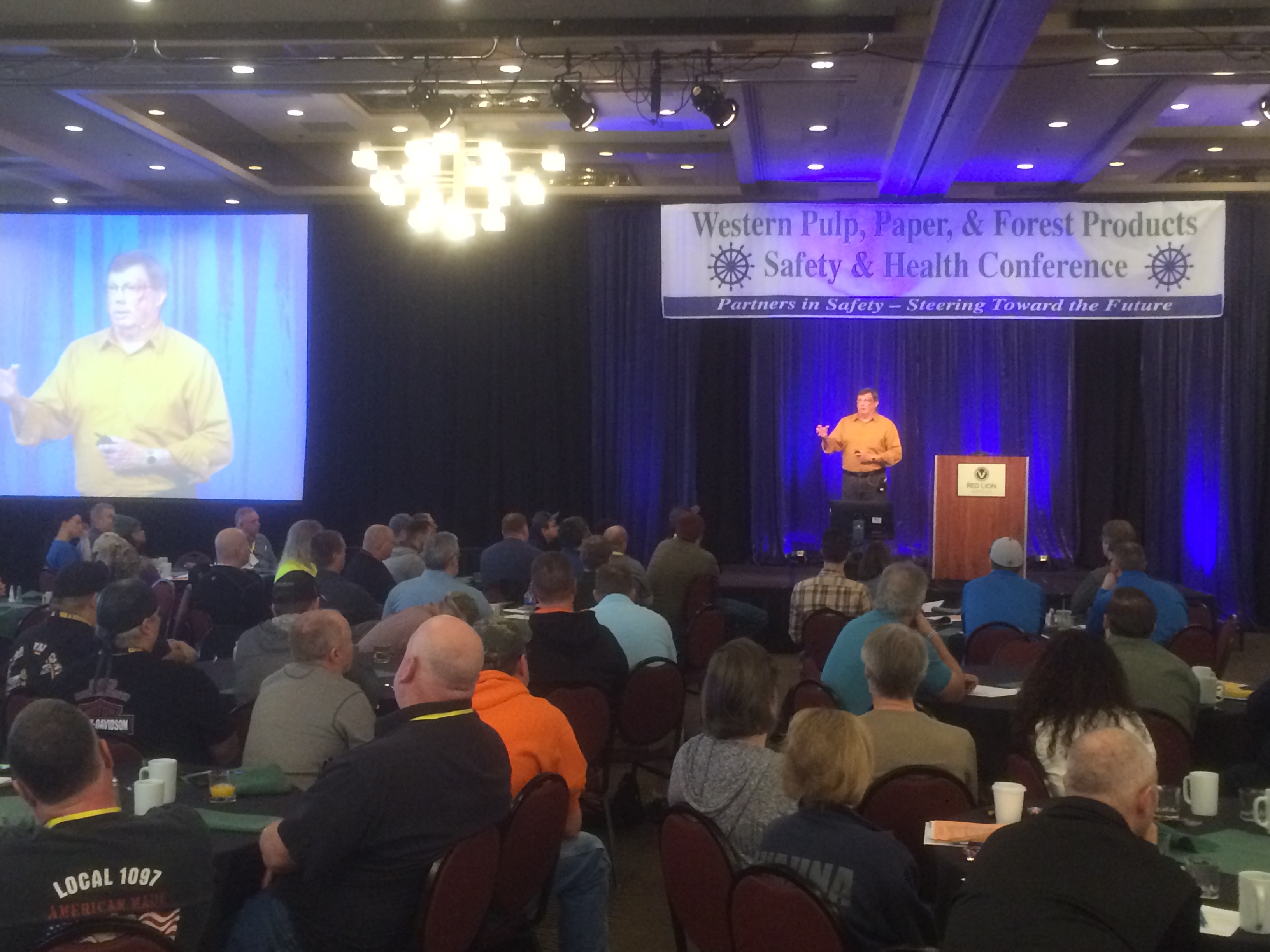 Here's how the description puts it:
"Brad Livingston was involved in back-to-back explosions that were 100% preventable. The contributing factors to these explosions were the same as what exists in EVERY type of company EVERYWHERE–shortcuts; complacency; pride; bad attitudes; and improper perspectives. Brad overcame a 5% chance of surviving his injuries and now shares his story. He explains "The Ripple Effect," including what he went through, and more importantly, what his family went through, in such a way that those in attendance WILL understand why they CANNOT allow these factors to be a part of their workplace–"You think it can't happen to you?""
A sincere thanks to Mr. Livingston for sharing his story with us and for reminding us that things like this can happen pretty easily to people just like us. The part that hit me especially hard was hearing Mr. Livingston talk about the consequences of the event for his family and how how also lost the chance to be with his family.
Improving Your Safety Culture
The first session I attended was about improving your safety culture, and it was led by Mark Hurliman, VPP/SHARP Program Coordinator, Oregon OSHA and Rick Gammon, Production Lead/Safety Chair at Georgia-Pacific/Philomath Operations.
This presentation focused on the importance of developing the safety culture at a workplace. Further, the presenters explained how having a safety and health management system can help improve the safety culture and "all things safety" at a workplace.
Here's how they wrote their presentation description (I'm taking this description and all descriptions below directly from the conference app–nice job with this, Oregon OSHA):
"Are you looking to better your organization's safety culture? This presentation details basic components of any safety and health management system, including the cultural component, how it functions, and how to improve it. Speakers from Oregon OSHA and from an Oregon VPP facility share varied and vital information on making your safety culture work for you."
I was fortunate enough to have a follow-up email conversation with Mr. Hurliman of Oregon OSHA (thanks for the follow-up info, Mark). One related resource he suggested to me was the Oregon Sharp Alliance. Their website is worth a look. And if you're an Oregon company looking for help setting up a safety and health management system, I highly recommend contacting Mr. Hurliman and this organization. He explained to me that he's helped several companies not only create a safer workplace but save significant money by improving their safety and health program at work.
Related Resources at the Conference Training Blog: We happen to be in the process of writing a multi-article series on safety and health management systems (using ANSI Z10 as our primary source). Click any of the following links to read various articles in the series (or read them in the order presented below, top to bottom):
A-Z Incident Investigation and Root Cause Analysis Techniques
The next session we attended focused on incident investigations and techniques for determining the root causes of those incidents so that similar incidents can be prevented in the future. This session was led by Joey Estey, Performance Improvement Specialist, Lucas Engineering and Management Solutions. Quick tip: You'd be a lucky guy to run into Joe at a conference and take him out for a coffee, beer, or meal afterwards–he's very knowledgeable and I get the sense it would be a lot of fun picking his brain in-depth on these issues.
Joe gave a lot of tips during his presentation-more than I can quickly summarize here–but one of his big focuses was on designing a work area that removes or reduces the possibility that human error will lead to a safety incident (he gave several good examples of poor work processes as "root causes"). And of course, he stressed that incident investigations were for the purpose of avoiding future incidents, not for punishing workers.
Here's what Joe's presentation description said:
"Ever have these thoughts? 'We have the same incident on a different day and all that ever changes is the name of the person involved'; 'If we learn from history, then why do we keep repeating it around here?'; We seem to know all the answers to our problems only after we suffer the consequences.' 'If we actually discovered the factors that caused our incident last time, then why are we creating new corrective actions this time?' During this session, Joe shares critical steps, common errors, and techniques for eliminating those errors during incident investigations and analysis. Participants gain a better understanding of tools used to dissect and diagnose an incident, and the preventative, corrective, and sustainable actions required to prevent recurrence. "
I also got a chance to chat via email with Joe after the conference. He said he isn't slated to be speaking at any conferences in the near-term future (he's got a lot of work projects to focus on in the near-term), but he speaks a lot and if you get a chance to catch him live, I recommend it.
Related Resources at the Conference Training Blog: Check out our How to Conduct an Incident Investigation article.
You might also want to check out our Incident Investigation eLearning course. Here's a short sample for you.

Critical Hazards: Identification and Risk Assessment
On the second day of the conference, I attended three consecutive sessions put on by workers at the Georgia-Pacific Wauna site. Each session had something to do with identifying and controlling workplace hazards.
In particular, the sessions focused on "critical hazards." In common language, this basically means workplace hazards that can lead to really bad stuff happening. According to the speakers, these are the hazards that Georgia-Pacific is paying especially close attention to, and of course that makes sense.
The first session was focused on identifying hazards and risk assessment, and it was led by Joe Ciullo, Senior Safety and Health Manager; Carly Cholewa, Industrial Hygiene Specialist, and Anita Jensen, Process Safety Leader, all of Georgia-Pacific Wauna (actually, if I got the story correct, Anita helped develop the presentation but was on vacation the day of the conference and so didn't present–cards well played, Anita!).
Here's how the session was written up in the description from the app:
"This session is part one of a three-part series focused on critical hazards. Attendees can choose to attend one or more of the sessions in the series. What can cause a bad day in your facility? A key part of safety and health is preventing serious injuries and fatalities. The first step is being able to identify hazards and then properly asses the risk they pose. In this session you learn the difference between hazard and risk and how to different between hazards and critical hazards by using a risk assessment tool."
As the description makes clear, the session introduced and made distinctions between hazard and risk, and introduced participants to the use of a risk management, assessment risks by likelihood and severity to identify the "critical hazards." The point, obviously, is to prioritize critical hazards for control and remediation.
Related Resources from the Convergence Training Blog: Here are a few articles you may find helpful:
You might also want to check out our Job Hazard Analysis elearning course. We've got a short sample for you below.
Critical Hazards: Effective Controls
Once you've identified critical hazards at the workplace, it makes sense you'd want to control them to eliminate or reduce the risks they pose.
The session was led by Thomas Justus, Safety Specialist; Nicholas Coffey, Safety Associate, and Chris Newman, Property Protection Supervisor (all of Georgia-Pacific Wauna, again).
Here's how the session description read:
"This session is part two of a three-part series focused on critical hazards. Attendees can choose to attend one or more of the sessions in the series. Has your facility experienced a serious injury or fatality? Controlling critical hazards is crucial to maintaining a safe work environment and preventing incidents that cause life-altering injuries or death. Participants learn how to establish controls for critical hazards that occur in many work environments."
In this session, we were introduced to the hierarchy of controls and to various types of controls.
Related Resources from the Convergence Training Blog: Here are a few related articles we've got for you.
We've also got a number of eLearning courses related to hazard controls. One example is our Machine Guarding course. Check out short sample below.
Critical Hazards: Validation of Controls
The third and final session from our friends at Georgia-Pacific Wauna about hazards and hazard controls focused on validating the effectiveness of the hazard controls you've put into place.
This session was led by Randy Hansen, Process Safety Management Coordinator; Darrell Womack; Darcy Hendrickson, Safety Engineer; and Tracy McEntire, Principal Secretary (as with the previous two sessions, all from Georgia-Pacific Wauna).
In this session, the focus was on checking to see if the controls you put in place really were/are effective.
As the description puts it:
"This session is part three of a three-part series focused on critical hazards. Attendees can choose to attend one or more of the sessions in the series. How do you know that your controls are effective and being used as intended? This class provides techniques on how to validate existing controls and how they can be improved."
All told, the three sessions in this "Critical Hazards" series that the folks at G-P Wauna put together did a nice job of modeling a logical, coherent manner for addressing hazards and risks with appropriate controls. Job well done. And a hat-tip for the nice booklet they created, including instructional materials for all three sessions.
Along the lines of this third session, you may be interested in our Lockout-Tagout eLearning course, which includes a section on validating your lockout-tagout controls (that section isn't shown in this short sample, however).
P & P & PSM: Pulp and Paper and Process Safety Management
Process Safety Management, also known as PSM, is a very important set of regulatory requirements intended to protect people (and the environment) from the especially hazardous chemicals in many workplaces. The requirements for process safety management come from OSHA's 1910.111 regulation.
The presenter for this session was Brandi Davis, Senior Health Compliance Office and Industrial Hygienist with Oregon OSHA. Ms. Davis is one of the Oregon OSHA inspectors who stops by sites to inspect their PSM compliance, and this presentation focused on the kinds of things inspectors like Ms. Davis are looking for (and gave tips for passing such inspections). If you're in charge of PSM compliance at your site, this is the kind of conference presentation you should find very helpful.
Here's how the conference description explains this session:
"This class provides a general overview of the elements of a PSM program with emphasis on the documentation associated with each element. The class also reviews some of the most often cited sections of the PSM regulation and is presented by one of Oregon's PSM compliance officers who is at your disposal for the duration of the class. Any question, rumor, or hypothetical situation can be discussed in safe environment during the class."
As you'd probably imagine, this session covered a lot of ground. As a training, provider, however, one of the things she said that really caught my ear is that PSM Compliance Officers like her were receiving pressure from Federal OSHA to cite more companies for violations related to PSM training. I'm paraphrasing Ms. Davis's words from memory here, but here's the general idea of what Federal OSHA Is thinking: "If companies are violating PSM regulations, some of those violations must have to do with a lack of proper training about PSM, and yet we're not seeing a lot of citations related to PSM training." So, a word to the wise out there–make sure you're providing proper PSM training to all your workers, including your contractors.
In addition to this conference presentation, Oregon OSHA provides some helpful PSM-related information, and some good information for pulp, paper, and paperboard mills, at their website.
Related Resources from the Convergence Training Blog: Here are a few articles related to PSM that we've got for you.
You may also want to check out our Process Safety Management (PSM) eLearning course:
Effective Safety Training: 5 Tips
On the final day of the conference, your friends at Convergence Training led a session that introduced some basic, practical tips for creating and leading effective safety training.
The presenter was yours truly, Convergence Training blogger Jeff Dalto. A sincere and big thanks to all who attended and to all those who caught up with me after the session to chat and/or emailed me at the presentation to follow-up. It was nice to meet each of you and I hope you took away some helpful tips.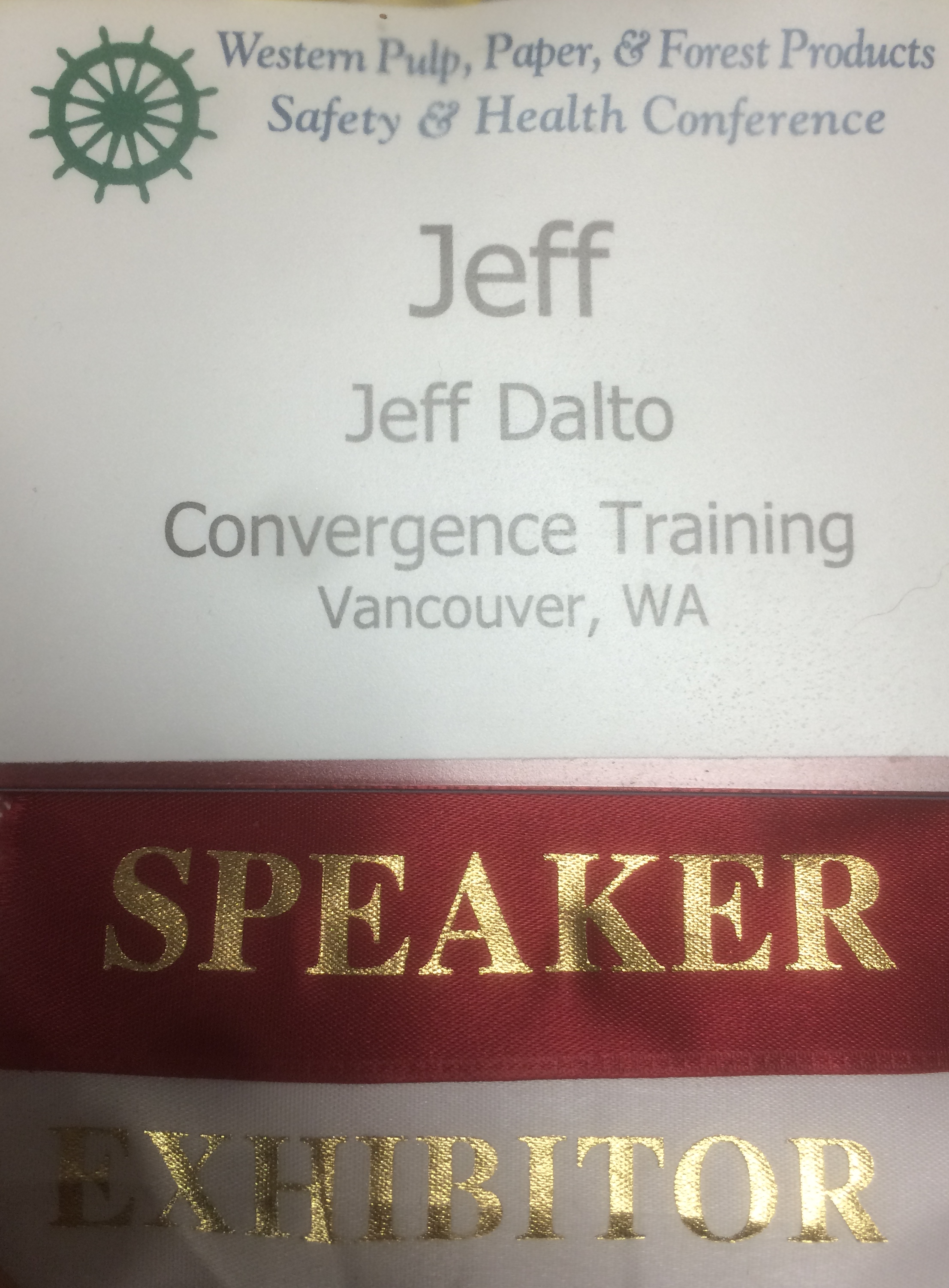 In short, here's what I focused on:
ANSI Z490.1, the US National Standard of Accepted Criteria for EHS Training
Learning Objectives, including what they are, why they're important, and how to write them
Selecting Training Delivery Methods, and in particular the importance of using a "blended learning solution" and how to use the need for "adequate feedback" to choose the right method for each training need
8 Tips for Developing Effective Safety Training, including (1) matching training content to learning objectives; (2) using adult learning principles; (3) keeping it "short' and chunking your training; (4)  using appropriate, conversational language your employees will easily understand; (5) using visuals in your training; (6) awakening related "prior knowledge" of your employees when the training begins; (7) providing refresher training and spaced practice opportunities; (8) asking the employees to ask themselves how well they're learning
Evaluating the Effectiveness of Safety Training, including (1) post-evaluation survey sheets (so-called "smile sheets"); (2) post-training tests and other forms of assessment to measure learning; (3) observed on-the-job behaviors; (4) tracking safety KPIs, such as incident reports and near misses.
Please click if you'd like to download information from this presentation, watch a shorter 30-mintue version of this in a recorded webinar, or see a variety of related links.
Also, feel free to shoot me off an email with any questions you may have.
What Convergence Training Demonstrated at Our Booth
In the exhibition area, we were showing our products to help companies in the pulp, paper, tissue, corrugated board, and forest product industries.
If you stopped by, you may have seen:
Let us know if any of this caught you attention and if you'd like to know more.
Here's a quick video sample collected from some of our workforce training elearning courses:

And here's a quick video overview of our Enterprise Learning Management System (LMS), which can greatly simplify the tasks associated with managing the complex training requirements of an organization like yours.

Conclusion: Western Pulp, Paper, and Forest Products Health and Safety Conference Was Where It's At
As you can see just from the presentations I was lucky enough to attend, there was a LOT of great stuff going on at WPPFPHS. If you did attend this year, use the comments section below to tell us about your experience.

If you have never attended the conference, know that it's very worth your time and is held on a yearly basis in the Portland, Oregon area every December. Which means you've got time to make some plans to attend next year.
Thanks again to all the folks at Oregon OSHA for pulling this one together. A job well done!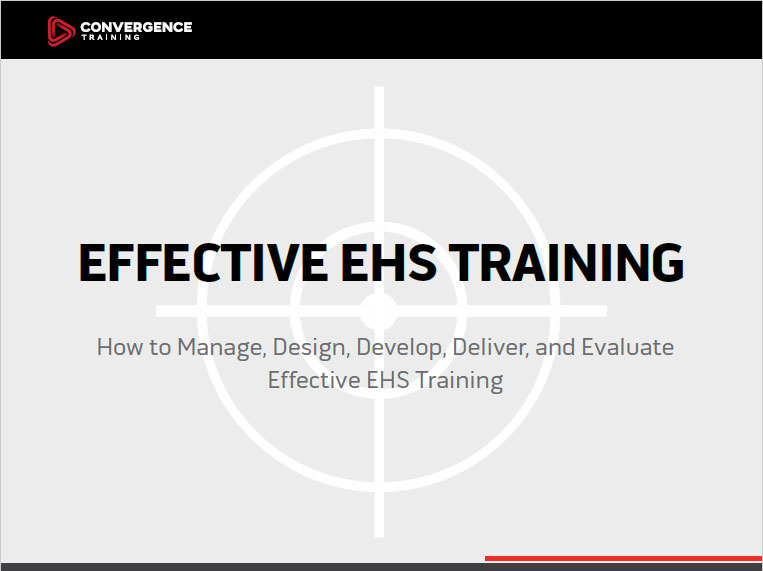 Effective EHS Training: A Step-by-Step Guide
Learn how to design, create, deliver, and evaluate effective EHS training by following these best practices with our free step-by-step guide.