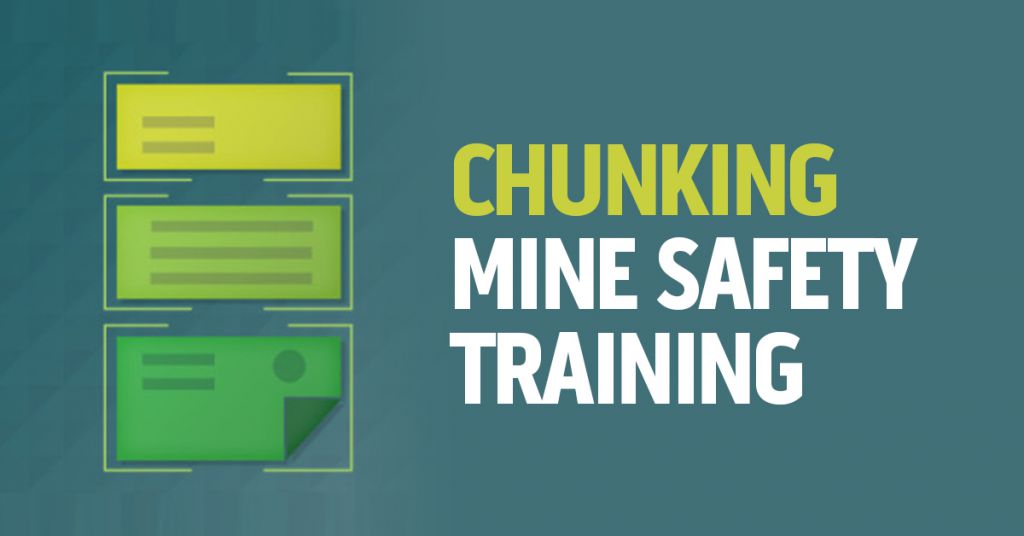 We just wrote an extended blog post that explains the benefits of "chunking" your training materials and gives tips for how to do it.
Click here to read the extended article on chunking.
Otherwise, if you'd like a high-level overview of chunking and then would like to see how you can use chunking to make your mining safety training program more effective, read on.
The Bird's Eye View on Chunking Training Materials
Chunking refers to taking training material (during the design phase), breaking the training materials up into little "bite-sized" parts, and then organizing them in a way that makes the material easier for your employees to learn.
Chunking is helpful because of how our brains work when we learn-in particular, the limits on our working memory to hold only about four bits of information at a time.
Although learners who are novices or experts in a given topic can each only remember about four chunks at a time, experts can remember bigger chunks.
You should arrange chunks within training materials in a way that makes it easier for your employees to understand and remember them. Some organizational methods include job sequence, dependent learning, cause and effect, and whole to parts, but there are more.
Chunking training materials begins at a high level–the entire curriculum, for example–and then works its way down through modules, lessons, courses, and screens (or similar sub-divisions of your training materials).
An Example of Chunking Mining Safety Training
At Convergence Training, we use chunking techniques when we design and create our e-learning modules. And that pays off for our customers because their employees learn the materials more quickly, readily, and effectively.
For example, consider our Physical Characteristics of Surface Mines e-learning course (which is one title in our Mining Safety-MSHA training library) and consider how the various aspects of chunking, described below, will make it easier for your employees to understand this critical aspect of job safety at a surface mine.
Chunking Within Our Mining Safety Curriculum
Our Mining Safety training library includes a large number of courses that can be used to train miner's for MSHA Part 46 and MSHA Part 48 training compliance.
Our courses can be "grouped" to create the training programs required by MSHA, such as the New Miner, Newly Hired Experienced Miner, or Annual Refresher training programs required by 46.5, 46.6, or 46.8. (Click for streaming MSHA safety training courses.)
Our Physical Characteristics of Surface Mines is just one part of our Introduction to the Mine Environment series of courses [as required for the New Miner training program by 46.5(b) and for the Newly Hired Experienced Miner training program by 46.6(b), for example].
Chunking Within the Course
The entire course is only 9 minutes long, including the content screens, practice questions, and course-ending test.
The course is composed of multiple screens, each quite short.
The course includes practice questions every few screens to review new material.
Chunking Within the Screen
The screen in the sample (below) runs for only 74 seconds and explains only a few related things:
What a highwall is
Slope of highwalls
What an angle of repose is
Factors that make highwalls unstable
All of this makes it very easy for your employees to grasp these important mining safety topics.
If you're curious for some information about online mining safety training, download the free guide below.
And let us know if you'd like to get more information about our online MSHA training course options, including: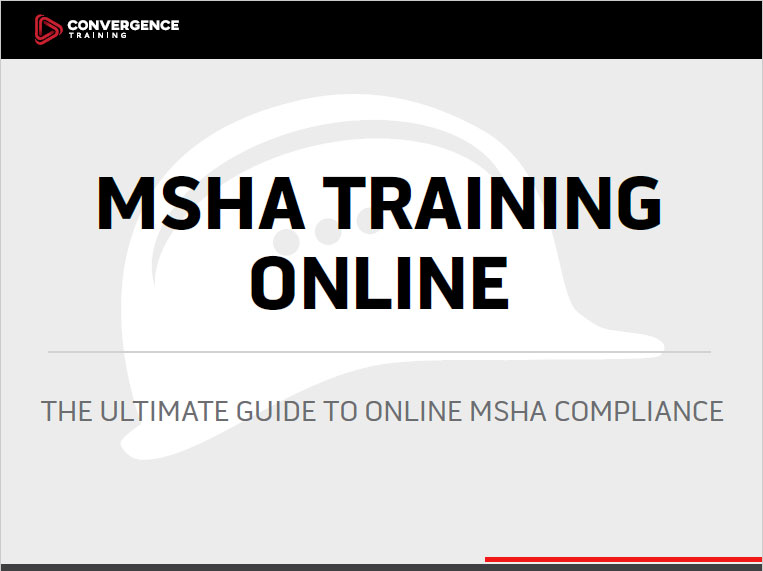 Online MSHA Compliance Guide
Download our free guide to learn how online tools can help you create safer work conditions at a mine site, stay compliant with MSHA Part 46 regulations, and manage your training program more efficiently.