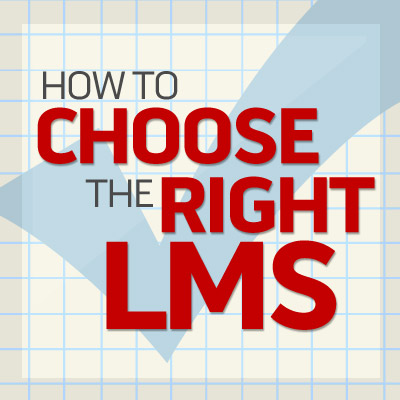 Wondering what  to consider when choosing an LMS?  If so, you're in good company. Many companies realize that an LMS can help their training program, but they have no solid ideas of what to look for, how to evaluate the LMS itself, or how to evaluate the LMS provider.
Adopting an LMS is a big decision, and not one to rush into. Even with time and caution, it's a tough process to choose the right one. And choosing a poor one can really set you back, wasting time, money, and momentum.
To make the process easier, we've created a guide to lead you through the LMS decision process. Here's an overview of topics we'll cover:

Identify and consult with stakeholders
Determine business needs
Where to get your LMS: Open source, build-your-own, or buy?
Evaluate the LMS
General functionality
Important features
Check out the learning management systems from Convergence Training–we have several, each designed for businesses in specific industries or of different sizes. Or just contact us to set up a demo.
And while you're here, why not download one of the free guides:
1. Identify and Consult With Your Stakeholders

Be sure to identify all of the stakeholders at your company and try to get their needs, opinions, and buy-ins early.
Who are the stakeholders, and why are they important when choosing an LMS?
Stakeholders are a critical component of any significant project, program, or activity. Within your organization, the individuals or groups that are stakeholders in the LMS decision include anyone who can affect, be affected by, or feel affected by, the implementation of a new learning management system.
Consider your employees first
Start by thinking of your end users (the employees who will take their training from the LMS). What are their needs? How will they view and complete training? What types of training are they familiar with? How comfortable are they with technology and online systems?
Next, the LMS administrators
Next, think about your future LMS administrators. What will they need to do with the LMS? What are their content creation, assignment, and reporting needs? How will the LMS help them be more efficient and effective at administering your training program?
And finally, the other LMS stakeholders
Finally, get together with other departments that will want a say in the LMS decision. This may include Training/Development, Safety, Human Resources, IT, and Executive Leadership. Each of these departments will have unique needs and valuable insight.
Create an LMS evaluation team
From this collective group of stakeholders, create a team that includes representatives from each department mentioned above, and have them actively participate in the LMS evaluation process. You have a better chance of selecting the best LMS for your company if you get their help, and you'll also get more buy-in than you would if you were to go it alone.
2. Determine Your Needs

Once you've identified your stakeholders, you might be tempted to start evaluating LMSs. But that, my friend, would be a classic case of putting your proverbial cart in front of the proverbial horse.
Instead, take some time to figure out your company's learning and business needs. Once you've got those in hand, it will be much easier to choose an LMS that meet those needs.
To do this, start by asking (and answering) the following questions:
What are your company's training needs?
What kind of training materials do you want to deliver? Do you have specific assignment needs, such as materials that are assigned every year, or every three years? What kind of data do you need to capture when the training is completed?
What are your current training problems and challenges?
Consider your current training solution. What are the biggest headaches, frustrations, and challenges you'd like to solve?
What are your current limitations?
Are there things you'd like to do with your training program that you currently can't? What are they?
How will your choice of an LMS be affected by future company growth?
Think about your company's potential for growth over the next five to twenty years. How will that factor into your current and future learning management needs? For example, will you expand to multiple locations, creating a need for distance learning capabilities?
When you complete this process, you should have a substantial list of all your current and future business and learning needs.
3. Where to Get Your LMS: Open Source, Build You Own, or Buy?

There are two more things to think about before you go shopping for an LMS.
First, do you need one? It's possible that the research you've done so far has shown that you don't, at least not at the present time. If that's the case, you can stop reading this guide now, and maybe pick it up again in a year or two.
Second, assuming you DO need an LMS, you might consider alternatives to buying one from an LMS provider. There are two:
Open source LMS
An open sourced LMS is a free, openly licensed set of software, where the copyright holder provides the right to study, change, and/or distribute the software to anyone at anytime, for any reason. This software is typically developed publicly, with many collaborators.  The best-known open source LMS is probably Moodle, but there are more, too—here's a list of ten open source LMSs.
Initially, setting up an open source LMS is free and painless (it's already been created for you) but  that can change once you begin using it. Is your IT department willing and prepared to begin customizing it and supporting it? Is there a budget for this? Will you ever get it into a shape that works well for you? These important questions balance the "gee wow" factor of getting something for free.
Build your own
Another option is to build your own LMS. As with open source LMSs, this may not be as easy or inexpensive as it seems. An LMS may appear to be somewhat simple, but the good ones use intuitive interfaces and clever programming to mask some very complex operations. If an LMS provider has been in the business for ten or fifteen years, you can be sure they have struggled with challenges that you'd face, have brainstormed identified solutions, and have incorporated those into their LMS already. Do you want to go through that same process, even if building an LMS isn't what your company does for revenue? You may be better off leaving this to people who are in the business already.
4. Evaluate the LMS

Evaluating the provider
Finally, you're ready to begin evaluating LMS providers and their LMSs. Here's a list to consider when choosing a provider.
Experience
Did they just start doing business, with a barely tested LMS? Or have they been around for a long time? There are clear advantages to experience.
Choose an LMS provider with a proven track record
Ask the provider if they have customers like you, and ask which features of the LMS work well for those customers.
LMS training materials and training staff
Even with the most intuitive LMS, you may need help learning the software. Make sure the provider offers a range of training materials—instructor-led sessions, webinars, e-learning videos, manuals, and job aids.
Dedicated support staff
At some point, you may have support needs. Does the company have a dedicated support staff? What does support cost? Is the support staff responsive and friendly? How do you reach them?
Ongoing updates
You'll want a system that's uniformly consistent, but that also has a steady stream of new features and updates.
Diverse staff and professional experience
Does the staff of your LMS provider include learning professionals, software programmers, user interface experts, and support personnel? How about people with subject matter expertise relevant to your industry?
Implementation and learning & development support
You don't want to choose an LMS provider who'll take your check and run. Does the LMS provider offer LMS implementation guidance? What about guidance on learning & development basics, such as how to perform training needs analysis or how to create your own training materials? Do they have a blog or online forum where they offer help?
Do you like the people?
Let's face it—you're going to be partners with this company, and that means you'll be partners with the people who work there too. Are the people a good fit for you? Do they talk your language (metaphorically, that is)? Are they responsive? Friendly? Knowledgeable?
First steps
If you're comfortable with the LMS provider, look closely at the LMS itself before you begin vetting the system.
View a demo
Before viewing a demonstration, gather your list of necessary LMS functions, so you'll be well prepared during the actual demo. Try to absorb as much information as you can during the demonstration. You can do this by asking questions, having the provider demonstrate functionality, and having them explain how the LMS would work with your company's needs. Having the opportunity and the time to properly kick the tires will go a long way towards choosing an LMS that meets your needs. Don't rush yourself at this stage.
Talk with current users
No matter how thorough the demonstration, there will be things you won't know or can't anticipate until you begin using the system and hitting it hard. See if the LMS provider can get you in touch with someone from a company who is currently using their LMS. Arrange to have a private discussion in which you can get that person's honest feedback. Don't just settle for an "I like/don't like it" answer—instead, prepare a list of questions in advance for this discussion, and remember to ask if the customer thought the LMS provider was helpful when issues did arise.
Contact Convergence Training to set up an LMS demo today.
5. General Functionality
You're probably already familiar with the basic features of an LMS. People usually seek out an LMS because they're looking for a way create, import, assign, deliver, track, and report on the training being done at their facility or throughout their organization. Each LMS does those things a little differently and each has its own subset of features that make it unique (read our list of must-have lms features here). Do your research and make sure the system you choose is fit for your purposes, but also consider the following general tips that can often get overshadowed by flashy features:
Ease of use
This is the first point in this section because it can't be stressed enough. Your work is hard enough, and training is hard enough. There's no reason for you and your employees to struggle to learn to use an LMS on top of that. Choosing an LMS that is intuitive and easy to use can really help to get administrators and learners excited about a new system. This point is especially important  if your workforce includes people who weren't born with a mouse and keyboard in their hands and therefore aren't always comfortable with computers.
Hosting options: cloud-based or on your own server
Your LMS provider shouldn't handcuff you into one solution. Want your LMS on your own network? That should be an option. Want a hosted, web-based solution instead? Again, that should be up to you. Remember, there are many, many solutions out there, and with a little due-diligence you should be able to find a good fit for your organization.
Reliable with 24/7 uptime
You're going to want your LMS to be accessible to all workers (and administrators) at all times. Day shift, swing shift, night shift, weekday, and weekend. Ask the provider for documentation about their reliability and "up-time."
Security
Is your training data secure? Ask for an explanation of the system's security measures.
Scalability
Want to use the LMS at just one site? Or do you want to use it at 40 sites spread over the globe? Have it your way-the LMS should meet your needs now and in the future.
Single sign-on
If you use single sign-on (SSO) at work already, see if LMS login can be included in this.
Possibility of customizations
One size doesn't fit all. Ask if the LMS can be customized, and if so, ask which features can be customized. And remember to find out which customizations would be free, and which would come at a cost.
Branding
You'll want your LMS to include your company's branding. Check to see if your company name, logo, and/or other branding can be included in the LMS (for example, the in the URL and/or Home page).
Mobile compatibility
Is the LMS compatible with mobile devices? Wouldn't it be nice to take training onto the floor, into the conference room, or even on the road? Wouldn't it be great to perform administrative features away from your desk?
Integrate with your other software systems at work
You may want your LMS to be integrated with other software systems at work, including your human resources information system (HRIS). Check to see if this is possible and, if so, exactly what that means and how it works.
6. Specific Features
With those general items considered, now it's time to look in more detail at the specifics. Consult your list of needs and cross-reference them against the following general areas.
Managing your personnel
Consider the ease of creating, editing, and deleting user records. Find out if the provider can automate some of this for you, and learn the different ways you can group employees for assignment and reporting purposes.
Training materials
Does the LMS facilitate all the types of training you do know and will do in the future? Can you import your own training materials? Does it include tools to help you create your own training materials? Are the import and creation tools easy to understand and use? Can you update training materials to create new versions?
Assignments
What are your assignment needs? Does the LMS support them? Is the assignment process simple yet powerful and flexible? Can you create mandatory assignments and optional elective-based training?
Training delivery options
What are your training delivery needs? Does the LMS facilitate training that's delivered online PLUS training that takes place in the real world? Can it deliver pre-training materials? Can you preview training without first assigning it? Can employees refer back to previously completed training for reference?
Optional, on-demand training
Does the LMS allow you to not just assign training, but to also allow employees to enroll in training on an on-demand basis?
Credit for completed training
What can the system credit automatically, and what must (or can) you do manually? What kind of completion data does the system capture?
Automation
What does the system do automatically so that you won't have to? Change training assignments based on your employee's new job role? Send notifications to employees at key training moments? Send reports to department heads on a recurrent basis?
Reporting
Does the system's reporting functionality fit your needs? Are the reports logical and easy to read? Is it easy to run reports on the information you'll need most often? Can you set up reports to be generated and delivered on a daily, weekly, or monthly basis?
Security roles
What will your LMS administrators need to do? Does the LMS come with a security role system that can support your needs?
Language capabilities
Can the interface of the LMS support multiple languages? How does the LMS work with multi-language training materials?
More Information
Use the information above as a starting point and go out and explore different options. And print off our LMS checklist below to help you evaluate systems on a feature-by-feature basis.