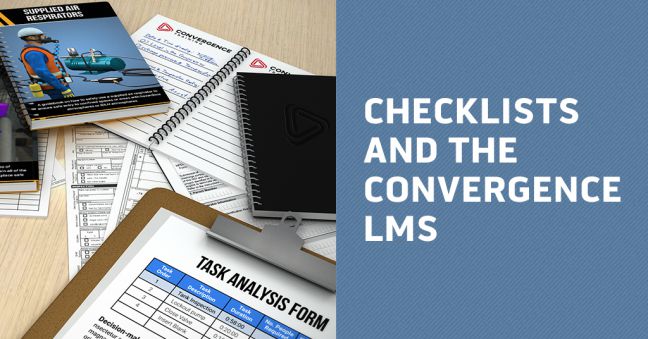 Many people use checklists in different walks of life. Chances are you do too.
If you're like us, you probably use a checklist when you go to the grocery store. Bananas–check. Milk–check. Vegetables–check. And so on. This is true even if your grocery checklist now comes to you in the form of a text message, as mine does.
But we know that checklists can be used for more than getting tonight's dinner. In fact, we think they're essential to many workplaces, jobs, and work processes. And so you've expect them to be built into a robust learning management system (LMS), on-the-job training programs, and work support systems.
Let's take a closer look.
Convergence Training is a training solutions provider. We make a series of learning management systems (LMSs), e-learning courses, and more. Contact us for more information.
Also, while you're here, download these two free training guides:
Before we explain, a little issue of naming. In our LMS, we call checklists "Tasklists." That's one in the image immediately below this paragraph. You can use the Convergence LMS to create a Tasklist, to assign it, and to give your workers credit for completing the different Tasks in the list until they've completed the Tasklist itself. (Note: A Tasklist is one of six types of training activities you can use in the Convergence LMS–watch for more blog posts soon explaining all six and how you can use them to create a blended learning program).
Why We Like Checklists
They match nicely with what an LMS is all about
Part of what an LMS does is act as a checklist database. Need to confirm that training's been assigned to Juan, Sally, and David? Check, check, check. Need to know if Juan's completed the training activities you assigned to him? Check. Need to know which employees are qualified for a job role? Check.
Everybody uses checklists
We almost never meet customers who aren't already using some form of checklist in their training process already, but they ARE excited when they learn that our LMS can automate what they're currently doing with paper, pens, Excel spreadsheets, file cabinets, and filing systems that tend to be very difficult to keep in order.
To delight our customers
When we explain to our new customers some new ways they can use checklists, they get very excited.
OK–the point is made. Checklists and training go together like ham and cheese, like peanut butter and jelly (or like dark chocolate and a glass of Cabernet Sauvignon). But what exactly does the Convergence LMS let you do with checklists?
Tasklists as a Training Tool in Convergence LMS
Here is a short list of some of the key things you can do with Tasklists inside the Convergence LMS:
Have an employee demonstrate skills, knowledge, or attitudes to a supervisor (the supervisor checks the employee off for each item on the list).
This is an especially common use with our customers, who frequently want to confirm that an employee can perform certain steps of a procedure, for example. Our LMS makes this a snap. And we now make it even easier because the supervisor can use the new Convergence Mobile tablet to take the Tasklist into the field with the employee. In short, it's a great way to evaluate an employee's skills after task-based training.
Have an employee identify different areas in a workplace, different machines in a work area, or different components in a machine.
Again, this is even easier now with Convergence Mobile–the employee can use a barcode-enabled tablet to scan barcodes at different places and automatically be given credit when he/she is correct (no supervisor involvement saves time and money).
Provide an opportunity for an employee and his/her supervisor to sit down and mutually confirm that the employee has been trained on a variety of topics (or informed of various policies/etc.).
The Tasklist can be created to allow both the employee and the supervisor to check off each item in the list, and can even capture digital signatures from both.
Create scenario-based, problem-solving training that asks the employee what he or she would do when confronted with a set of circumstances.
For example, a Task may tell a machine operator five different readings on a machine and ask the Operator which switch, lever, or dial he/she should adjust. The employee would use the barcode reader on Convergence Mobile to scan barcodes on the right (or wrong) device, and the LMS would give the employee credit automatically when appropriate.
Using Tasklists For More Than Just Training
But that's not all. While the Tasklist tool is great for a variety of "pure" training needs, it's also perfect for work support during normal operations and maintenance at any place and any time (yep–information that's available to workers on the work floor 24/7 without having them call and wake you up at 3 am).
What might this look like?
Want your mobile equipment operator to go through a pre-inspection checklist? Create a Tasklist and assign it.
Want to give a machine operator a list of procedures to perform while starting up or shutting down a machine? Create a Tasklist and assign it.
Want to give a maintenance worker a list of appropriate settings for a machine, or a troubleshooting guide for common problems? Create a Tasklist and assign it.
We bet you're getting the point. If you want more information or a demonstration, you can get in touch with us here.
Free Tasklists For Convergence LMS Customers
And because we think Tasklists are so valuable, we frequently makes ones that our LMS customers can download and import into their own LMS. Our customers can them assign the Tasklist "as is" or make a few edits and assign a customized version.
These Tasklists are typically based on compliance checklists created by OSHA, NIOSH, or other agencies, and they're just part of what makes the Convergence LMS not just a great addition to your training program, but a great addition to your compliance program as well.
You can check out a few of those free Tasklists at the links below:
In the market for an LMS? It's a good idea to think it through before you spend your cash. Here's a free buyer's guide to help you sort things out.