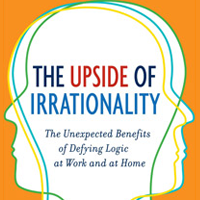 Dan Ariely has one PhD in cognitive psychology and another in business administration. He's the James. B. Duke Professor of Psychology and Behavioral Economics at Duke University. He's also got appointments at the Fuqua School for Business, the Center for Cognitive Neuroscience, the Department of Economics, and the School of Medicine. In short, if you're interested in improving the performance at your work place, he's a good guy to listen to.
And that's why we're interested in Ariely and other writers like him (such as Daniel Kahneman). We're a training company, but we're the first to admit that training isn't the solution for every issue at the workforce, and that you can get workers to improve their performance in ways other than providing training. Ariely's insights into how people think and how those thoughts affect their choices and behaviors can be applied directly to workforce performance improvement.
If that sounds intriguing to you, we've got a little summary for you below, and then we encourage you to buy the book and check out Dan Ariely's website. We also have some articles dealing with behavioral economics related to Daniel Kahneman's book Thinking, Fast and Slow and thoughts on innovation from the folks behind Freakonomics.