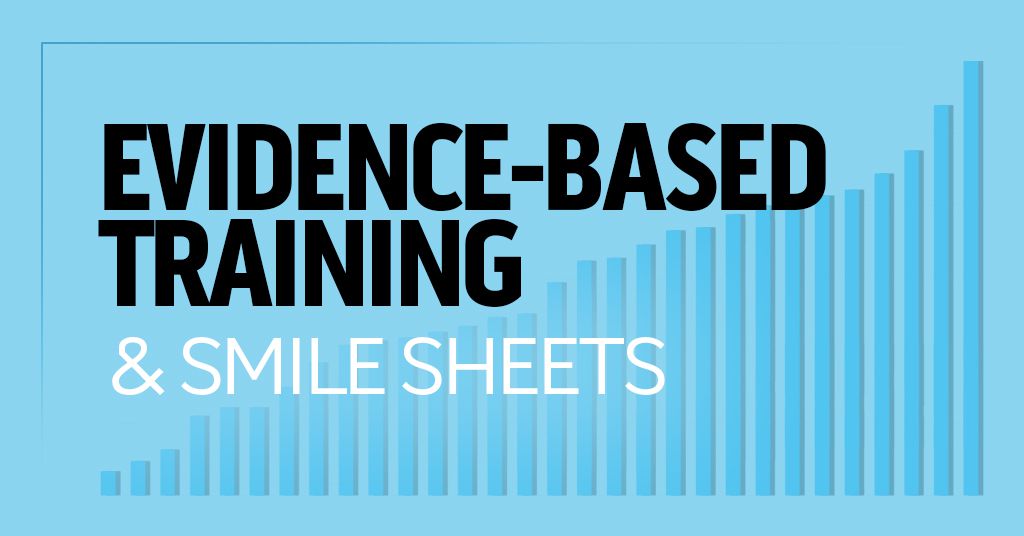 It's always a good idea to use training methods that are (1) based in evidence and proven to be effective and (2) focused on improving performance on the job.
Dr. Will Thalheimer is one of the leading research experts on evidence-based and performance-focused training methods, and he's been kind enough to grant us an interview that we'll present as a series of four related articles.
In this article, our interview with Dr. Thalheimer will focus on smile sheets.
You may already know the term smile sheet, but if you don't, you're probably familiar with the concept. You know those surveys trainers hand out to learners who have just completed some form of training? And the learner then uses the survey to evaluate the training event, materials, and instructor? That's a smile sheet, also known as a training evaluation sheet, reaction sheet, or a Kirkpatrick level 2 evaluation.
These learner evaluations are sometimes called smile sheets, however, because there's a belief that the learners may not use them to put down truthful, objective, helpful information, but instead just write nice comments about the training and the instructor that are meant to make the trainer smile about supposedly having done a good job.
So you see the problem. If a smile sheet is nothing but a bunch of well-intended but fake or meaningless "smiles," we're not drawing helpful information from learners about the training material that we can use to evaluate the training and revise it if necessary so our training has a desired influence on worker job performance. And that's why Dr. Thalheimer has done research on smile sheets, first to determine that as commonly written they're often meaningless and second to give us tips on how to write better smile sheets that will help improve performance.
If all this is ringing a bell for you, you may be familiar with Dr. Thalheimer's great book Performance-Focused Smile Sheets: A Radical Rethinking of a Dangerous Art Form or with the earlier article we wrote exploring his book on how to write better smile sheets.
So let's check out the interview. Remember this is one part of a longer interview with Dr. Thalheimer, and we'll have additional articles in which he discusses:
Spaced practice
The effectiveness of elearning
Evidence-based training methods & learning myths