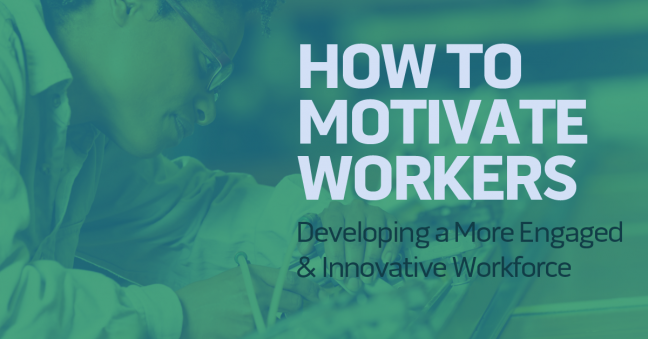 Before we begin our article, let's begin with a teaser to get you interested.
There's a mismatch between what science knows and what business does.

Daniel Pink, TED Talk, The Puzzle of Motivation
And with that attention-grabbing teaser, let's return to our article, which ultimately addresses that teaser, explains it, and and offers tips on how to solve the problem…(but know that you can also find the video of that TED Talk near the bottom of this article).
We're moving into a new era of manufacturing. Or really, we've already entered the new era, and things are continuing to change at increasing rates even now.
If you've heard people talking about the Fourth Industrial Revolution or Industry 4.0, you've already heard about it. The same is true if you've heard people talking about advanced manufacturing.
And that's great, because this era holds a lot of exciting promise. But there's a problem, too. Many employers are struggling to find enough workers with the necessary advanced skills. If you've heard of or read articles about the skills gap, you know what we're talking about.
As a training company servicing the manufacturing industry, we're dedicated to providing workforce training materials to help workers develop the skills necessary to help their companies thrive in this new, modern economy. Training can and does provide a measurable leg up in the perpetual manufacturing skill arms race.
But while training is helpful, important, and necessary, it can't be the entire solution. There's more to it than just that. For one thing, you've got to have workers who are motivated and capable of learning new skills–the skills they need today, and the new skills they will need tomorrow.
All that learning and skill acquisition takes motivation. Motivation to learn, motivation to acquire new skills, and motivation to be creative and innovative. But where does all that motivation come from?
Some of the motivation factor is up to the employee, of course. But employers also play a big role in creating and sustaining an environment that encourages motivation, creativity, innovation, and problem-solving.
In recent years, cognitive scientists, psychologists, behavioral economists, and other experts have learned a lot about what motivates people in their lives and at work. Some of those findings are pretty counter-intuitive.
What's really stunning is that while some companies are doing the right things on this point, many or even most companies are not. Not only are their management practices, rules, and culture not actively contributing to these desirable workforce characteristics, they're actively working against and stifling motivation. This is one of the areas of workforce organization where there's a large gap between what studies and research shows us and what companies really do.
And that's a shame, since the research is out there and in many cases can be easily applied if companies just look into it and make a few simple changes. Some companies will succeed precisely because they have taken steps to motivate workers to learn and innovate. And other companies will fail not only because they failed to take those steps, but because their culture, rules, and management techniques actually stifled that motivation to learn and create new business value.
In this article, we're going to give you some tips from Daniel Pink's book Drive: The Surprising Truth about What Motivates Us, which focuses on how companies can create a workplace environment that nurtures these important traits in their workers.  Pink's book is based on and compiles research from a lot of scholars in this field, including Dan Ariely (whose book The Upside of Irrationality: the Unexpected Benefits of Defying Logic at Work and at Home we've written about in the past).
Before you begin reading about how to motivate workers, feel free to check out the short video overview of samples from our online workforce training courses. And as always, let us know if we can help you with your workforce training programs.